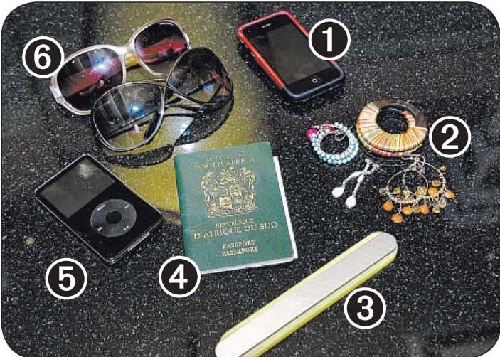 ■ Who? Buyi Zama, Rafiki in "The Lion King" at Mandalay Bay
■ Location: Mandalay Bay Theatre
■ Handbag: Tommy Hilfiger satchel
■ Are handbags status symbols? I don't think so. I've bought an expensive purse and have been unhappy with it. What makes sense for me personally is to buy a purse that suits you and meets your needs.
■ What does this bag say about you? I'm fun and practical. Fun because I have so many random things in my purse and practical because it's black and gray and goes with everything.
■ If someone found your bag and looked inside, what would they think of you? They would think I have very good hygiene. I always have hand sanitizer, floss and sometimes a toothbrush with me. Because I carry so much with me at all times, including tons of pairs of earrings, they probably would think, "What does this person do and why is she so undecided?"
■ What's the most important item you've carried in your bag? My iPhone. I need it everywhere I go, and it has most everything I need in it.
■ What's the strangest item you've carried in your bag? I always carry my passport with me, even though I'm not going anywhere that I'll need it.
■ Tell us about the first special bag you owned. It was a Gucci, but ended up being a disaster because it didn't match with anything. My most special bag that I own to date is a crocheted red bag that my friend and castmate in "The Lion King" made for me.
■ Knockoffs: Love 'em or hate 'em? I'm not much of a sucker for brands to begin with. I lived in Shanghai for a bit and knockoffs were everywhere. Maybe because I'm a singer and I've seen musicians get ripped off from people buying copied versions of their music, but I appreciate when people want to buy the real thing for what it is and the creator behind it.
■ Image is … your sense of self.
■ What's in your bag? 1. iPhone, 2. Earrings, 3. Nail file, 4. Passport, 5. iPod, 6. Two pairs of sunglasses.