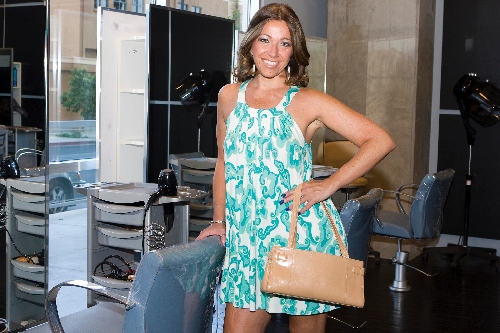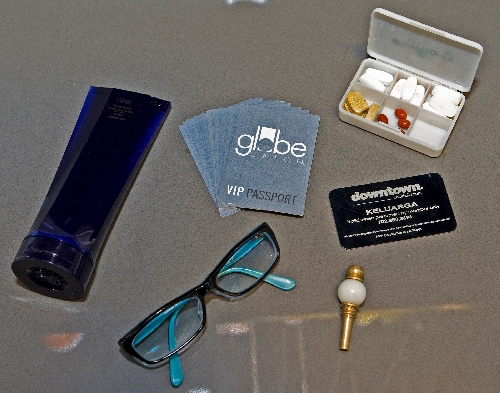 ■ Who? Staci Linklater, salon director at Globe Salon
■ Location: Globe Salon
■ Handbag: Monsac shoulder bag
■ Are handbags status symbols? Not to me. I don't buy on price, one way or the other. I buy for quality. If a brand backs up a higher price with higher quality then I am all for it.
■ What does this bag say about you? This purse represents my approach to life, which is to travel light yet stylishly. I'm very organized and have a modern sensibility about things. While I like to play with current trends for my night life gear, generally I draw from the clean classics for daytime.
■ If someone found your bag and looked inside, what would they think of you? They would either wonder how I got so much done but carry so little or, more likely, that I am a neat freak.
■ What's the most important item you've carried in your bag? I try not to carry anything that would ruin my week if I lost it.
■ What's the strangest item you've carried in your bag? Fresh mini doughnuts from the Verandah brunch at the Four Seasons. I just had to.
■ Tell us about the first special bag you owned. I'm a very girly girl. I wanted a purse from the time I was 2 years old. My mom gave in and let me have one of her purses and I carried it everywhere. I haven't been without one since.
■ Knockoffs: Love 'em or hate 'em? Bad zippers, bad liners, bad materials. You lose all the things you are supposed to pay extra for and end up with all show, no go. I'd rather have an inexpensive fake one. As an example, I have a basic crocheted Sak bag that is my daily caryall.
■ Image is … a fun, playful illusion. It's how you create and express yourself for the day, for the event, for the moment. Everything is a part of that, from the clothes you wear to how you accessorize to, of course, how you style your hair. First impressions are important, but I like to keep people guessing.
■ What's in your bag? Globe Salon VIP Passports (they go everywhere with me), Great Earth vitamin box and vitamins (despite my night life-oriented lifestyle, I try to stay healthy with vitamins and yoga), Downtown Cocktail Room Black Card, hookah mouthpiece (a gift from Paymon of Paymon's Hookah Lounge), Chrome Hearts eyeglasses, Oribe Supershine Moisturizing Cream.