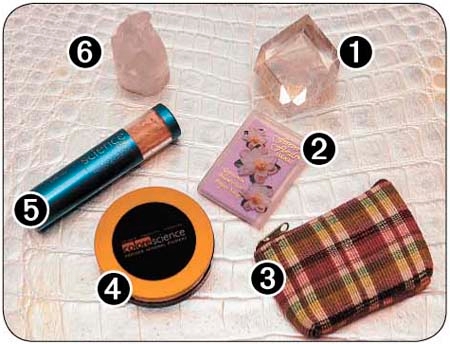 Who? Chrystal King, director of Qua Baths & Spa
Location: Qua Baths & Spa
Handbag: Red Liz Claiborne shoulder bag
Are handbags status symbols? No, I think they are a personality trait. Your purse is a subtle expression of you and your lifestyle. Mine is a bright energy color, red, with a few compartments to keep me organized. I have a lot on my plate and my purse needs to be fun and convenient.
What does this bag say about you? My bag says I keep things simple but want to be noticed.
If someone found your bag and looked inside, what would they think of you? They would know I'm into health and wellness.
What's the most important item you've carried in your bag? My vitamin pouch. I don't get to eat a large breakfast, due to a hectic family morning so it is important to have them accessible after lunch.
What's the strangest item you've carried in your bag? A jump rope and boxing timer. I used to have to strategically get in my cardio during lunch.
Tell us about the first special bag you owned. When I was a teenager I saw a bright orange purse in a store and my mother said I would have to earn the money to get it. It was $45. I pulled weeds in my neighborhood for a summer and was able to get the purse. The best part of the story is that all the women in my neighborhood gave me a little extra because they knew what I was saving for.
Knockoffs: Love 'em or hate 'em? Don't care. It is more important to love your bag than to agonize over the brand.
Image is … a statement of the day. Some days my image is a mom. Other days it is a business woman and then sometimes an outdoors, athletic and granola girl. Every woman has multiple images.
What's in your bag? A small glass cube with a horse in the middle that my daughter gave me when my son was born, Hawaiian paper soap (I don't like the smell of sanitizer), small pouch from the Philippines to carry my daily vitamins, Colorescience makeup compact, SPF 50 Colorescience brush for the intense sun here in Las Vegas, quartz crystal to bring me positive energy and stronger connection to my intuition.