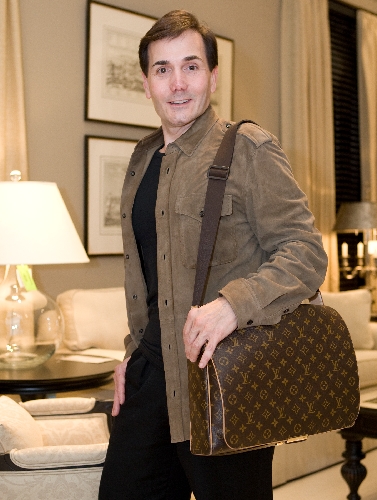 • Who? Paul Watson, director of leasing for the Las Vegas Design Center
• Location: Ethan Allen's showroom at the Las Vegas Design Center located at World Market Center Las Vegas
• Bag: Louis Vuitton messenger bag
• Are handbags status symbols? Handbags are a status symbol to many individuals but, more importantly, they should be a part of your overall self-expression regardless of their cost or value.
• What does this bag say about you? Practical, durable and classic
• If someone found your bag and looked inside, what would they think of you? Neat, organized and prepared
• What's the most important item you've carried in your bag? The pictures of my spouse and our dog Lambchop
• What's the strangest item you've carried in your bag? My underwear
• Tell us about the first special bag you owned. A nylon backpack, if you consider that special.
• Knockoffs: Love 'em or hate 'em? Who cares? Just have fun.
• Image is … the reflection of good taste.
• What's in your bag? Tape measure, cash-out voucher from Encore, Vegas 2Go, Godiva gift card, Louis Vuitton wallet, Las Vegas Design Center resource guide.