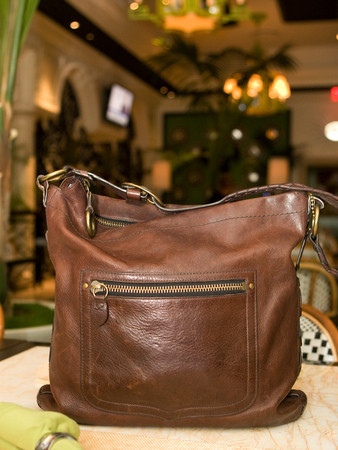 • Who? Annmarie Feiler, director of special events at Blush Boutique and Society Cafe Encore
• Location: Society Cafe Encore
• Handbag: Coach Legacy Thompson hobo bag
• Are handbags status symbols? They probably are, but they shouldn't be. Status should be determined by earned experiences.
• What does this bag say about you? I carry around a lot of stuff. It's a big bag.
• If someone found your bag and looked inside, what would they think of you? They would think, "Wow, this person must produce a lot of events and maybe owns some form of day camp, too."
• What's the most important item you've ever carried in your bag? My ID and my Blackberry are equally important. I wouldn't be able to do anything without both of them.
• What's the strangest? A 2007 limited edition copper coated bottle of Utopias beer. It's the most expensive bottle of beer in the world and 50 percent alcohol. It was a gift from a client.
• Tell us about the first special handbag you owned. A Louis Vuitton purse that my mother-in-law bought me when I first got engaged to my husband. I still carry it around every day (inside my other bag).
• Knockoffs: Love 'em or hate 'em? Hate 'em. I think they undermine the quality and craftsmanship that is specific to fine leather goods. If you can't afford the real thing, then just buy a no-name that looks nice and save up for the real thing.
• Image is … the perception of who we are to others and a valuable opportunity to represent all of the things we believe are important in life.
• What's in your bag? 1. P90X workout discs, 2. Jo Malone Pomegranate Noir lotion, 3. McKeever and Danlee mango and kiwi mints, 4. Louis Vuitton business card holder, 5. Love letter from my husband, 6. Blackberry.