Solutions for women who won't give up their painful shoes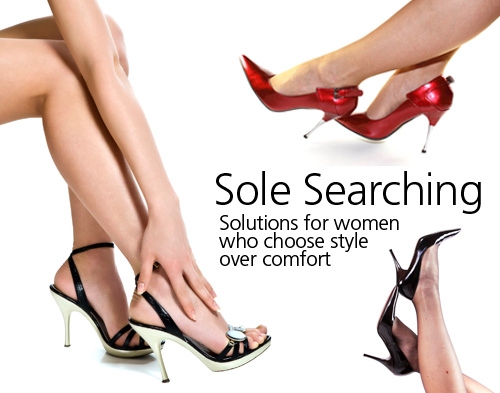 Aithyni Rucker recently found herself in an area of the shoe department she had never previously explored. The area committed to comfort first and style second – or third or fourth. The 30-year-old attorney updated her Facebook status while she contemplated her purchase: "You know you're getting old when you're debating soft-soled shoes."
Rucker is one of many women who suffer for the sake of a stylish shoe. Her fondness of 5-inch Steve Madden platforms and 4½-inch Jessica Simpson strappy sandals has resulted in a case of tendonitis and at least one morning in which she woke up to a severe stabbing pain in the bottom of her foot.
Still, after an hour of sole searching, Rucker left the comfortable shoe department empty-handed and found her way back to her old friends Steve and Jessica. When will she trade in the orthopedic nightmares for something less painful? "Never," she says. "Well, maybe when I'm 90. Or when my feet tell me I can't anymore. Or when (my podiatrist) yells at me."
Her reasoning may not make sense to everyone, but to other fashion-conscious women it makes all the sense in the world. Comfortable shoes "just aren't cute."
Dr. Christine Clark, a local podiatrist who counts Rucker as a client, has heard those words too many times to count. They usually come shortly after Clark explains exactly how their bunions and/or hammer toes formed. Instability from excessively high heels causes the former and improper fit explains the latter. Translation: A pair of pointy-toed stilettos will make your feet look pretty — until it's time to take them off.
"What we're seeing now are 5-inch heels and women think they're great because they're platforms," Clark says. The extra distance between the foot and floor convince women they aren't doing as much damage. On the contrary, Clark says a platform with height will spur back and knee problems on top of foot problems.
But, it's hard to tell a woman to stop wearing painful shoes when she can't earn a good living without them. A bevy of Clark's patients are cocktail waitresses. They've spent years walking casino floors for eight-hour shifts in 4-inch heels and the physical consequences have finally caught up with them. These are the patients for whom she writes the most doctor's notes, insisting heels not exceed 2 inches. Although employers might be agreeable, the tips probably won't.
The case for comfortable shoes surely isn't helped, Clark says, by the image of little Suri Cruise prancing around in toddler high heels on the pages of Us Weekly. For the readers who consider celebrities their personal fashion dictators, it could very well mean more business for Clark in the future. For now, she'll focus on her current patients.
The key is catching a foot condition before it becomes serious. Even Rucker has switched to 3-inch heels during work hours to ease her tendonitis symptoms. The younger the patient, however, the less likely they are to make a change.
"Women in their 20s and early 30s are out meeting men and more likely to sacrifice comfort," says Dr. Taryn Rose, an orthopedic surgeon turned shoe designer.
After selling her original namesake shoe company in 2008, Rose has returned with two new shoe collections. Haute Footure is a luxury line sold at Neiman Marcus with prices from $365-$1,000 and High Heel Power stays under $195 at HSN.com. Each line attracts a different customer, but both want a shoe as comfortable as it is stylish.
Rose uses Poron to provide better padding and most her heels stay under 2 inches which means less of an impact on the balls of the feet. That said, a few exceptions in the Haute line — including a suede wedge platform and perforated-leather, peep-toe slingback — couldn't resist that extra inch. Not surprisingly, these are also the designs that best obey spring's footwear trends.
Rose aims to relieve women of the pain that uber high heel shoes cause, but she understands the gravitation toward them all the same. "Women who endure pain with their shoes do it so they can look sexy," she says. "When you're on heels, your legs are firmer, you stick out your butt, arch your back and stick out your chest. … We all want to be desirable."
But at what expense? Foot and back problems aside, Vegas women often can be seen walking out of posh nightclubs with blackened bare feet and a pair of Christian Louboutins dangling from their fingertips. Their foot pain trumps any concern for broken glass, cigarette butts or other club afterthoughts.
Vinny Santacroce worked the local club circuit for several years and grew "disgusted" with that sight. So much so, he and his two friends Brian Distasio and Don Richman thought of a solution. They're called AfterHeelz and they allow women to slip off their designer torture devices and slip on a pair of pain-free foldable ballet flats. Sold for $20 in a convenient wristlet pouch on afterheelz.net, they also come with a tote bag to store the shoes her feet can't tolerate another second.
It didn't take long for clubs such as Vanity, XS and Tryst, who all carry AfterHeelz, to recognize the need for such a product. Not only is it a health code violation for women to walk the clubs in their bare feet, but anything to extend someone's pleasurable experience is in everyone's best interest.
That's what sealed the deal on the AfterHeelz idea coming to fruition. Sure, it was hard for Santacroce to watch women choose filthy feet because they were in so much pain, but he had a personal interest, too.
"Truthfully, I didn't want (my dates) complaining anymore. It dampers the night," he says. "Who wants someone not to have a good time because they're in agony?"
Ease the Pain
According to podiatrist Dr. Christine Clark, many women are wearing the wrong size shoe because they haven't had a proper shoe fitting. "Stores like DSW don't have a salesman to measure your foot, so you're sizing yourself," she says.
Here are a few tips to follow when shoe shopping.
1. Buy what feels good. If you normally wear a 9, but a 10 feels better, buy the 10. Don't get hung up on size.
2. Make adjustments. If your foot feels confined, look for a wide width shoe. Not enough padding? Pick up a gel insert.
3. Compromise. If you must have a pointy toe, look for a lower heel and vice-versa. And, always have at least one shoe that feels better than it looks.