Stella McCartney fashion video utilizes funky Nevada locales — VIDEO
December 17, 2016 - 4:10 pm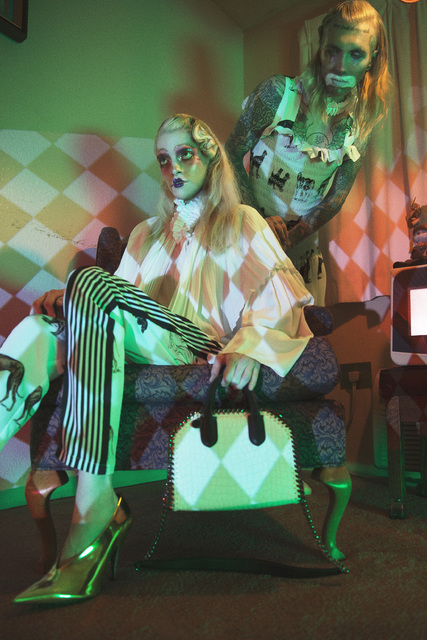 The Nevada desert and its offbeat roadside attractions have a new claim to fame as the backdrop for a recently released Stella McCartney video.
Visual director Philippa Price created the video for a new collaborative series, #StellaBy, using Stella McCartney's spring/summer 2017 collection as inspiration. The latest line features drapey silhouettes, ruffled hems and collared shirts and jackets.
In the deliciously eerie video, a man and a woman with overdrawn clown lips and sparkling face paint loaf around the Clown Motel in Tonopah, periodically training their unrelenting stares on the camera. The two characters then pop up at the International Car Forest of the Last Church, an art installation in Goldfield with numerous cars plunged into the dirt, rear fenders sticking into the sky. The vast gold and blue desert landscapes appear in a few frames as well.
"I love allowing a location to inspire and shape the story of my shoot," Price said in an interview on stellamccartney.com
Though she originally conceived the shoot for the Stella McCartney fall/winter 2016 collection, which she describes as having more clownish shapes, she thought the spring/summer collection's "slightly Western-Depression era vibe" still fit the setting.
The video references another point in Nevada history: the testing of atomic bombs.
"Do you know what people used to do? They used to explode atomic bombs in the air," a soft voice-over says at one point, the clowns lounging in a dim motel room awash with green and red light. The audio is actually from a 1964 presidential campaign ad for the race between Lyndon B. Johnson and Barry Goldwater.
The symbolism of that reference is for the viewer to decide.
"On the surface I hope my work is visually intriguing and eye catching to everyone. However, if you look deeper you will find that I infuse my work with a lot of hidden symbolism and layers of meaning that tell an entirely different story than what appears at the surface," Price said.
Read more from Sarah Corsa at reviewjournal.com. Contact her at scorsa@reviewjournal.com and follow @sarahcorsa on Twitter.