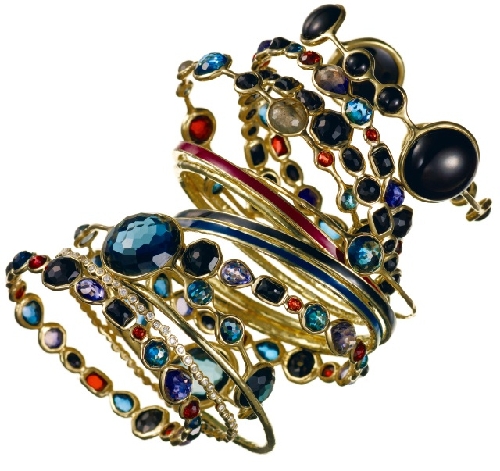 Sak it to Me: Marcolin specialists will be at Saks Fifth Avenue's Sunglasses Boutique to help you choose styles from 1 to 4 p.m. Dec. 29. Preview the Oliver Peoples Vintage collection from 1 to 4 p.m. Dec. 30 and meet representatives from Safilo from 1 to 4 p.m. Dec. 31. Check out the Ippolita trunk show from 10 a.m. to 5 p.m. today. Enjoy Beauty Week Monday through Jan. 1 and get a clutch with your $100 beauty purchase.
On Air: Local image consultant Laura Rubeli hosts a new radio program. "Image Strategies with Laura Rubeli" airs at 11 a.m. every Thursday on vegaskool.com.
Expansion: Kohl's Corp. and Vera Wang Group have announced the launch of Princess Vera Wang, a junior's contemporary, premium lifestyle collection. It will be available in Kohl's stores in August.
By Design: New York-based menswear designer Robert Comstock has launched his new diffusion collection, Vertical by Robert Comstock, at Dillard's. His line largely consists of luxurious wearable sportswear and outerwear. His Signature collection is sold at Neiman Marcus.
Honor Roll: The International Council of Shopping Centers has honored Crystals at CityCenter with its gold award and sustainable design award in the Innovation Design and Development of a New Project category. This category recognizes a new shopping center that demonstrates how a specific design or construction problem was solved or how new standards in design and construction were established.
Spaaah: The Spa at The Mirage is offering Yoga Among the Dolphins, in the underwater viewing area in Siegfried & Roy's Secret Garden and Dolphin Habitat. Classes are at 8:30 a.m. Friday through Sunday and cost $50 per person. Call 791-7472 to book space.
Miles of Style: BCBGMAXAZRIA is now open at Miracle Mile Shops at Planet Hollywood following a remodel of its existing location. Fast-fashion concept Lola also has opened. Gold, silver and semiprecious stone jeweler Kari De Mexico has opened its first Las Vegas location here. The store features original gold, silver, diamond and semiprecious stone designs. TAGS Evolution, a jewelry and accessory retailer, also has opened. Merchandise features Swarovski cut crystal jewelry lines, handbags, optical wear, crystal accessories and timepieces. Prices start at $20. Miracle Mile Shops turns its fountain red for December, AIDS Awareness Month, and will donate all money tossed in to local charity Golden Rainbow.
Pretty Partnership: Italian fashion brand Marni will collaborate with H&M for a spring collection. Available March 8, the line for both men and women will include clothing and accessories.
On the Town: XTC, a men's and women's contemporary and modern fashion boutique, is now open at Town Square. Bohme Boutique, with collections of denim, tops, dresses and women's accessories, also is open.
Wear the Web: Fruition Las Vegas has relaunched its website, fruitionlv.com, as an online destination for designers, writers, stylists and photographers to express views on inspiration, fashion, the arts and consumer culture.
Fashion Forum: Salvatore Ferragamo has reopened inside the Forum Shops at Caesars after a redesign.
Stylish Sound: Las Vegas lifestyle clothing brand Billionaire Mafia announces the expansion of its business with the launch of Billionaire Mafia Entertainment, an independent music label and entertainment company.
New Nike: A new Nike Factory retail store has opened at Silverado Ranch Plaza.
Style Site: StyleSeat.com is a new website that connects consumers with beauty industry experts. For small and large businesses, StyleSeat showcases beauty professionals' portfolios and provides them with tools to build their businesses.
You Glow Girl: Glow, a Mandara Spa, has opened its first location at Tropicana Las Vegas, offering more than 50 treatments.
Celeb Style: The Kardashian Khaos boutique is now open at The Mirage. The "celebrity lifestyle" boutique offers exclusive items, including the products the Kardashian girls and Kris Jenner own, represent, market and endorse.
Chic Charity: Log onto the newly launched communitycollection.com, an e-commerce destination that offers the latest fashions while giving back to those in need. The site connects fashion brands with charitable causes by donating 20 percent of each purchase to a philanthropic cause paired with the designer.
On the Plus Side: Charming Shoppes Inc., a specialty plus-size retailer, announced shoppers for plus sizes will have online access to fashion brands such as Lane Bryant, Cacique, Catherines, Fashion Bug and Loop 18, at Sonsi.com.