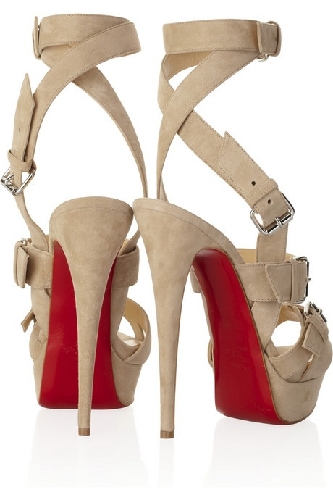 Neimans News: Neiman Marcus hosts a Christian Louboutin trunk show through Monday and a Manolo Blahnik trunk show through March 6. Enjoy the Beauty Event today through March 6, too. Receive an NM exclusive tote filled with beauty essentials with a $100 purchase or more in cosmetics or fragrance. Today through Sunday, receive a St. John key chain with a qualifying regular-priced St. John purchase.
Shoes Wisely: Shoe Palace, one of the nation's top shoe stores, has opened its flagship store at Fashion Show mall. Spanning 5,279 square feet, it's Shoe Palace's largest store and will be located next to Macy's. Shoe Palace is known for offering up-to-the-moment shoes and apparel.
Men's Club: Join Lauren Schugar of Modern Image and men's grooming expert Elliott Chester from 6:30 to 9:30 p.m. today at Elliot & Co. (8876 S. Eastern Ave., No. 102) for Shirts, Shaves & Sake. This event is just for men, who are invited to relax with a $10 shave, sip sake cocktails and get fitted for a custom-made shirt starting at $79.
Sak it to Me: Spend $100 in cosmetics through Saturday at Saks Fifth Avenue and get a tote filled with exclusive gifts. It's St. John Focus week through Saturday. Receive an exclusive St. John candle with your $1,000 purchase in St. John.
Suiting Up: Dressbarn is teaming up with Dress For Success and its partners for its ninth annual Send One Suit Weekend. Today through Sunday, gently used suits, pants, shirts, skirts, shoes and other professional items can be donated at Dressbarn stores, which will be distributed to local nonprofit organizations for less fortunate women looking to re-enter the work force.
Spaaaah: The 14th installation of National Spa Week takes place Apr. 11-17. Thousands of spas nationwide will offer services for just $50 each. Spa Moulay at Loews Lake Las Vegas and Reliquary Water Sanctuary & Spa at Hard Rock are just two participating in Las Vegas.
Sweet Tooth: Sugar Factory American Brasserie introduces the world's first Million Dollar Couture Pop with Kim Kardashian at the opening of the shop's flagship store March 4 at the Paris Las Vegas. Kardashian will walk the red carpet with the Couture Pop, which she will be the first to enjoy, and accompanying Perfect Princess Cut designed necklace.
Crystal Clear: Yves Saint Laurent is now open at Crystals at CityCenter. Only the second YSL store in Las Vegas, this 4,000-square-foot boutique is the first to adopt the new Stefano Pilati boutique design, which will be the concept for all new YSL stores. This location also has a selection of items exclusively sold here.
Just Breathe: Canyon Ranch SpaClub at The Venetian and The Palazzo introduces a new relaxation service, Breathe Deep and Relax, a perfect complement to any spa service or a way to unwind after a workout. Guests relax in a lounger as aromatic essential oils are diffused through the air. They get a brief neck and shoulder massage and moisturizer treatment for hands and feet. Service time is 25 minutes and it costs $50. For more information, call 414-3600.
Store Opening: New York chic meets Las Vegas glamour as C.O. Bigelow takes up residence at The Cosmopolitan. The store will feature all the staples the brand is known for, including signature products like Mentha Lip Shine.