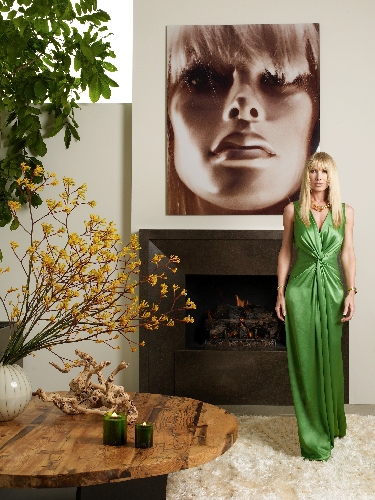 New Flame: DaYna Decker, founder and designer of the DaYna Decker home and ambience products, makes a personal appearance from 2 to 4 p.m. Feb. 12 at the Encore Homestore. Her luxury, eco-friendly products fuse creativity, innovation and style.
Beautiful Baubles: ICE Jewelry at The Shoppes at the Palazzo hosts a Virgins, Saints & Angels trunk show from noon to 6 p.m. Feb. 12. Get a preview of the new spring pieces and meet designer Cheryl Finnegan.
Cupid Couture: Altered Nation Designs and Flockflockflock host the third Couture Community Challenge fashion show and raffle to benefit the Children's Heart Foundation of Nevada. The show is at Emergency Arts at 520 Fremont St. and will feature the talents of local designers and artists. Each participant has been challenged to use real Valentine's cards, candies and decorations to create their garments. The event starts at 7 p.m. with a $5 suggested donation and is for adults over 21.
Bling Bling: Legendary jewelry house Mikimoto brings authentic Japanese culture to its Las Vegas boutique in celebration of Valentine's Day from 11 a.m. to 6 p.m. Feb. 12. New York-based calligraphy artist Masako Inkyo demonstrates magnificent Japanese calligraphy. Shoppers will get a personalized masterpiece to bring home. For more information, call 730-4710.
Dangerous Curves: The Curvy Revolution Convention, Feb. 18-20 at Planet Hollywood, is the largest convention for plus-size women. Produced by the plus-size organization Full Figures, the convention is an interactive experience designed to celebrate, inform and inspire plus-size women. The event ends with a fashion show at 8 p.m. Feb. 20 from Lane Bryant. For more information, log onto curvyrevolution.com.
Just Breathe: Canyon Ranch SpaClub at The Venetian and The Palazzo introduces a new relaxation service, Breathe Deep and Relax, a perfect complement to any spa service or a way to unwind after a workout. Guests relax in a lounger as aromatic essential oils are diffused through the air. They get a brief neck and shoulder massage and moisturizer treatment for hands and feet. Service time is 25 minutes and it costs $50. For more information, call 414-3600.
Crystal Clear: Yves Saint Laurent is now open at Crystals at CityCenter. Only the second YSL store in Las Vegas, this 4,000-square-foot boutique is the first to adopt the new Stefano Pilati boutique design, which will be the concept for all new YSL stores. This location also has a selection of items exclusively sold here.
Good Cause: H&M customers who donate to Boys & Girls Clubs of America will receive a coupon for 20 percent off one item from the H&M kid's collection through Wednesday. Good at all H&M stores.
Salon Spotlight: AOL's beauty and style website, stylelist.com, recently unveiled a new feature called "Hot in My Salon" in which top trends for hair, nails and makeup in nearly 100 salons across the country are highlighted on video. Moxie Hair Studios in Las Vegas was selected for its unique take on hip trends and styles. Log on to find out more about the salon's most requested celebrity look, Kim Kardashian.
Red Hot: This February, everyone across the country is invited to show their true colors as they make it their mission to fight women's heart disease on National Wear Red Day on Feb. 4. Wear red to show your support for this cause.
About Town: Posare Salon, formerly Euphoria Salon, is now open at Town Square across from Pete's Dueling Piano Bar. Posare Salon offers one-stop shopping for patrons looking for comprehensive beauty services.