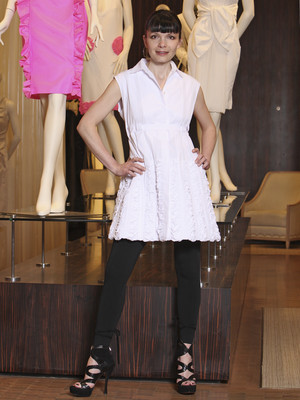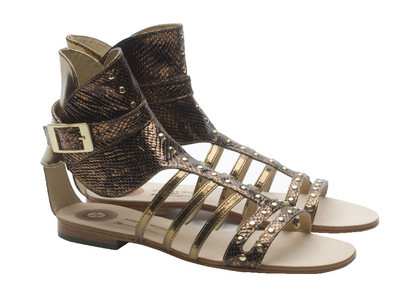 Editor's Note: This is the first in a two-part series about spring trends at local boutiques and department stores. Part two will run next week in image.
Regardless of what the fashion experts tell you at the onset of a season, you actually decide the trends. The runways get the process started with a plethora of suggestions, then buyers fill stores with select items for you to choose from. What everyone predicted would be the hottest commodities don't always size up with shoppers. Take a look at the goodies some of your favorite stores haven't been able to hold onto as well as all the other trends you've dictated for the season thus far.
Todd Hanshaw, divisional merchandise manager and fashion director at Wynn Las Vegas
• In a Word: Form — it is a constant between many of the designers from the more structured looks of Roland Mouret to the flowey Lanvin dresses. If you look at the clothing, shape and form are very consistent among all the designers we carry.
• This Just In: We are very excited about some of the fabulous new shoe vendors that we are carrying — Nicholas Kirkwood and Brian Atwood are amazing talents and we look forward to great things with them in the future. On the ready-to-wear side we have Christian Cota and Frank Tell, two new young designers based in New York that have been performing very well this season.
• Material Issues: There are some great cottons this season but some of the most amazing innovations have come in silk. Just touch one of the Lanvin runway dresses.
• Color Story: This year there was a lot of white and tan shown on the runways in New York and Europe. White is always crisp and clean and some of the amazing shirtings that we have received from Azzedine Alaia really turn a white shirt into something special. With this white as a background I look to some of the more vibrant oranges, reds and other jewel tones that we bought in Europe. It really is a season to pop with a bit of color.
• Accessorize It: Designers have really thought of new ways to take the traditional handbags and give them a new spin — the new crocodile intrecciato handbag from Bottega Veneta or the multi-media bag from Valentino; these are truly special and one-of-a-kind. In jewelry, we are carrying a new designer called Jacques An Lahn that uses some amazing materials such as fossilized mammoth tusk. It really should be seen to be appreciated.
• Flying Off the Shelves: The Giambattista Valli pink coat that was in our last magazine, that is an amazing three-quarter sleeve coat that retailed for $4,098 and did not even make it to the floor. We even took stock from other stores and sold that as well. Sexy baby doll dresses — the two that come to mind are the fuchsia and red Zac Posen and the yellow from Collette Dinnigan.
Sari Sloane, vice president of merchandising at Intermix
• In a Word: Art as fashion. This spring designers fused art with fashion. Collections featured bold painted strokes, decorative embellishment, intricate patterns and Bohemian prints.
• New In Store: Nina Ricci, Balmain, Twenty8Twelve by Sienna Miller and Jonathan Saunders.
• Key Items: A printed caftan, a great bikini, gladiator sandals, long summer dresses, great tank tops and T-shirts for layering.
• Paint a Picture: Bright floral, batik patterns, jungle prints, color blocks, bold strokes of colors, dip dye and tie dye and ombre.
• Coloring the Season: Any bright color.
• Accessory Must-Have: Gladiator sandals.
• Flying out of the Store: Our scarves are doing incredible, especially the Sir Alistair scarves, Missoni and Pucci scarves are always a great add-on, and they are the perfect piece to complete a look. Rory Becca and Madison Marcus tanks are go-to tops that can transition from the office to night. Diane von Fursternberg long dresses, Herve Leger dresses in all colors and styles and the Privee colorblock skirt.
Margaret Barlow and Rene Waugh, buyers for Dillards
• Just One Word: "Casual." This season it is all about having a comfortable casual feel, whether it is putting on your favorite tee with a pair of jeans or a cotton jersey dress with a pair of gladiator sandals. Tees from Awake, Ed Hardy, Butterfly dropout and whateverittakes.org. Dresses to lookout for from Kensie and French Connection.
• This Just In: Whateverittakes.org. The concept is simple. They gather artwork from leaders in all fields, royalty, film, music, sports and literature. Each donates a symbol of hope and a message for hope for the future. The artwork is used to create whatever it takes products such as T-shirts. These T-shirts retail for $46. The goal of whatever it takes is to raise a minimum of $3 million over three years to fun charitable projects of the environment and other charitable causes. Sheri Bodell is a new contemporary vendor whose dresses are adorned with metal studs and grommets but also give off a feminine feel. Luna Luz is another new label in dresses and this line is a more casual daytime dress.
• The Essentials: Leggings, which will continue into fall. High-waist shorts or pants, the waist is in full focus for spring and will continue to trend for fall 2008. Feminine dresses and a blouse with great sleeves are some key items for spring.
• Feel the Fabric: Organic fabrics such as cotton and bamboo. Silk voile and cotton voile are some other great lightweight fabrics for spring. Eyelet. Cutouts and crochets are some key fabrics in contemporary dresses.
• Color Me: What is the one must have color? Bright vibrant hues are everywhere this spring. The must-have color of spring is yellow.
• Accessorize It: Skinny patent belts, chunky architectural heels, gladiators, clutches, cuffs and bold necklaces.
• Flying off the Shelves: Ed Hardy T-shirts that are in brights colors adorned with crystals, studs, grommets and tattoo and Asian-inspired art. Ed Hardy continues to be a best seller and are blowing off our shelves. In dresses Jagger bright colored tops and dresses are a best seller of this spring season and a must-have.
Joseph Federici, divisional merchandis manger — fashion for MGMMirage
• In a Word: Color. This spring, dare to be bold and different by enhancing your wardrobe with a variety of bright colors. We have many great options from various lines at our stores Caprí at Bellagio, Maude at Mandalay Place and the Street of Shops at The Mirage.
• Label Mania: Several of our new labels excite us. With the weather getting warmer, we are thrilled to debut Syrup Swimwear in our stores. Created and founded by local designer Aaron Fust, Syrup swimsuits are named after popular Las Vegas hot spots. My personal favorite suit is "The Mirage" — a snakeskin two-piece swimsuit with a bandeau top and a Brazilian bottom. Each suit has unique characteristics that include handcrafted embellishments with rust and heat resistant hardware. Syrup Swimwear ranges from $150 to 180 and can be purchased at Swim Bikini Boutique at The Mirage, Pearl Moon at Mandalay Bay or exclusive at MGM Grand.
• Key Items: Every woman should have a bright Carlos Falchi handbag inspired by the colorful spring season. Veteran designer Carlos Falchi fuses exotic materials with his signature organic style to create whimsically colored handbags such as the "Large Drawstring Satchel" in ocean blue for $2,725 and the "Grand Boat Hobo" in sunflower gold for $14,995. Carlos Falchi handbags are available exclusively at Caprí at Bellagio.
• Feel the Fabric: Organic fabrics have become very popular this season because the materials are very light, which will give anyone a fresh look for spring. Pure DKNY is a great line that features all organic clothing. With simple designs, Pure takes organic and sustainable materials including steel filaments and renewable fibers, to create comfortable, easy to wear clothing. Offering women's clothing and accessories from $95 to $225, Pure DKNY is available at The Boutiques at The Mirage.
Other hot fabrics for spring include jersey material, cotton, chiffon and anything with an exotic print. We have many great options from various lines at stores Caprí at Bellagio, Maude at Mandalay Place and the Street of Shops at The Mirage.
• Gotta Have It: This season there isn't just one color. Any bright color such as bright yellow, hot pink, bright blue or royal purple will work to add pop to your wardrobe.
• Accessorize It: For accessories, animal skins are in for the season. Ranging from crocodile to alligator this season is all about exotic bags
• Can't Keep It In Stock: Dresses have great success in all of our stores, especially in Norma Kamali's line. Kamali is famous for creating high fashion looks by using terry or jersey material. The "Goddess Dress" is a great example of how Kamali uses these simple fabrics to create elaborate designs. Made of soft jersey material that hugs every curve of the body, the v-neck dress features classic draping which makes it perfect for all body types. You can find this dress at Caprí at Bellagio for $560. (Kamali's other dresses are available at Caprí for $150 to $400.
Rompers also are very popular in our stores. Twelfth Street by Cynthia Vincent offers a great bronze strapless zip front romper for $249. Cynthia Vincent is known for making sexy and comfortable clothes that she'd want to wear. Her Twelfth Street definitely displays allows other women to express their fun and vivacious spirit through her impeccable stylish vision. Available at Caprí at Bellagio, Twelfth Street features an array of women's ready-to-wear looks for $100 to $500.
Debbi Miles, special events and public relations manager for Saks Fifth Avenue
• In a Word: Vibrant color! Bold bright colors worn from head-to-toe or as a splash of color worn with accessories as on your handbag, shoes or jewelry. The bright colors can be solids or part of a pretty floral print.
• This Just In: Magaschoni. This new collection is built around luxurious separates and is available in Missy sizes, Petite and Salon Z. The distinctive looks in this collection are definitely for the modern, self-confident woman. Jay Ahr. These contemporary show-stopping designer dresses can be worn with ease. Strapless, some backless, these unique dresses are designed in great fabrications and color. Daslu. A Brazilian collection of fabulous tunics and caftan printed tops embellished with beads, jewels and sequins.
• Material Issues: With the new push for "green," the chicest fabrics this season are made from organically grown fibers.
• Color Story: There is none this season. It's all the vivid bright colors.
• Accessorize It: The bangle is the hottest new accessory. They are big and bold and come in a variety of textures and colors. Kenneth Jay Lane designs great bangles in colors, prints in tan bamboo circles and square leaves, basket weave fabrications, and light wood coil bangles. They are worn stacked high on your arm.
• Flying Off the Shelves: Tunics are hot from Tory Burch, Etro, Magaschoni, Daslu, Blumarine and Lafayette 148.
The maxi-dress from Rebecca Taylor and Elie Tahari. Dresses are big in all lengths from minis to maxi. Solid bright summer colors, pretty floral prints and multi fabrications along with details like shirring and jeweled embellishments are important on dresses this season. We have beautiful assortments of flirty dresses for daytime and evening from Moschino, Miu Miu, Donna Karan and Dolce & Gabbana. We have great fun and comfortable styles for casual daytime from Juicy Couture, Diane von Furstenburg and Alice + Olivia
Sarah Nisperos, Ron Herman buyer
• In a Word: The phrase I would use to describe the spring 2008 season would be "hippy chic." Everyone from couture designers to contemporary ones are getting into very feminine, very colorful fabrics. It's about movement and print. Prints are either floral or ethnic. It's such a fun season to be a girl!
Ê This Just In: For daytime, sexy Ya Ya is my favorite label this season. It's representative of that feminine bohemian look and they've done it in very sexy fabrics and beautiful tribal prints. By the pool I love Taka. Again, it plays off of the hippy look, but in a vintage way. They use light cottons … it's perfect lounge wear. For evening, I really like Mara Hoffman. It's very sexy — the way a woman wants to be sexy, if you know what I mean.
• Material Issues: It's not really about the fabrics this spring. It's more about the prints and the length of your skirts and dresses. It's either ultra-mini or floor length. We just had such a very "proper lady-like" fall season, so it's really fun now to dress loose, sexy and comfortable.
• Color Story: I don't think there's a must-have color, though I think the must-have is some sort of ethnic print. Buy any piece with any sort of amazing print whether it be a handbag, shoes, dress or cotton pants.
• Accessorize It: The best accessory this season is huge earrings.
• Flying Off the Shelves: Ya Ya, Mara Hoffman and Danang.