The Rock Stars Walk the Carpet
February 15, 2008 - 10:00 pm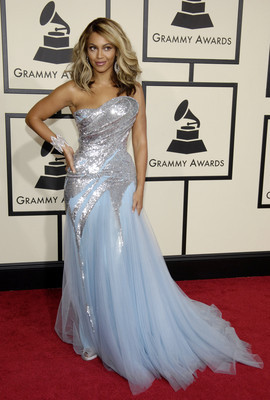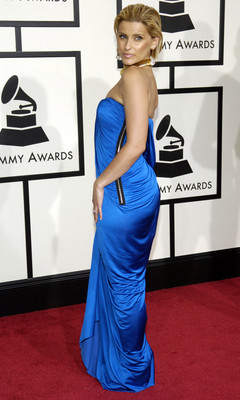 We think of the Grammys as the halftime performance for the big game that is the awards show season. This show knows how to check the stuffiness at the door and relax. The gowns get a little shorter and the ties get a little looser. It's just the fun energy we find ourselves craving this time of year.
This year's red carpet included some showstopping looks that sang sweet melodies to us, while others came in a little off key. Check out the hits and misses of the 50th Annual Grammy Awards.
GARZA'S BEST
• Beyoncé Knowles: Good riddance to her waist-long Seabiscuit extensions that long overstayed their welcome and au revoir to the yawn-inducing glam gowns. The shoulder-length locks, highlights and funky but whimsical Elie Saab dress let us see a new side of the singer. Finally. (Too bad she reverted back to her old ways for the after parties. To the left, Beyoncé.)
• Rihanna: The shredded hem on this Zac Posen dress perfectly complements Rihanna's new, jagged coif. And the orange DayGlo nails in oval, not square, tips? Somehow they're working, too. Kudos to the stylist who pulled off this risky, but exciting look.
• Ludacris: Wow. A rapper — from the Dirty South — who prefers to keep the bling out of the dental regions. Luda sets a fine example for his attention-starved peers still rocking grills and jerseys on the red carpet (ahem, Paul Wall). The Armani suit and aviator sunglasses make him stand out for all the right reasons.
STAPLETON'S BEST
• Ne-Yo: Gentlemen, if you want to don a casual-yet-dapper look on the red carpet, look no further than Ne-Yo. His Salvatore Ferragamo attire worked perfectly, and he even wore aviator sunglasses from Banana Republic to mix high- and low-end fashions. And unlike every other guy who wore a hat, Ne-Yo actually selected one that fit his head instead of looking like he borrowed his dad's duds (I'm looking at you, Chris Brown).
• Jay-Z: I had this fantasy before the Grammys of meeting a man who stored his clothes in a two-story closet and who possibly had more shoes than his, er, "friend." And then Jay-Z appeared, in a delicious bespoke Tom Ford tuxedo, and made me wish I had attended the opening of the 40/40 Club to see him in person. I thought he outshined Beyoncé, er, his "friend," for once. Divine.
• Faith Hill: This is how to wear an asymmetrical gown — a little fitted, a little embellishment, a sleek hairdo accented with some ear bling and a nice piece of arm candy known as Tim McGraw. It also helps that the gown was designed by Valentino.
GARZA'S WORST
• Chris Brown: Kids, this is what happens when you lock yourself in the bathroom and chant "Candyman" three times. Pure horror.
• Miley Cyrus: It's not so much the Celine dress as it is the overall look. The eyes are so smokey I could cough and the extensions are so stripperish I could tip her. If memory serves me right, Britney Spears donned an all-white ensemble to her first Grammys. Hmm…
• Chris Daughtry: Head-to-toe leather? He may as well unbutton the shirt a little lower, fluff his chest hair and shower in cheap cologne.
STAPLETON'S WORST
• Bai Ling: I understand the need to stand out from everyone when you're no one, so here's your 15 minutes of fame. Now please stop showing up for every red carpet.
• Nelly Furtado: Whoa, Nelly will never get it right. Bad shape, bad necklace, bad earrrings, bad hair.
• Fantasia: "And I ran, I ran so far away."
Contact fashion reporter Xazmin Garza at xgarza@reviewjournal.com or 702-383-0477. Contact Image Editor Susan Stapleton at sstapleton@reviewjournal.com or 702-387-2909.