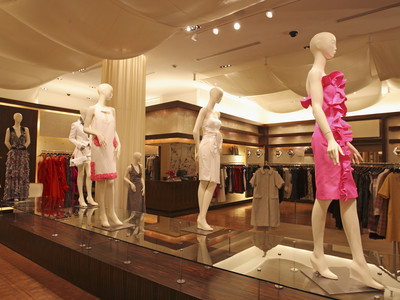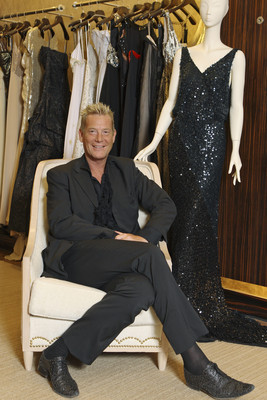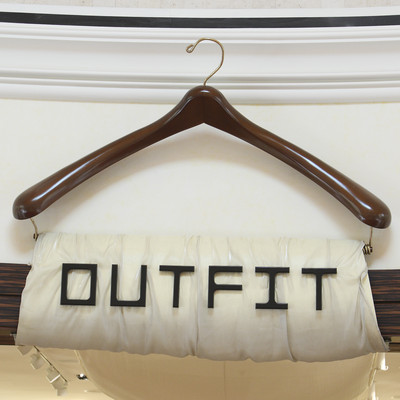 One of the best boutiques in the country resides here in Las Vegas, and you may not even know it. Outfit at Wynn Las Vegas is one of those places you visit to get ideas for outfits when you can't afford the prices on the hangtags. You go there to come up with ways to put together an outfit you want to stand out. And if you have the cash in your pocket, you pick up one of the Angel Sanchez, Zac Posen or Badgley Mischka dresses that finds its way gracing the runway that divides the boutique in two.
The store — a combined brainchild of Elaine Wynn, senior vice president of retail Terri Monsour and divisional merchandise manager and fashion director Todd Hanshaw — opened when Wynn Las Vegas unveiled its bronze exterior to the world in April 2005, and since, it's been finding its way into top fashion magazines and into the Rolodexes of high-end designers.
Of course, the fashions all cost a pretty penny. A hand-knotted Nina Ricci gown goes for $27,000. New designer Christian Cota found a niche at Outfit, which is one of the few stores that carries the technically advanced line that has fashion editors raving. Sophia Kokosalaki, another relative newcomer to fashion, has her urban hip designs in the store. But even $300 pieces have a place in the chic boutique on the Esplanade at Wynn.
"We didn't want to duplicate any of the specialty stores here," said Elaine Wynn, adding that Outfit didn't want to look like Neiman Marcus or Saks Fifth Avenue either. The mix of owned and leased stores such as Brioni, Oscar de la Renta, Louis Vuitton, Chanel and Christian Dior within Wynn also came into consideration.
Wynn compares the pieces Hanshaw buys to art. "He doesn't offer a basic blouse. They have twists to them," Wynn said.
Wynn, who asserts that she is not the typical customer that Outfit tries to reach, describes a white shirt Hanshaw told her to buy. "He has to buy what's current," Wynn said. "For me, to fit into a trend, it has to fit into my lifestyle." Since Outfit opened, even Wynn has added some new designers to her closet such as Temperley London and Vivienne Westwood, which she wore in a spread in Vogue.
Monsour describes Outfit as a collection of European and American designers "representing the best of the best and were not readily available. We're fortunate with Todd scouring all over Europe and New York to find the up and coming."
The store's reputation is such that now designers feel that if they want to enter the U.S. market, they have to get into Wynn Las Vegas. Christian Cota, a relatively new and young designer from Mexcio whom Style.com describes as "poised to swoop in and make fast fans of New York's young socials with his pretty, technically advanced collection," contacted Hanshaw with fabric swatches to advise him how to move forward. Now the designer, in his third season, is one to watch among the fashion forward and can be found within the racks of Outfit.
Before that, it was Alexander McQueen, a British designer heralded for his shocking designs. The designer, who wanted a foothold in the United States, found such popularity within Outfit that he opened his third stateside boutique in Wynn earlier this year.
"We go on hunts," said Hanshaw, who is in charge of women's buying. "We don't rely on other people's word."
"We started with an eclectic mix of new clothes that can be put together," Hanshaw said. Vendor adjacency ensures that shoppers can put together outfits without relying on top-to-bottom looks from one designer. "It's a very European way of shopping," he said.
"Everyone we bought could stand on their own or they play well with others."
Fashion regulars often scan the credits of magazines to find a Narciso Rodriguez dress and a Blumarine dress in the February 2008 issue of W, a Lanvin one-shoulder gown and earrings in the February 2008 issue of W, and a Givenchy coat and shirt in the March 2008 issue of Elle all credited to Outfit. When fashion magazines pull sample clothes from designers for photo shoots, the designer often gives the credit information.
Inside Outfit, you won't find entire collections from designers, but you will encounter well-edited picks across a broad selection of top names such as Lanvin, Narcisco Rodriguez, Bottega Veneta, Blumarine, Matthew Williamson, Yigal Azrouël, Roland Mouret and Maison Martin Margiela for people who always love fashion but want something a bit quirky. A fuchsia coat from Giambattista Valli never even hit the floor, it was so popular among clients who saw it in Wynn magazine before it arrived.
Next door and flowing into Outfit sits Shoe-In, the designer shoe store that complements the clothes. "From Christian Louboutin leopard-print pumps to Valentino and Sergio Rossi, the selection here is so outstanding, it amazes even jaded us," says Lucky Magazine about Shoe-In.
Even at Shoe-In, the bar has been raised. Nina Ricci runway shoes with heels wrapped by hand intermingle with the teaks of Brian Atwood and Henry Beguelin. New designers such as Camilla Skovgaard and Nicholas Kirkwood just entered the store.
But don't think of Outfit or Shoe-In as stuffy places where you won't be able to find your size or salespeople who won't help you find the right piece. "When you walk in that store, it's not intimidating at all, with prices from $300 to $30,000," Monsour said. "It appeals to all age ranges, all demographics as long as you're not looking for something you can find everywhere."
Contact Image Editor Susan Stapleton at sstapleton@reviewjournal.com or 702-387-2909.
the inside info
Outfit and Shoe-In are located at the Esplanade in Wynn Las Vegas. For more information, call 770-3465. Shoe-In can be reached at 770-3460.