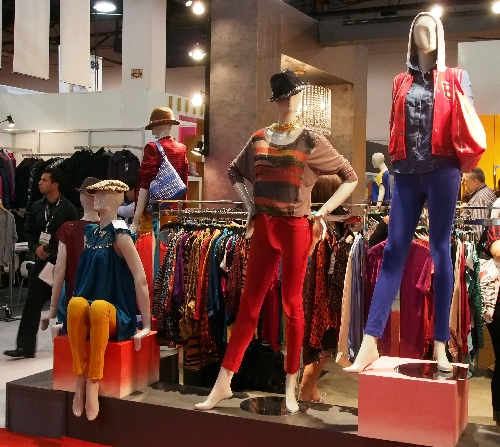 Buyers for the spring/summer 2013 season at MAGIC, the fashion trade convention that visits Las Vegas biannually, hope they have their fingers on the fashion pulse of their customers. But that's never determined until the actual shopping begins.
To aid their intuitive efforts, they count on people like David Wolfe, creative director at The Doneger Group, a top trend forecasting company. And, according to Wolfe, "everything you can possibly think of is trendy right now."
Recent fashion seasons have introduced every silhouette, every theme, every cut, every era. And, many of them have hung on for several seasons after their introduction, or reintroduction. Buyers must pick and choose the ones they think will resonate with their shoppers, Wolfe said.
One thing that is not "in," he asserted, is unrealistic, unwearable designs that can't even be considered "fashion."
Quoting Coco Chanel, he said, "It isn't fashion until people on the streets are wearing it." Pointing to the disgraced, ousted Christian Dior designer John Galliano's elaborate, theater-heavy runway looks of seasons past, he continued, "No one was wearing this."
A few already-existing trends he sees picking up momentum include disagreeing hemlines (high and low, lopsided, etc.) and stripes (rugby ones enter the picture). The color orange will gain even more prominence, neons will compete with leopard-print as the one-season wonder that never went away, and the gypsy or boho look isn't going anywhere, either.
Michelle Lindup, designer of the Paris-based Beija line, certainly hopes not. Her collection for spring/summer 2013 is largely influenced by what she refers to as "festival chic," a fashion spin on boho, short for bohemian.
"Coachella has been a big trend for several seasons," she said. "I just adapted one of my signature themes, boho chic, for it."
In the one and a half days she's been at the convention, buyers have shown the most interest in her Navajo theme. She put a feminine spin on the print, incorporating blush pinks and blues. She's most proud of a dress dripping in sequins that she covered with a print after the sequins were applied, a technique she said isn't common.
The Coachella, Calif., music festival image that comes to mind for many US Weekly and celebrity magazine readers is Vanessa Hudgens in her floppy hats, peasant tops, denim shorts and rugged boots. So, how do sequins fit into that picture?
"This is the (festival girl) on her party circuit," Lindup said. "She goes to Coachella and then she goes to Ibiza."
Not everyone at MAGIC has such an investment in what the trend forecasters predict everyone will be wearing next season. For some, what's "hot" was determined decades ago.
Recollection by Sandra Murphy is a vintage-inspired line that focuses on the '40s and '50s. It's being featured at MAGIC as part of the Emerging Designer Launchpad.
While the looks act as a time capsule into an era much different from 2013, each item featured in the collection still translates into modern trends.
For instance, the line features a few "playsuits." Most fashion followers would describe these as jumpers or rompers, but Murphy sticks to the description used when they were first introduced way back when. Variations of the color orange also appear. And, the wrap-around garment feature that's coming back is also shown with a few pieces.
Some details, such as the now uberpopular peplum-waist, are no-brainers because they're retro trends that have regained popularity. Recollection sticks to the original look, though, keeping the waistline lower on the waist, whereas the modern interpretation has it much higher.
Although her collection is based on another time, Murphy still goes through a lengthy process to come up with looks each season.
"I take most my inspiration from vintage sewing patterns," she said. "I immerse myself into the time and translate it into today."
For instance, the story line for her spring/summer 2013 collection was based on "the housewife." She appeared perfect and pleasant on the outside, but many times was bored and not as happy as perceived. Her wardrobe, Murphy imagines, was probably what cheered her up.
She collects vintage Vogue pattern magazines and Vogue fashion magazines. "Those were like (the retro housewife's) US Weekly back then," she said.
Her collection works very well with Wolfe's prediction that people want to return to "realistic" clothing. He points to Raf Simons' work at Christian Dior as a prime example of "simpler statements."
"It's much more important than some designer's drugged-out fantasy," he said. The wildly unrealistic designs "make great pictures in the magazines. But you never see that in real life."
Contact Xazmin Garza at xgarza@reviewjournal.com or 702-383-0477. Follow her on Twitter @startswithanx.