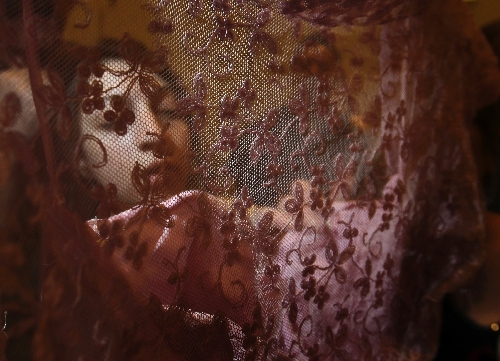 Alex Hutchings stands outside the Las Vegas Showgirl Museum with seven of his peers, wearing a wide grin as he waits for his field trip to begin. The 25-year-old student at the University of Nevada, Las Vegas just got thrilling news and can't wait to share it. If he can find funding, he'll have an internship with "RuPaul's Drag Race," a cable TV show produced in Los Angeles.
"I'm hoping to do research for my thesis," he says. "I'll be able to interview gay performers and find out how they see fashion themselves."
His thesis is titled "Costuming and Gay Performers." Hutchings is a history major and this is a history of fashion class.
It's one of the few fashion courses that doesn't require sketching or needles and thread, but none of that should come as a surprise since it's offered through the history department. The curriculum here puts less emphasis on Coco Chanel and her pearls and more focus on the kind of facts that can make history buffs genuinely interested in fashion trends.
"I talk about what Americans have come to expect of their clothing – comfort and practicality," says Deirdre Clemente, history professor at UNLV. "And what is that a reaction of? Social, economic and political change."
For instance, women wearing pants. The progressive trend started in the '20s in France. Women in the United States didn't start putting their clothes on one leg at a time until the '30s. After World War II, the trend took a "downward slide," according to Clemente, because men didn't like returning from the war and finding their women in dungarees. By the second half of the '40s, however, women donning pants was commonplace.
"Women's power as consumers made this trend happen. People think everything comes down from Givenchy – no," Clemente says, holding her hands up to mock a puppeteer. "That's why this was so profound because it was one of the first times fashion was driven by the masses."
The history professor once worked as a fashion reporter at the Baltimore Sun. She got her doctorate at Carnegie Mellon University and worked as a curator for the Heinz History Center for two years before moving to Las Vegas. She's always taken a special interest in fashion history, particularly the '20s, or as she refers to it, the Gatsby era.
In fact, "The Great Gatsby" feature film starring Leonardo DiCaprio and Carey Mulligan that's set for release this Christmas relied on Clemente's expertise for costuming. They found her through the Fashion Institute of Technology, where she wrote a thesis for her master's degree called "Fashioning Fitzgerald: Clothing as Cultural History in the Early Works of F. Scott Fitzgerald." She acted as one of many history consultants for the film.
Eleven students take her history of fashion class. Most of them are humanities and liberal arts majors and one studies anthropology. The syllabus' weekly schedule varies from "The Fallacy of the Flapper: Five Untruths of an American Icon" on Feb. 29 to discussion of the zoot suit March 26 to "P. Diddy is Worth $350 million: Clothing and Hip-Hop Culture" April 16.
Field trips include a jaunt to Hard Rock Hotel, where they get a lesson on the effective display of its rock 'n' roll garments; a trip to the State Museum of Nevada where curator Dennis McBride provides hands-on analysis of costumes; and the aforementioned Las Vegas Showgirl Museum, where Grant Philipo discusses his vast collection of showgirl costumes and gives students a tour of his home where they're displayed.
It's a two-part course. Next semester gives the students exhibition experience with a State Museum of Nevada partnership. Students will learn how to dress a mannequin, how to handle historic costumes and how to conduct archival research, among other things.
"I'm not just teaching fashion 'cause, 'Hey, aren't these cool pictures?' I'm giving them skills and critical information that teaches them to look critically at history. It's applied history and that's invigorating to teach that. Our program is getting people with history degrees jobs," she says.
The UNLV history department has placed its graduates at museums, national parks and other universities.
Fifty-five-year-old Jim Turben, who was laid off from his printing press job last year, is taking the course to get a degree in history and hopes to go on to teach it.
"I want to get through to the kid that I was," he says. "Maybe then my life will mean something."
Contact fashion reporter Xazmin Garza at xgarza@reviewjournal.com or 702-383-0477. Follow her on Twitter @startswithanx.