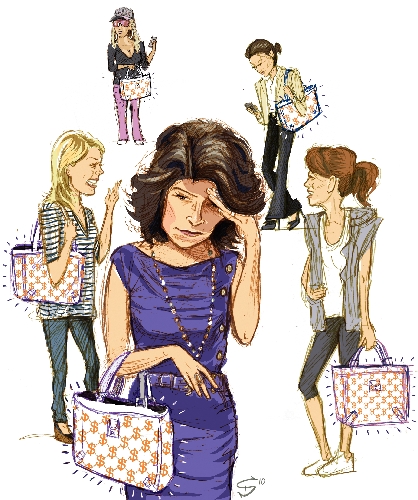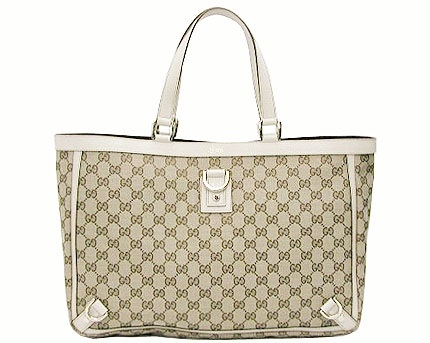 I'm a big proponent of the sentiment "it's the thought that counts." So much so, I've been wearing one of those thoughts on my shoulder for – I've been counting – two months now. You may know it as a Gucci monogrammed tote bag, but I like to call it the greatest fashion dilemma I've ever faced.
It all started with an innocent lunch date. An old friend came into town and asked to get together. As I made my way into the restaurant to meet her, I noticed her oversized Gucci bag propped on the table and wondered if that was the modern woman's way of snapping her fingers at the servers. "What can I get you, ma'am? And what will the Gucci be having?"
Shortly after my friend and I exchanged greetings, something highly unexpected happened. She gave me the ol' "You know you're my girl, right?" speech and reached into her purse. I watched as her oversized Gucci gave birth to a smaller, gently-used Gucci right there on our table.
"I want you to have this," she said, holding Gucci Jr. out in front of me. Silence. Hugs. And then the dilemma.
See, my problem wasn't with the bag's quality or style, which are impeccable and functional, respectively. My problem was with the logos. If they come in the form of a small apple, golden arches or red and white bull's eye, I'll greet a logo with a smile, maybe even a noogie. But I get along with those symbols because they know their place – and it's nowhere near my clothes or accessories.
That said, the Gucci gift happened to come right as my Cole Haan shoulder bag began to overstay its welcome. I needed something different and here it was, in all its logo-laden glory. But, how would I ever explain this? I'm the girl who mocks the girl with the monogrammed bag, not the girl who rocks the monogrammed bag.
I'm also the girl getting married soon. The minute I reminded myself of that, my pride had a mental throwdown with my wedding expenses. Let's just say I was humming "Here Comes the Bride" as I transferred the Cole Haan contents to Gucci Jr.
My fashion logo disdain is pretty simple. Aside from the lazy design approach, they are nothing more than dollar signs. Coach is one dollar sign. Gucci upgrades to two and if someone has the LV (Louis Vuitton) symbol in a redundant pattern on a piece of luggage then they've hit the logo jackpot.
And, just like the sound of a bucket of coins dinging against the payout tray in the casinos, they want to announce it. They want a bag that screams its label loud enough for the folks in baggage claim and the baristas at Starbucks and the parents of their kids' soccer teammates to hear it.
I, on the other hand, would rather pixelate logos than carry them on my shoulder. Again, it's about what they represent.
If it's not about money, it's about fitting in. That's what it came down to the last time I wore fashion logos, anyway. I found myself in the middle of a hostile fashion climate with critics as scathing and unforgiving as Anna Wintour herself. It was the early '90s. The setting was Valley Junior High, the critics were my classmates and the must-have's included the Guess Jeans triangle and the letters E.N.U.F.
It's hard to see fashion logos as an adult and not be reminded of that insecure, style-bankrupt time also known as my adolescence. That explains why the sight of other grown women obsessing over intertwined C's (Chanel) makes me instantly picture them with braces, trying to remember their locker combinations.
I carried the bag for the first time with an almost apologetic demeanor and felt like I had to explain to everyone why my "new" purse looked like a child's alphabet lesson that forgot 25 other letters. Co-workers had to hear all about my friend and the lunch and the Gucci delivery. Shockingly, no one tried to brand the word "hypocrite" onto my forehead. Still, I wanted to call my friend back. Maybe she could reach into her magic Gucci again and pull out a trench coat and Jackie O glasses.
I could've certainly used the disguise that first week as I stood in line at a mall cafe. After making my pick from the menu, I took a look around to notice the girl standing in front of me. She looked like the ninth castmember of "Jersey Shore" and carried a Gucci logo drawstring bag. A woman on her lunch break stood in front of her with a Gucci logo satchel in her grip. In front of them was a mother in gym clothes, holding a Gucci logo tote. The food trays had more originality.
That's why these past two months have been challenging for me. I didn't want to look like those women. Then I took a moment to really think that through.
If it all comes down to how other people look at me, I'm no better than the logo-lovers who make me realize just how large a circumference my eyes can roll. I know why I'm carrying Gucci Jr. and it has nothing to do with status or insecurities.
It's partly about budget-consciousness, yes, but it's more about friendship. My friend didn't have to give away the first real designer bag she ever owned and she certainly didn't have to bestow it on me. But she did. And that holds far more significance than the logos ever will.