World's largest H&M calls Vegas home
December 16, 2010 - 12:00 am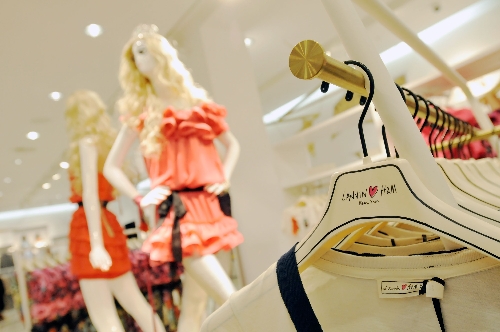 One step into the 60,000-square-foot H&M store at the Forum Shops at Caesars and you'll feel like you just walked into your own surprise party. Mannequins in masquerade masks, suspended in midair, leap out at customers. Amid 11 disco balls, a DJ spins from an overhanging balcony-turned-DJ booth. Geometric cutouts that change colors with lighting effects resemble confetti.
H&M is throwing a party for you, Las Vegas. The surprise? It's the world's largest H&M store. Not the country's largest, but the world's largest. That explains why 1,100 people stood in line on opening day for a first look at the store. It's also the last store in the country to debut the Lanvin for H&M collection, which sold out everywhere else.
It's fitting that the store sits where the defunct FAO Schwartz toy store once did. Now adults get to play here.
This marks the 209th store H&M has opened in the past two years (Vegas has one at Miracle Mile Shops and a larger one at Town Square). "It all comes down to our business concept," says Nicole Christie, H&M spokesperson. "Fashion at the best price possible."
The designer collaborations have been essential in that effort. With high fashion designers such as Karl Lagerfeld, Roberto Cavalli, Stella McCartney and — most recently – Alber Elbaz of Lanvin, lending their coveted names and expertise to the budget-friendly fashion retailer, fashion has become accessible to the everywoman. The collections sell for a sliver of the prices the designers' ready-to-wear lines go for, which is why customers sometimes line up days before a big launch.
Lanvin for H&M's embellished T-shirts start at $39.95 with cocktail party dresses at $199. At press time the collection was still available at the Forum Shops location.
Christie says all designer collaborations will be available at Vegas' newest store.
H&M also largely contributed to the whole high-low trend that fashion plates adopted a few years ago. It's not unusual to see trendsetters such as Kim Kardashian and Katie Holmes in a Marc Jacobs skirt, Yves Saint Laurent shoes and an H&M shirt topping it off. It's now cool to break up the luxury monotony.
Visitors to the new store at the Forum Shops will find three levels, filled with every department imaginable. Men and children get a nod, yes, but women will find the most of all the customers. On level two is a Ladies Lounge overflowing in blush pink with sheer curtains separating the space from the rest of the store. According to Christie, this is part of the store-within-a-store concept. Customers should feel as though they've entered a completely new space. In this case, they might feel like they've stumbled into a glamour girl's boudoir.
It's full of glass-enclosed bras and lingerie, body lotions, lip glosses, pearl garter belts and footwear to complement it all. The fitting area, separated by another curtain, features several rooms and mirrors with retro lounge chairs in the waiting area that look plucked from Mae West's bedroom.
Throwing a bone to the guys, there is a vibrantly decorated lounge area with plenty of seating and a flat-screen TV.
Departments like maternity, cosmetics, a separate area for denim and an extensive accessories section, will beckon locals to endure the tourist traffic.
The rest of the store features the expected departments, just amplified. Shoppers can still find dresses starting at $19.95, sweaters for $14.95, and jackets for $29.95. Between the carousel horses, a light show and elaborate store displays, H&M creates a true luxury experience for its customers – until they reach the cash register.
If that's not enough to convince those unfamiliar with the retailer that this store is a big deal for fashion in Las Vegas, they simply need look at the Flamingo, directly across the street from Caesars. It's flanked with a massive H&M advertisement.
"This marks 10 years in the United States for H&M," says Christie. "It's a very special flagship location."
The world's largest H&M is located at the Forum Shops at Caesars, 207-0167.