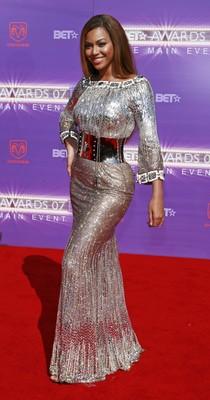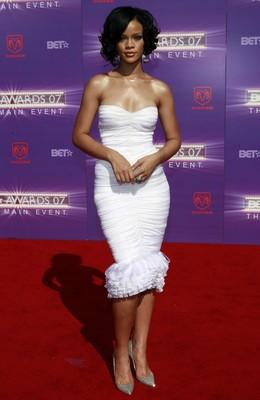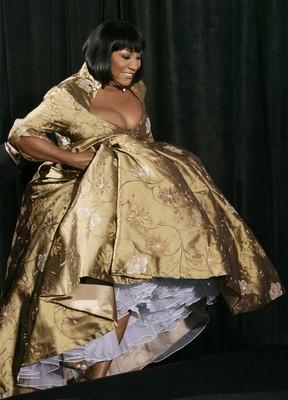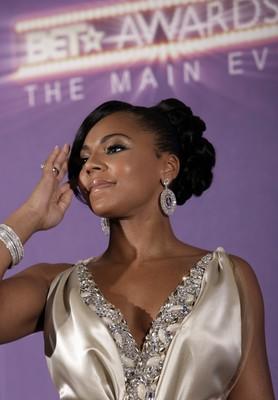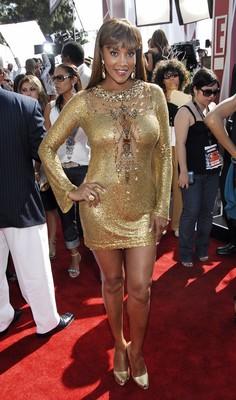 Editor's Note: Fashion Walk-Off is one in a series of articles written in collaboration by the image staff. Fashion reporter Xazmin Garza and image editor Susan Stapleton take a look at the fashions worn by celebrities and offer their opinions.
The 2007 BET Awards may be the rising star among awards shows since it was the only one to grow its audience and its star power so far this year, but the fashions still haven't quite caught up. We should look forward to the performances for entertainment value, not the red carpet. That said, a few managed to pleasantly surprise us. Take a look at our critique of this year's show.
GARZA'S BEST:
• Rihanna: If Rihanna looks a little nervous and out of her element in this photo it's because, before this moment, she never knew what a stunning red carpet ensemble felt like. The bouncy bob and snug white Hervé Léger dress work so well she could even be forgiven for writing a song about an umbrella.
• Beyonce Knowles: Yes, she's super sparkly in this Dolce & Gabbana gown, but that's what happens when you can cover up this much and still look this sexy.
GARZA'S WORST:
• Patti LaBelle: Unless Ms. LaBelle here planned to go to the mic and break into opera, revealing the logic behind the "Gone With the Wind" petticoat, suffocating bosom and Cleopatra wig, she has no right to look so delighted.
• Eve: Um, you're the rapper not the groupie. For someone so passionate about fashion you deserve to sit next to Flava Flav for abusing this Dolce & Gabbana dress.
STAPLETON'S BEST
• Ashanti: Ashanti has made herself into a collectible here. Her dewlike makeup and gorgeous up-do let her beautiful complexion shine through. And the understated champagne gown encrusted with jewels complements the simple diamond drop earrings and bangles. She looks like royalty.
• Eva Pigford: "America's Next Top Model" indeed. Pigford dons a Technicolor, striped dress that makes her stand out from the crowd. She has the leg peep working for her. And her minimalistic hair and jewelry strike the perfect pose for the red carpet. Bravo.
STAPLETON'S WORST
• Vivica A. Fox: I don't get it. Two weeks ago Fox made my best dressed list at the Daytime Emmys, but then she shows up in this gold concoction that saw its day at Studio 54. Rewind the clock to your last red carpet instead of the '70s.
• Beyoncé Knowles: Hip huggers? Out. Metallic gold pants? Too much. Gold bra? Madonna did that in the '80s. Get me bodied? I don't think so. Beyoncé, you're such a style maven that I just don't understand how you went from irreplaceable to making me so not dangerously in love with you.