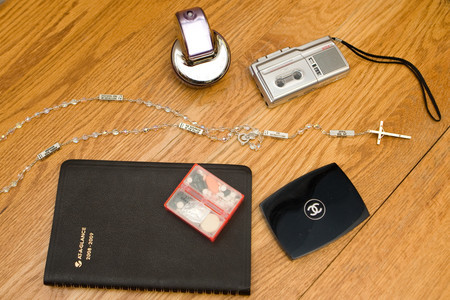 • Who? Imelda Papin, co-headliner at The Orleans Friday through Sunday with Melissa Manchester
• Where? KLAV radio studio, where she hosts the Imelda Papin Show every Sunday
• Handbag? Guess metallic gold tote
• Are handbags status symbols? Handbags are a status symbol for every woman. What really matters is the amount of pockets. If it's a brand name or not, it's got to have lots of pockets, look good and not be too heavy.
• What does this bag say about you? I love that it's a gold bag and that I can wear it any time and it goes with my Rolex watch and gold jewelry.
• If someone found your bag and looked inside, what would they think of you? I bring everything with me.
• What's the most important item you've ever carried in your bag? Makeup, perfume and a rosary.
• What's the strangest? CDs; my music track.
• Tell us about the first special handbag you owned. A Louis Vuitton. It was the "in" thing that all the celebrities were using while still being a classic.
• Knockoffs: Love 'em or hate 'em? Hate 'em. If it's fake it's not right to use it. It's like record pirating, but pirating the handbag.
• Image is … the mirror of you to other people.
• What's in your bag? 1. Bulgari perfume, 2. Voice recorder, 3. Rosary, 4. Chanel compact, 5. Vitamins, 6. Phone/appointment book.