Zappos launches clothing line for people with disabilities
Updated May 4, 2017 - 12:36 pm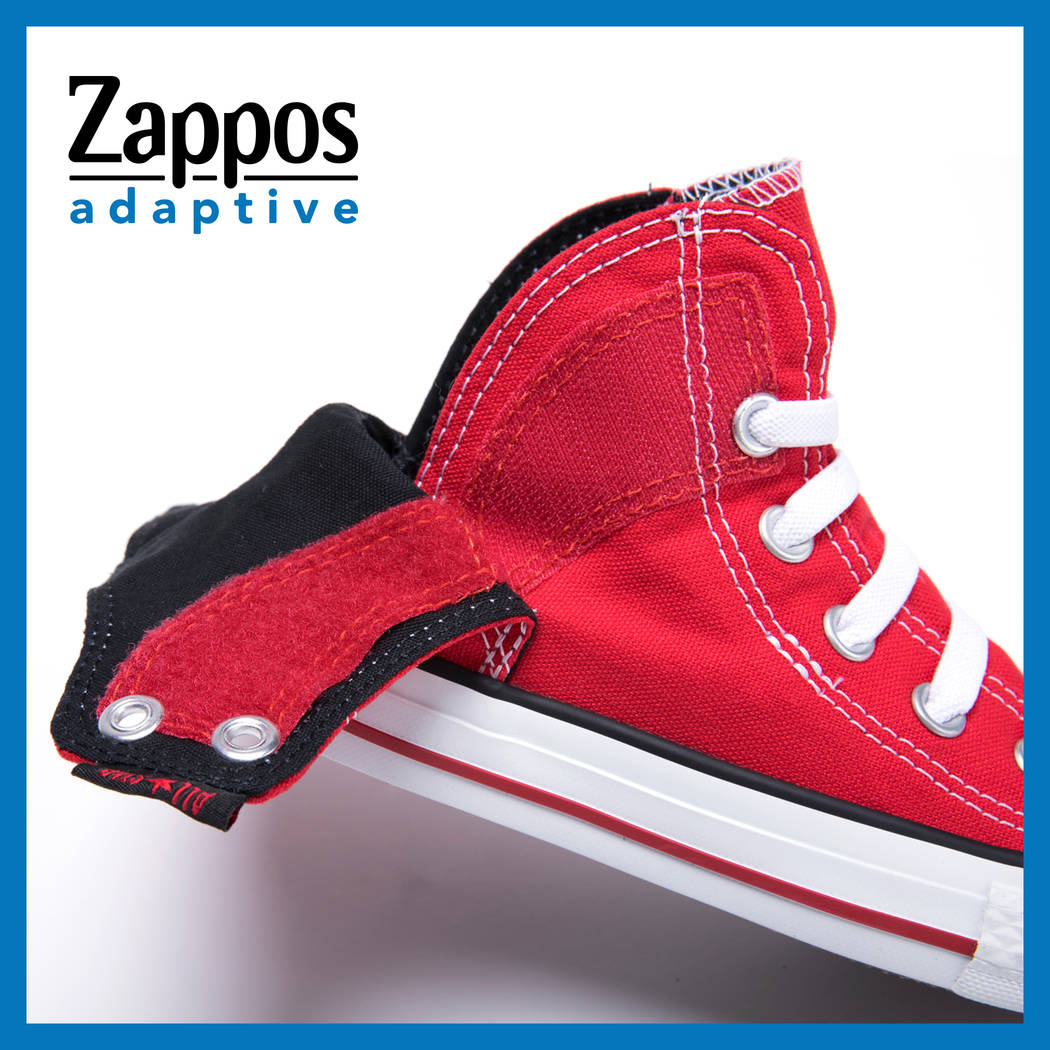 Madeline Stuart, one of the first models with Down syndrome to walk in New York Fashion Week, finds that pants tend to run long on her and shoelaces are difficult to tie. She often opts for leggings and shoes that unzip, slip on or have Velcro.
Someone with autism may be irritated by tags, seams or certain fabrics.
Adaptive clothing that offers style, fit and comfort is gaining attention, especially since being added by the large online seller Zappos.
Zappos Adaptive compiles clothing for adults and children that are tag-less, reversible (back to front and inside out), have elastic waistbands, super-soft fabric and no buttons. The shoes slip on, use bungees or are orthotic- and diabetic-friendly.
There's a Zappos-exclusive line of sensory-friendly clothing from 4Ward and items from Independence Day Clothing, two adaptive clothing brands. Zappos Adaptive also lists items from mainstream brands such as adidas and Under Armour that fill the bill.
Gaining exposure
Stuart, 20, gained recognition in 2015 when a before-and-after weight-loss photo went viral on social media. That initial success lead to runway shows around the world for the Australia native. Earlier this year, she released "21 Reasons Why," her own line of leggings and tops.
Stuart signed on as an ambassador for Zappos Adaptive, as did Alexis Wineman, Miss Montana 2012 and the first Miss America contestant with autism. Both appear on the website and will promote Zappos Adaptive on social media.
Stuart's mom, Rosanne Stuart, reached out to Zappos for a potential partnership, unaware at the time that Zappos Adaptive was in the works. It proved to be a good fit for the model, who has made advocacy and charity work key parts of her career.
"Being out there and knowing what it's like to have a child with a disability, it can be like being an elderly person, where you become invisible," Rosanne Stuart says. "People in the past, not so much now … haven't wanted to help people with disabilities. And for this company to do that, it is really an amazing thing."
Everyone has sensory preferences, whether that means disliking a certain smell or not being able to stand wearing a turtleneck. For individuals with autism, these preferences can distract or upset them to the point where it interrupts their daily functioning.
"The hope would be that (adaptive clothing) decreases distractions, irritability and tantrums," says Julie Beasley, a child neuropsychologist and director of UNLV's Ackerman Center for Autism and Neurodevelopment Solutions.
She says Zappos is the first mainstream retailer she's seen that offers clothing specifically catering to people with disabilities. Otherwise, people have had to either hunt within mainstream brands for items that fit their needs or purchase from specialty brands.
Customer inspired
Zappos Adaptive was created in a roundabout way. Saul Dave, a director in the IT department, learned about adaptive clothing while going through Zappos' intensive orientation program. All employees, regardless of whether they're in a customer service role, undergo call center training. Dave spoke with a customer who wanted to replace a pair of her autistic grandson's shoes. She explained that he had trouble tying laces and that shoes with Velcro straps worked best, though they were becoming increasingly difficult to find in his size as he got older.
That got Dave thinking. "There seemed to be no one in this space," he says.
Though developing Zappos Adaptive didn't fall within Dave's day-to-day tasks, Zappos' unique company structure encourages employees to take on passion projects, he says.
He recruited a team of employees throughout the company and two-and-a-half years later, on April 19, Zappos Adaptive launched.
Among the products on www.zappos.com/adaptive are a four-way reversible T-shirt by 4ward that costs between $26 to $36 and a reversible long-sleeve dress by Independence Day Clothing that costs $85.
Dave wants to expand what Zappos Adaptive offers.
"We're hoping that the customer base will tell us what to do. We're definitely not experts in this area and we want to listen to the customers and if they say, 'Wow, we wish that we could find XYZ,' then we can start researching that and seeing if we can bring that on the site," he says. "It's definitely going to be a work in progress and we had to start off small."
The fact that a retailer as large as Zappos is carrying these types of items is significant, Rosanne Stuart says, because it will save people with disabilities and their families significant time and frustration searching for suitable clothing. For children with disabilities, it's also significant that they can now shop for their clothing at the same place as their siblings without disabilities.
"For this to be happening, it just goes to show that the world is becoming a better place," says Rosanne Stuart.
Contact Sarah Corsa at scorsa@reviewjournal.com or 702-383-0353. Follow @sarahcorsa on Twitter.