Flora Pop brings pop-up weddings to Las Vegas desert — PHOTOS
Updated June 10, 2017 - 12:01 pm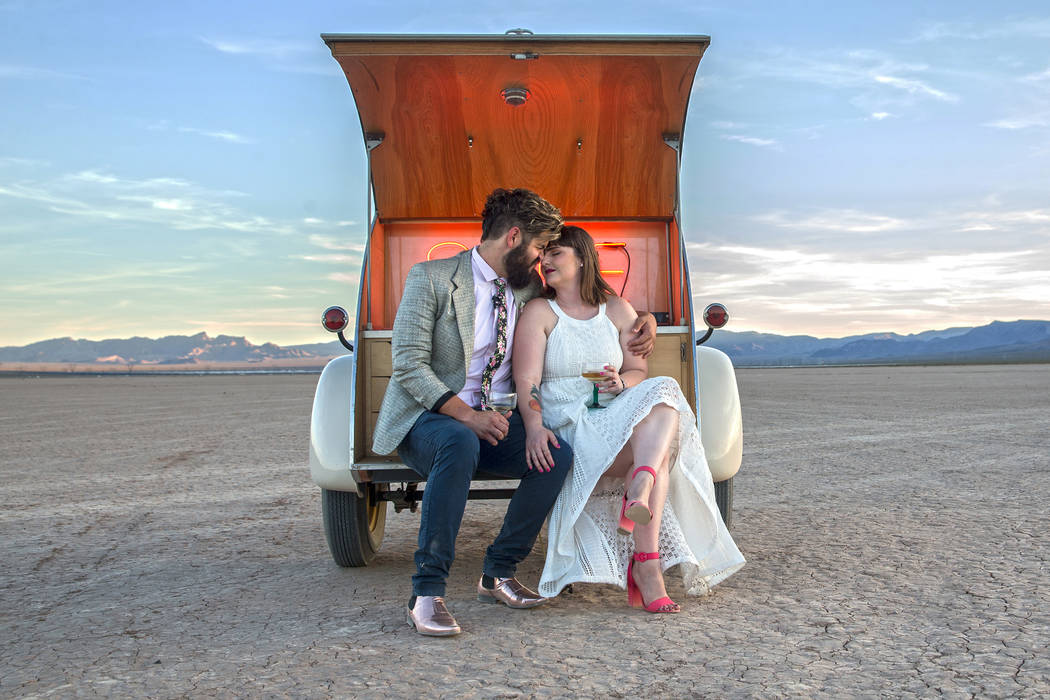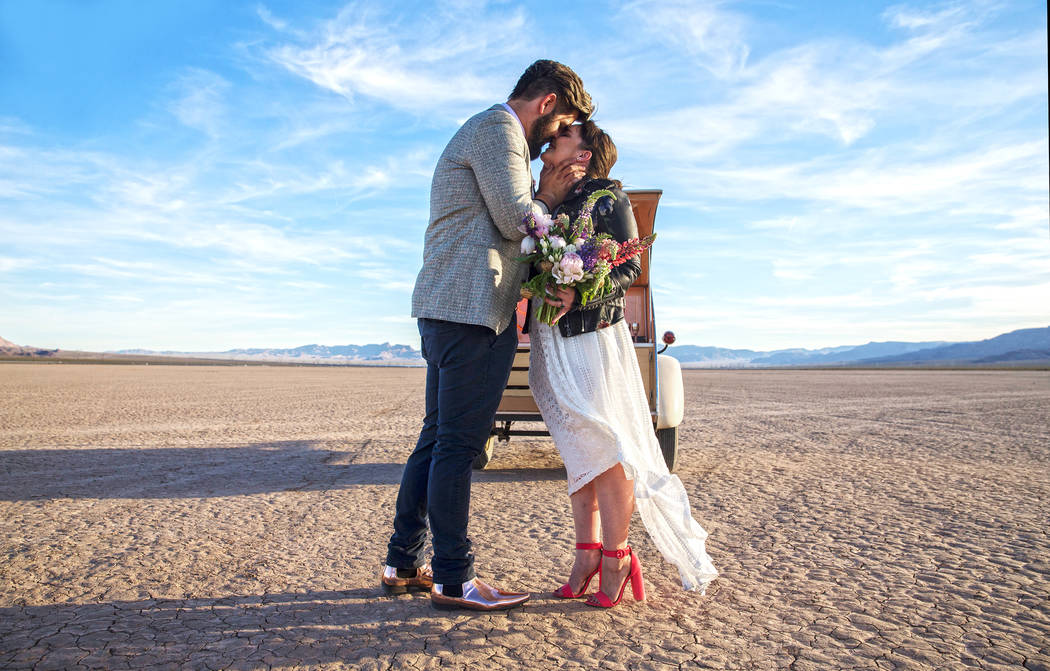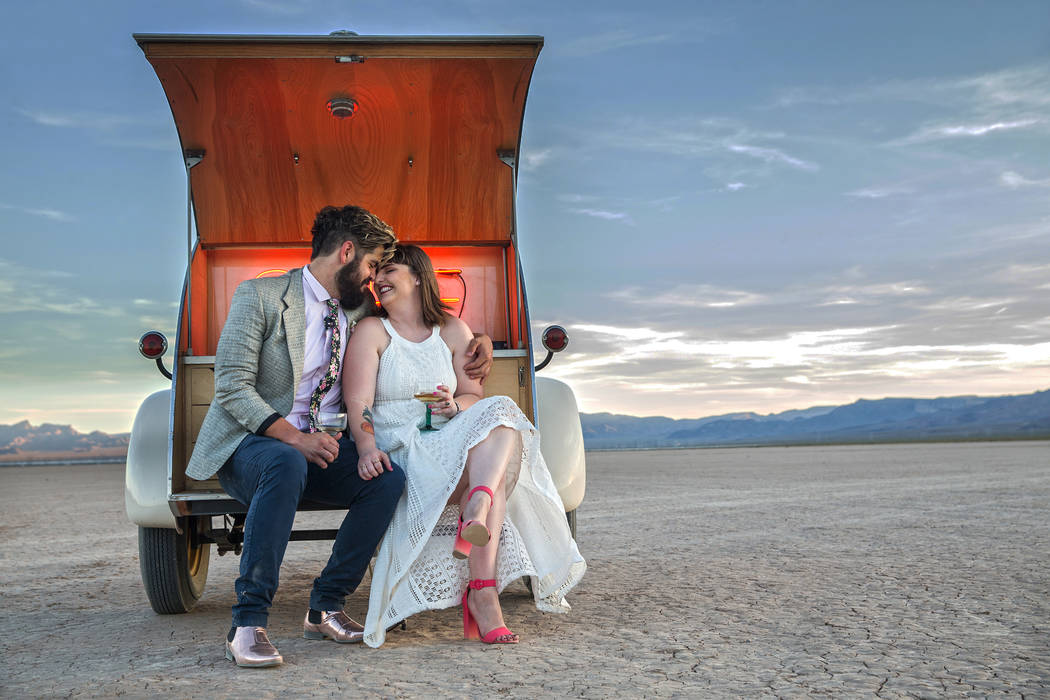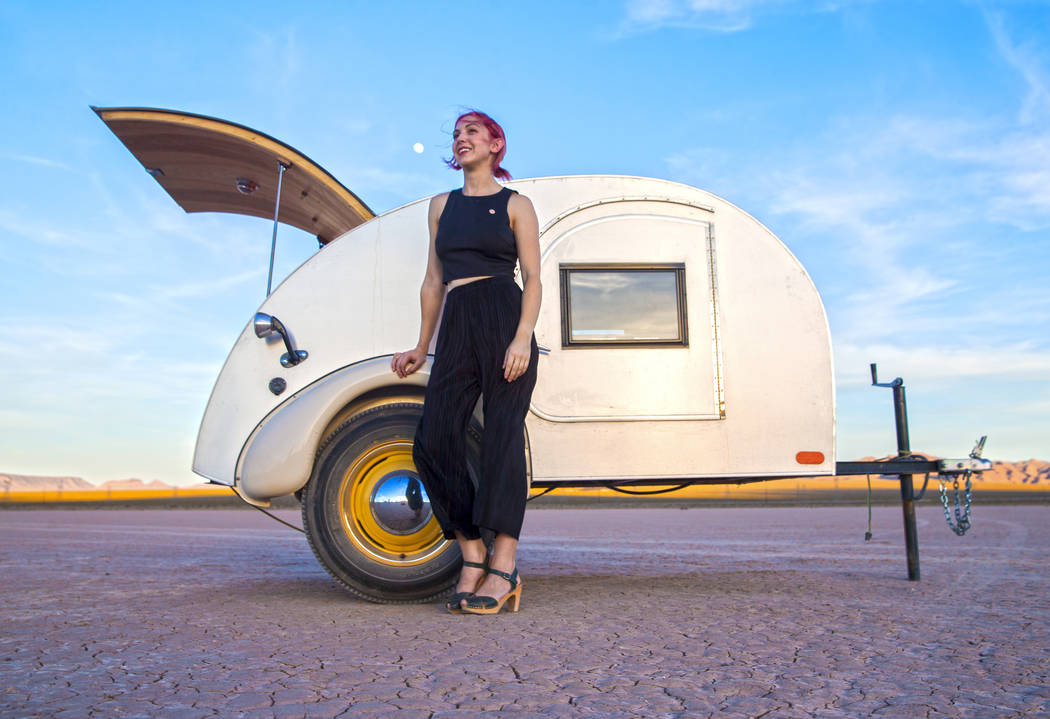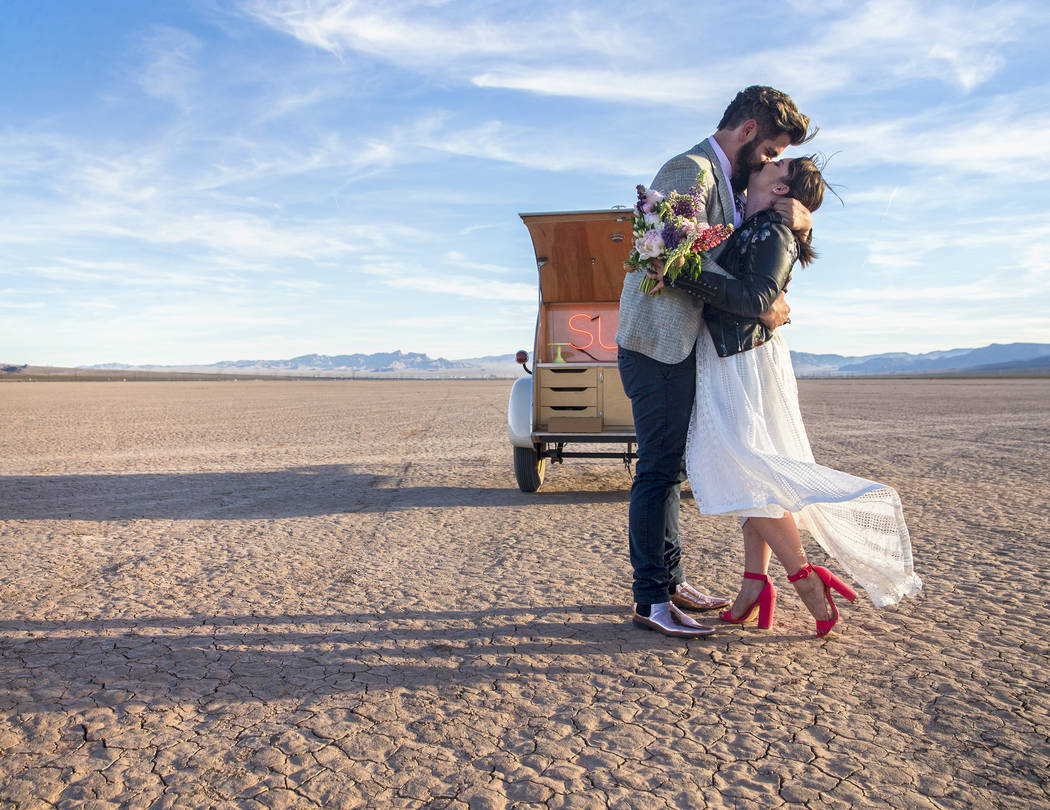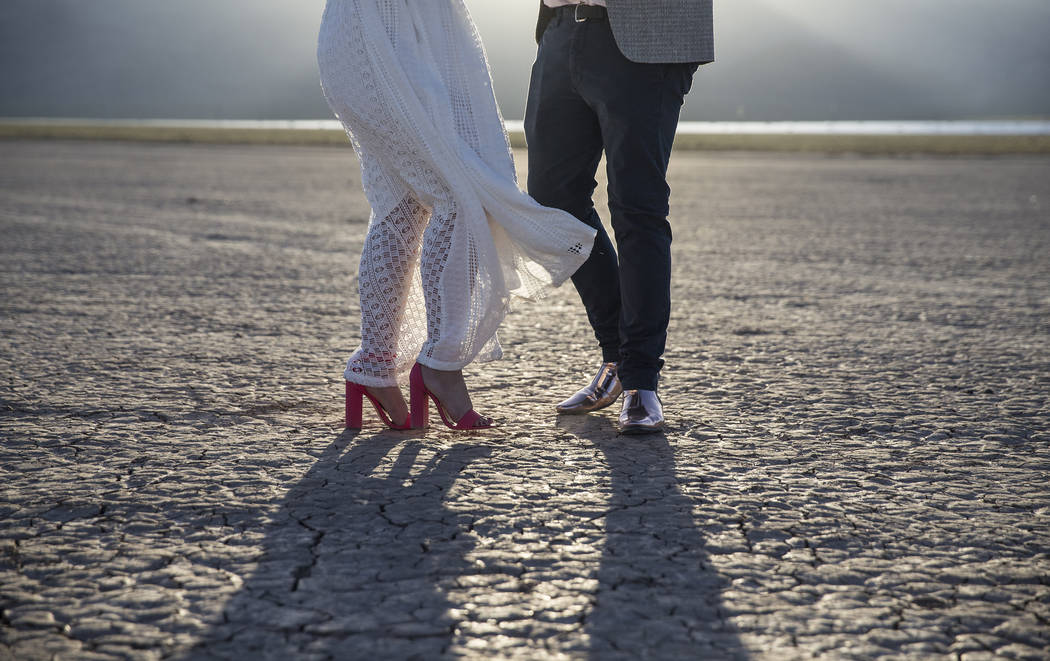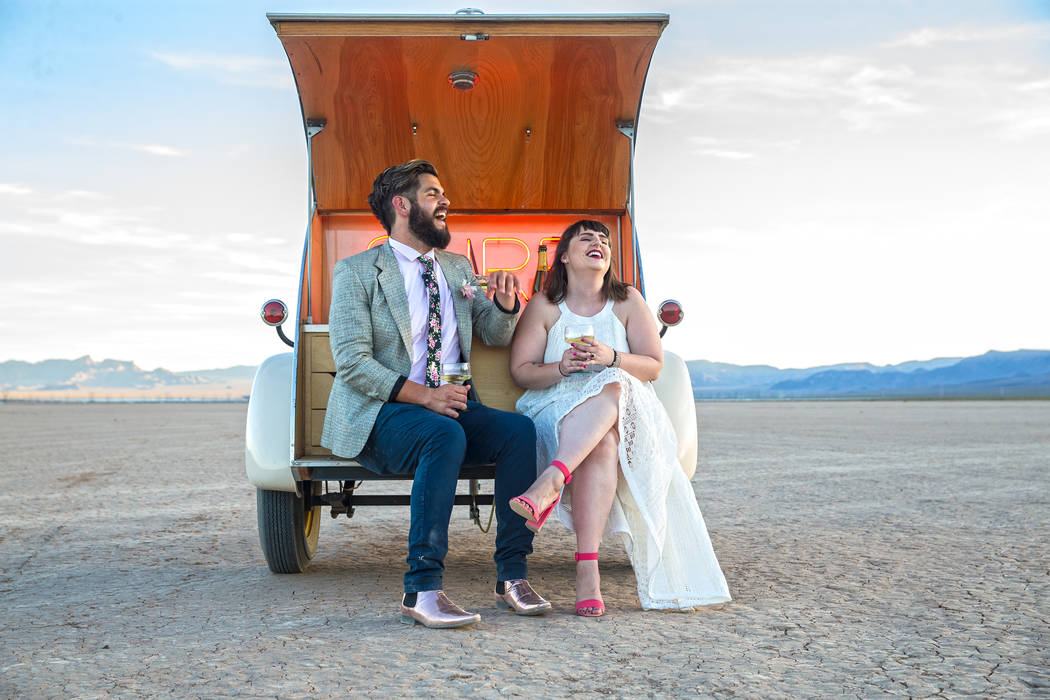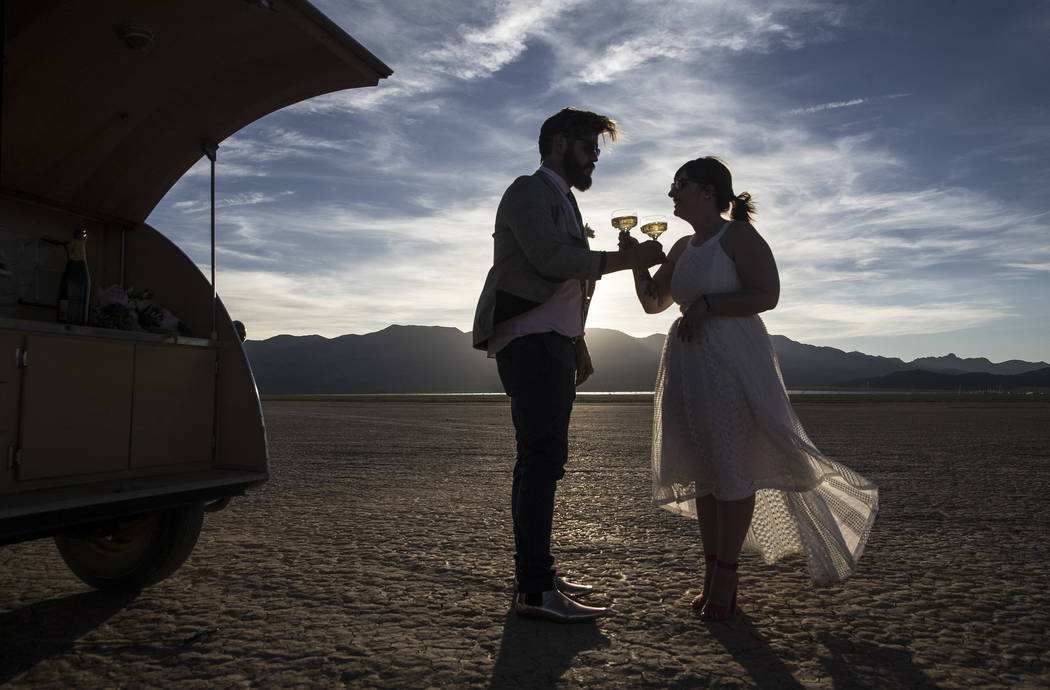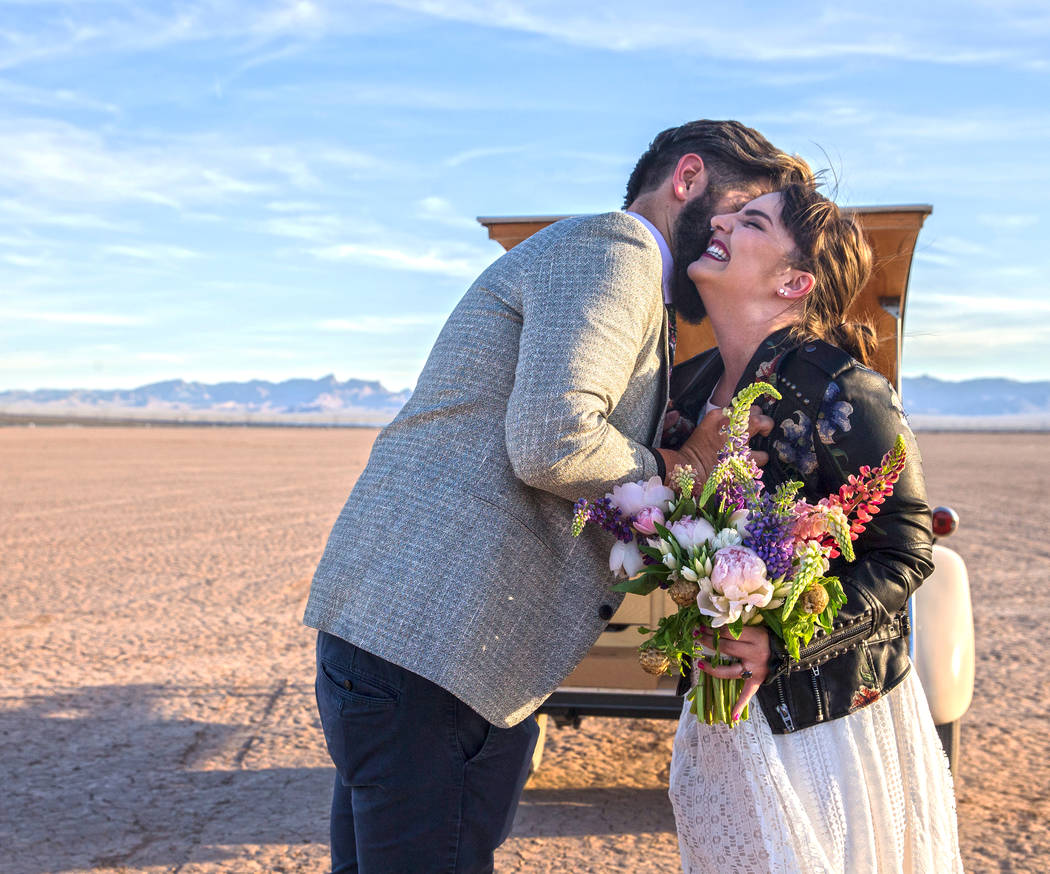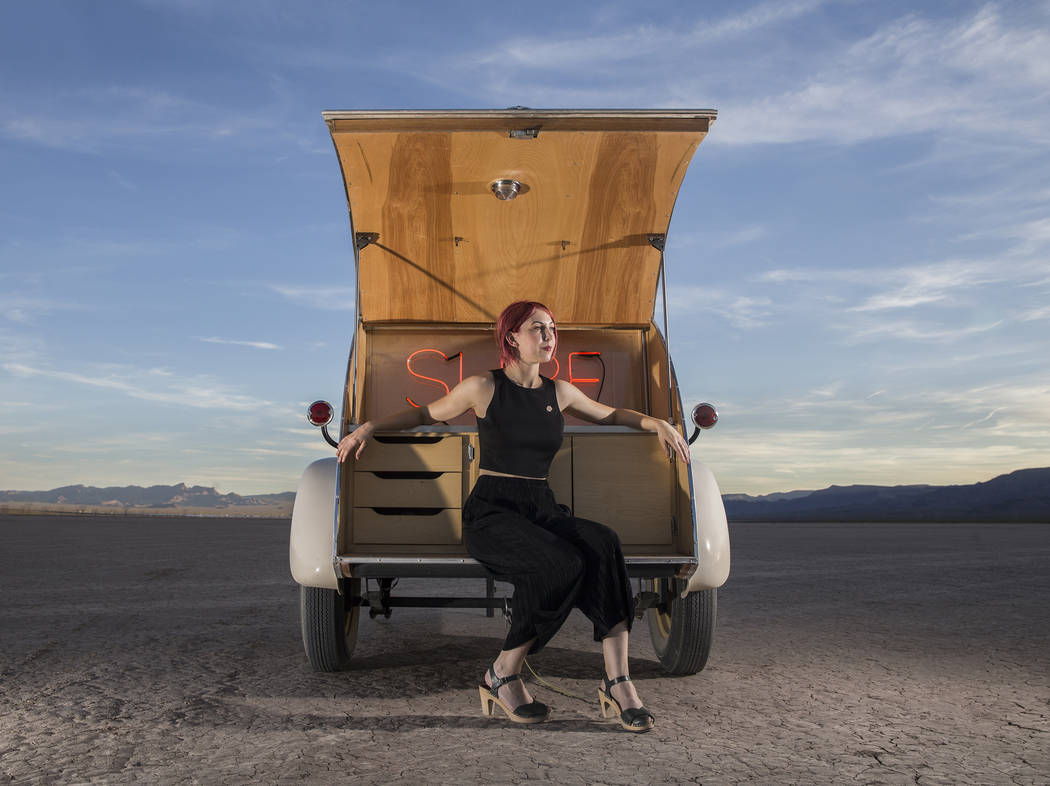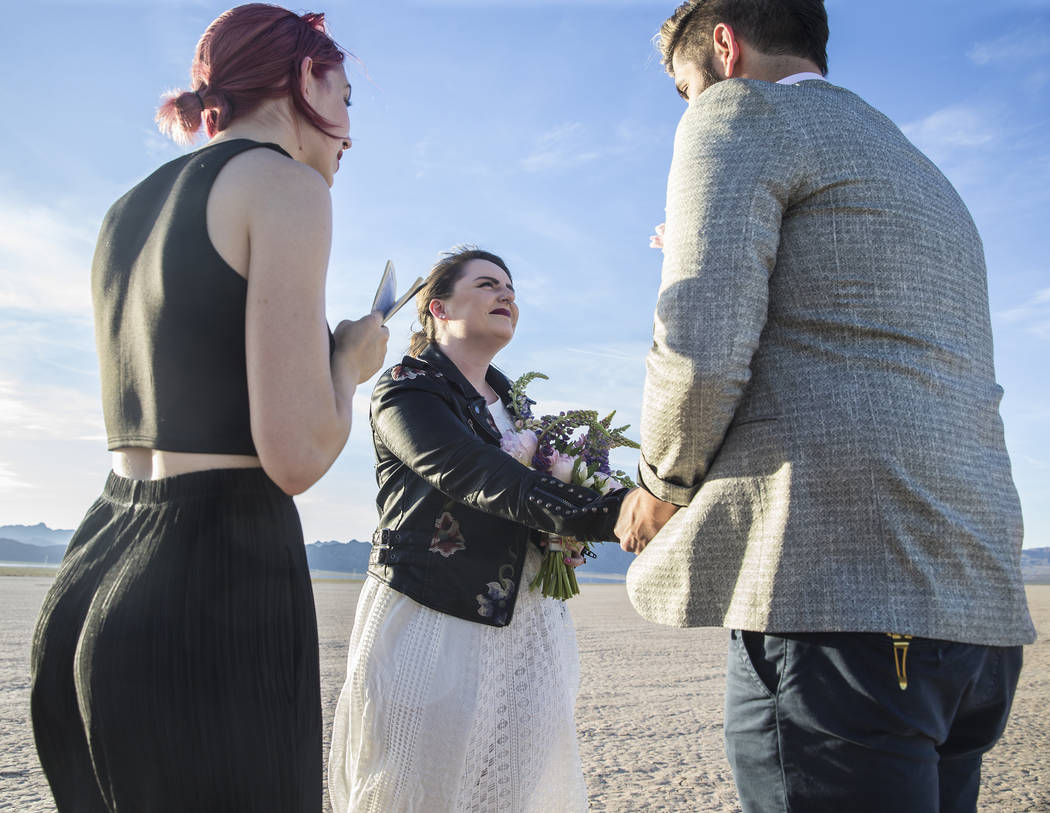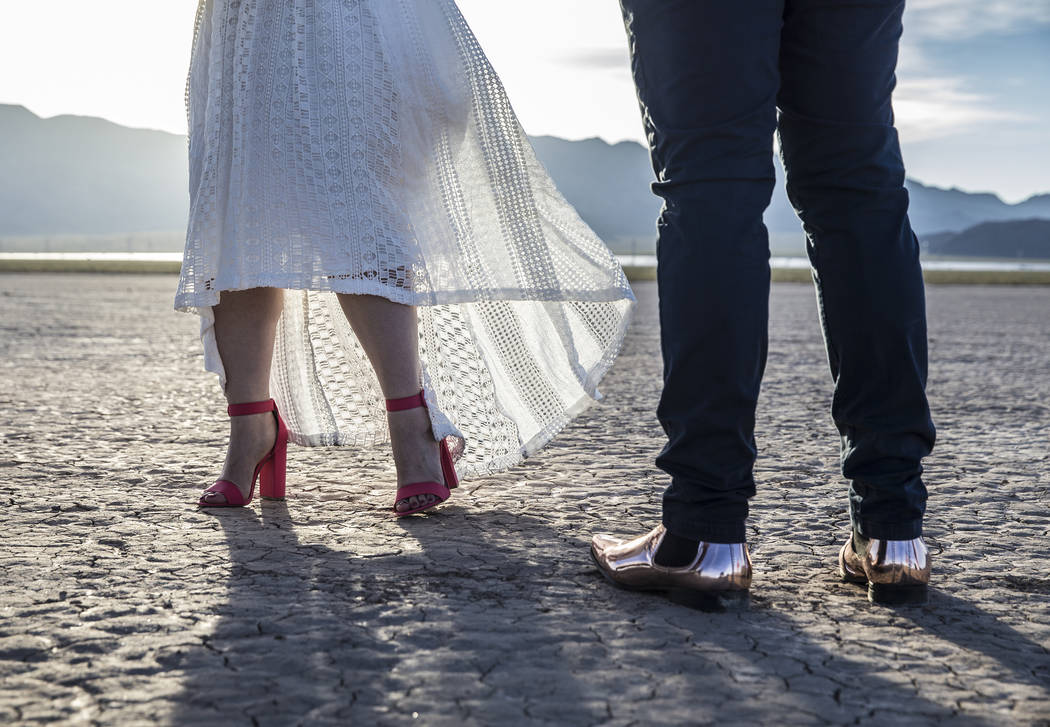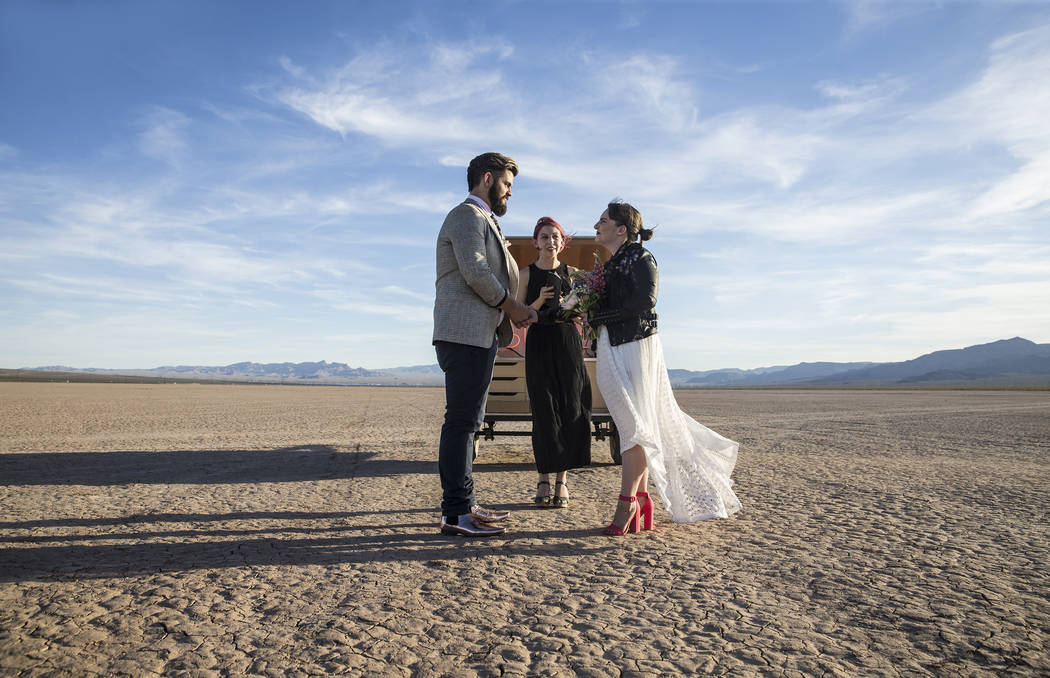 Victoria Hogan pulls a silver teardrop-shaped trailer behind her Jeep onto the Eldorado Dry Lake Bed and rolls to a stop once she finds a suitable spot. Set back from the highway, it feels expansive yet secluded.
She pops open the back of the trailer and flips on a neon sign reading "SURE" in pink piping. Hogan thinks of it as a cheeky response to a marriage proposal or suggestion that they drive out to the middle of the desert for their nuptials.
On the small shelf in the back of the trailer, she arranges a couple of donuts on a platter, pulls out a bottle of Champagne and perfects the bride's bouquet. Finally, she unhitches the trailer and drives her Jeep a few yards away.
All that's left to do is wait for the betrothed to arrive. On this hot and windy evening, the spouses-to-be are Shannon Bray and Joe Brown, a couple who stopped in Las Vegas during a move from the Bay Area to North Carolina last week to get married.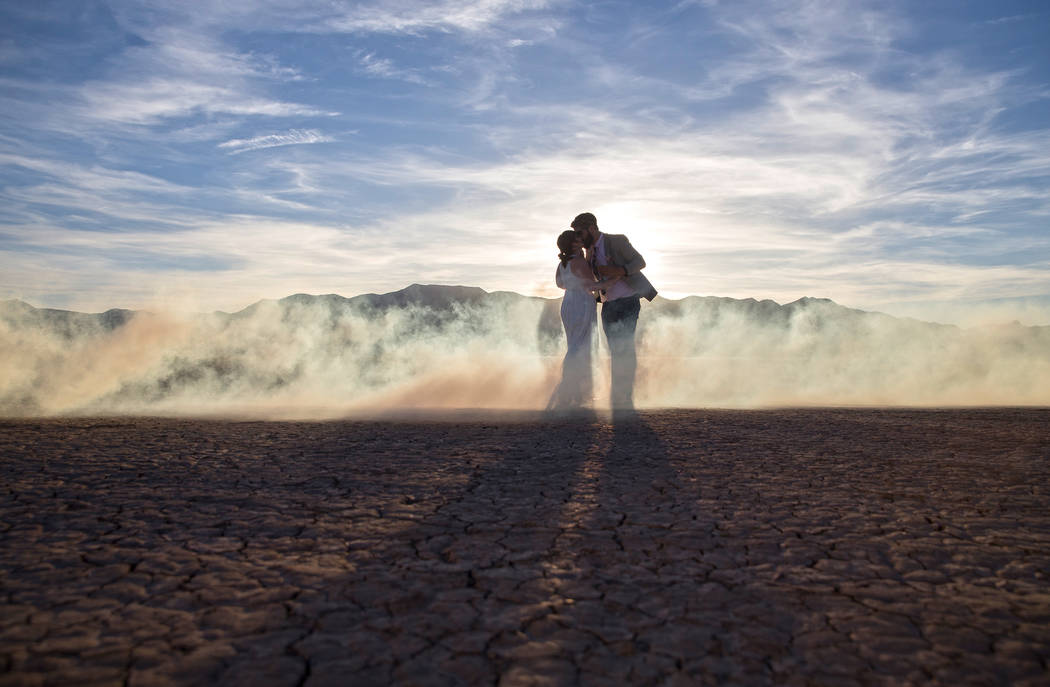 The caterers didn't cancel.
The bridesmaids and groomsmen aren't stuck in transit.
It's just going to be Bray and Brown, exactly how they wanted it.
In a city where elopements and non-traditional weddings have become tradition, Hogan's pop-up wedding service, Flora Pop, offers an alternative to both the production that a typical wedding has become and the Vegas version of that.
Hogan is the wedding planner, floral designer and officiant. For about $2,500, she will set up at a location of the couple's choosing and provide all the trappings. Popular spots include Joshua Tree, Palm Springs, Lee Canyon, the Eldorado Dry Lake Bed just outside Boulder City or one of the settings featured on her Instagram.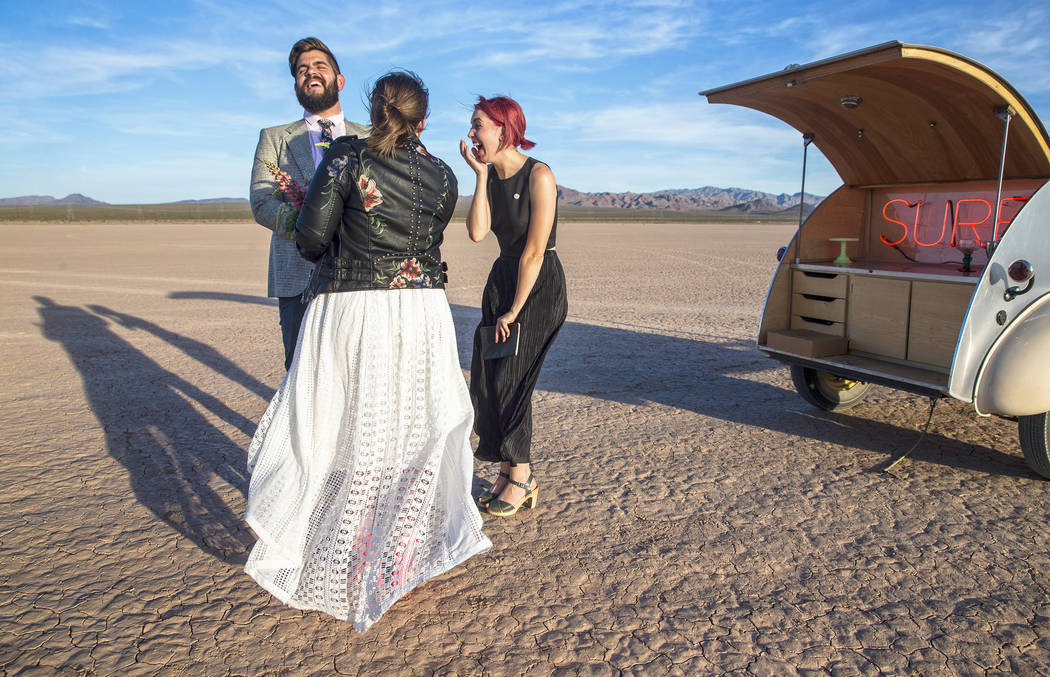 After bucking other wedding conventions, couples often pick and choose which other traditions they want to honor. Some brides still have their fathers walk them down a makeshift aisle. Some couples bring guests — Hogan recommends no more than 30 — but many do not. Though Bray did wear white, and Brown a suit, they did not exchange rings, and she won't be taking his last name.
"I feel like I am constantly surrounded by different types of relationships and love and how commitment works now for a lot of people," Hogan says.
Flora Pop originated with Hogan peddling bouquets outside courthouses in New York City on her bike. About three years ago, after having moved back to Las Vegas, she decided to expand the business to take advantage of the wedding industry here. Now, there are Flora Pop officiants in Denver and Atlanta, as well as Asheville, North Carolina.
Bray and Brown say that by having a small ceremony without the pomp, circumstance, big meal and cake of a typical wedding, they feel like they're truly celebrating their marriage, rather than focusing on a big event.
"We were just kind of looking at it, with all these weddings (and thought), at what point did it just stop being about the two people getting married?" Brown says.
Hogan says that's a common sentiment among the couples whose marriages she officiates. "It's really about just paring it down to making it about the two of them and nobody else and not worrying so much what everyone else thinks."
Once Bray and Brown find Hogan on the dry lake bed, they spend a few moments putting the final touches on their outfits — neon pink heels and a leather jacket with floral details for Bray, rose gold Chelsea boots for Brown — before standing before the tiny trailer and each other to say their vows.
After that, it's all about sipping Champagne, feeding each other donuts and posing for photos, goofy and romantic, as the sun dips behind the mountains.
"Even as a little girl, I never grew up wanting the big white wedding," Bray says. "So if anything, this just made sense for us."
Contact Sarah Corsa at scorsa@reviewjournal.com or 702-383-0353. Follow @sarahcorsa on Twitter.