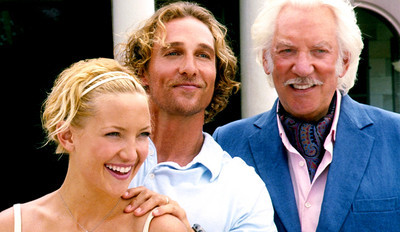 Going to the movies is like a treasure hunt.
Occasionally you discover something special or unexpected.
And then there are times when you find little more than "Fool's Gold" — both figuratively and literally in this case.
Back for their second collaboration after "How to Lose a Guy in 10 Days," Matthew McConaughey and Kate Hudson team up as a treasure-hunting couple more prone to accidents and bad luck than the stars of MTV's "Jackass."
Ben "Finn" Finnegan (McConaughey) is a passionate but irresponsible ne'er-do-well who's sunk everything from his boat to his marriage into the pursuit of finding the legendary Queen's Dowry, an ancient Spanish treasure said to be lost at sea.
His wife, Tess (Hudson), becomes fed up with his reckless lifestyle and mounting debt and files for divorce, attempting to start her life over. Even as she waits with her lawyer to finalize the separation, Finn is at sea attempting larger-than-life feats to elude local gangster Big Bunny (Kevin Hart), who he owes money.
Once the divorce is complete, Tess goes to work on the yacht of billionaire Nigel Honeycutt (Donald Sutherland) and his ditzy spoiled princess of a daughter, Gemma (Alexis Dziena).
Just as Tess begins to settle into her new job and lifestyle, however, Finn uses his charm on Gemma to get aboard and convince Nigel that with his yacht, they could find the gold together.
Tess, pulled into yet another of Finn's spontaneous and reckless schemes, is forced to trek the coastline in search of the Queen's Dowry with her ex-husband and the swooning debutante of her employer.
They're later joined by Finn's rival, Moe Fitch (Ray Winstone), and a group of local gangsters who all want to unravel the mystery and discover the Dowry's location on their own.
As the race becomes more life-threatening — and cheesier, not coincidentally — true alliances are revealed, discoveries are made and characters realize that jewels aren't the only treasure in life.
While "Fool's Gold" had the potential to be a promising movie, and even did slip in some laugh-worthy lines, it was ultimately so overblown that it no longer seemed to be grounded in reality.
The action scenes were all over-the-top spectacles that should have killed the characters instantly. Falling down mountains, being beaten by golf clubs, getting dropped into the ocean with your feet chained together and flying on the wing of a plane all seem like plenty to off one person.
For whatever reason, however, the cast of "Fool's Gold" was granted super powers to survive.
Another movie-sinking aspect of "Fool's Gold" was the trite, cliched characters.
Like many mediocre hit-and-miss romantic comedies located in a tropical setting, there was the sun-soaked, irresponsible beach bum, the ditzy high maintenance daughter, the fed-up responsible woman and the frivolous billionaire who lends a helping hand.
Originality seemed to be as far from reach as the treasure in question.
The one somewhat redeeming aspect of the film was the incessantly caustic squabbles between ex-husband and wife.
Though the Finnegans were created in the image of well-worn characters, everyday arguments about things like Mapquest, the Playstation and past lies earned a few chuckles.
While the plot of the movie was headed in the right direction, too many attempts at thrilling the audience turned it into a far-fetched goose chase instead of an action-heavy story of rekindled love.
All told, "Fool's Gold" is hardly what anyone could call treasure-worthy.
R-Jeneration
REVIEW Movie: "Fool's Gold" Running time: 112 minutes Rating: PG-13; action violence, sexual situations, brief nudity, profanitY Grade: F