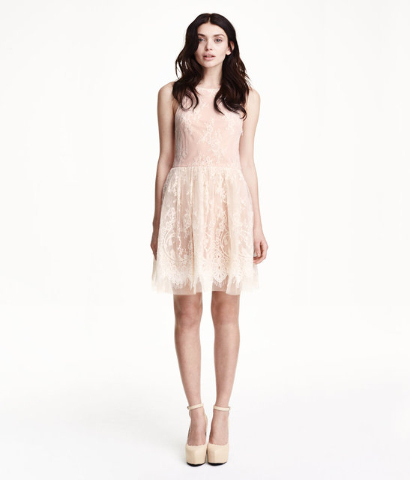 Yes! Lace is sexy, romantic and ultra feminine. Its elegance has transcended decades, and as it has been revamped and seems more irreplaceable than ever. This summer, it's not only a declaration of sophistication but also a complete fashion statement. It does, however, almost always lean on a demure, traditional side, or a younger and edgy one if that's how you prefer it. It all depends on how it's styled and what you want it to depict.
A ladies luncheon, an office presentation or cocktails on the Strip can all involve lace. Call it a lace dress, a lace pencil skirt or a blouse with hints of lace to pair with office pants. They will all have a super feminine touch. But because lace comes in handy whenever refinement is needed, we can also count on it to deliver whenever we want to upgrade a simpler ensemble.
Here's where the most fun lies. Lace is the dose of exquisiteness that you can easily add to a basic piece to make it stand out. It's perfect to elevate a mixture of patterns and make any outfit seem more interesting. For instance, it can be paired with denim, and the contrast will instantly look young and fresh. It can also be worn against basic cotton pieces so that its elegance is taken down a notch for a casual look. It can also be mixed with linen for a clean look or even worn alone with basic accessories.
What's important to understand about pairing this beautiful fabric is that it is as versatile as more common fabrics but has a refined personality that will boost the pieces it's worn with.
This summer's showstopper color palette is roof of a lace resurgence. Prepare yourself to find lace and wear it in red, green, blue and even electric yellow. Let's not forget the ever-essential white and beige for summer.
Wear lace: Summer dresses, mini, midi or even maxi lace skirts, wide leg lace pants and even lace shorts. The intricate detail in all sorts of lace and other lace-inspired fabrics should be left alone and worn best with basic accessories. Let the fabric stand out by itself. Be ready to go by pairing any lace color with a honey belt and matching flat sandals or a version with high heels for a more formal occasion. Wear lace wherever you want; it is up to you to pair it charmingly.