Foster care agency leader focuses on those at risk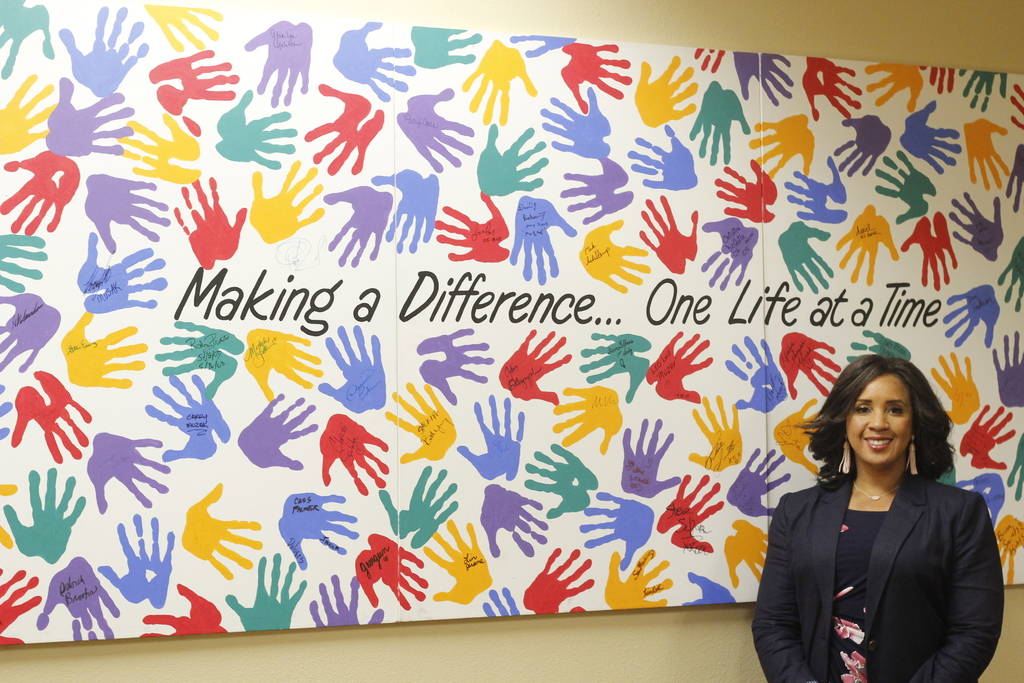 Myesha Wilson is a woman of many roles. She's a wife, mother, mentor, advocate for at-risk children and lover of Kendra Scott jewelry. Most important, however, she's a survivor.
"One of my favorite songs is "Survivor" by Destiny's Child," said Wilson, the executive director of Olive Crest in Las Vegas, a nonprofit organization that assists children, teens and families in need. "If I'm having a hard day, I will blast that because it talks about being a survivor — I won't give up. I'm going to keep moving."
Wilson was born and raised in Oakland, California. The oldest of three, and the only girl, she always saw herself as a protector, but there were certain situations that were simply out of her hands.
"My dad was in the Army, heavily involved with drugs and alcohol," Wilson said. "He abused my mother. He was loving toward us but really horrible toward her. I remember visiting him in drug treatment centers. I remember him stealing the TV out of the living room as we were watching it. I remember him jumping on the car so that we couldn't get away. He was just out of control."
After a few years, Wilson's mother left her father, moving the family a city over. Once her mom remarried a few years later, the family moved to Reno.
Her troubles didn't end there.
"My counselors in high school told me 'You won't ever get into a four-year college,' " Wilson said. "They weren't trying to work with me. I remember him saying 'You should just go ahead and apply for community college.' I said no."
Wilson turned her experience into her passion, having spent the past 15-plus years working with families, teens and children in need. Before Olive Crest, she held positions at Boys Town Nevada, Majestic Behavioral Health, Liberty Behavioral Consultants and St. Jude's Ranch.
We caught up with Wilson to discuss achievements, fears and some of her favorite things.
Review-Journal: Where did you end up going to college?
Myesha Wilson: I applied everywhere (including) UNLV and I didn't get accepted because of my grades. My high school sweetheart went to UNLV and I hated I couldn't be with him. So, I stayed one semester at Grambling State University (in Louisiana) and transferred to UNLV. I'm still married to my high school sweetheart. I moved here to be with him. And that's where my career started.
How do you think schools can help prevent behavior similar to that of your high school counselor?
We need to educate our teachers, talk to them about kids who have been hurt and how to work better with them. Some of these kids may be acting out and doing bad things because they don't have self-respect because no one's ever taught them, but it doesn't mean they're bad kids. Don't just throw them away. We're going to start working with middle school students to get that in their vocabulary, "I want to go to college." Things you're doing in middle school can help you in high school and get you into college. It's really all about education.
What are some services Olive Crest provides besides foster care?
We have emergency food assistance, and we also have Safe Families. It's working with churches and families to take in children to their home who haven't hit the foster care system yet.
We also found that there's so many children who've aged out of foster care — stuck with nowhere to go, so we have a program called Operation Independence. It's two-fold. One side is preparing teens for the workforce. We try to connect them with businesses, mentors, help them finish their diplomas so they can continue to find employment. And we also have apartments where we house 12 of them. We teach them how to scrub their toilets, how to maintain a grocery list. We work with young people anywhere from 18 to 21 years old.
Did you ever get a chance to speak with your father again?
I visited him when I was 24 and again last January. An aunt in Texas called and told me he had six months to live. It was super emotional. In February, my husband and I flew out to Texas and met my father — I hadn't seen him in years. It was so amazing to sit and talk with him. And he was telling me all these crazy stories about his life.
All I could think was thank God my mom did what she did. Because if she hadn't I don't know where I'd be. He died in July. It's been tough for me over all this time knowing I won't ever have that relationship with him. Ever.
Getting to know: Myesha Wilson
Newest Vegas discovery?
The Vegas Golden Knights — because I don't know anything about hockey but I got a free ticket to a game and now I like it. I was tapping my husband at the game like "I think I like hockey."
Favorite places to take visitors?
To the Strip mostly. But we also like to go to Downtown Summerlin, Town Square — I love those kinds of places.
Personal motto?
Do something. That sign (on the wall) was passed down to me a couple of times at St. Jude. We have to do something. You can't crawl up in the corner and cry, you need to go do something.
If you had $1 million …
Set my mom up. I keep trying to get her to move to Vegas. I'd set her up so she could retire and not worry. And then save money for my children's college.
Always in the fridge?
I am a lemonade person. I love great lemonades.
Phobia?
I don't like bugs that crawl fast. A snake, eh. But if it's a fast snake, I have a problem with it.
Contact Mia Sims at msims @reviewjournal.com. Follow @miasims___ on Twitter.