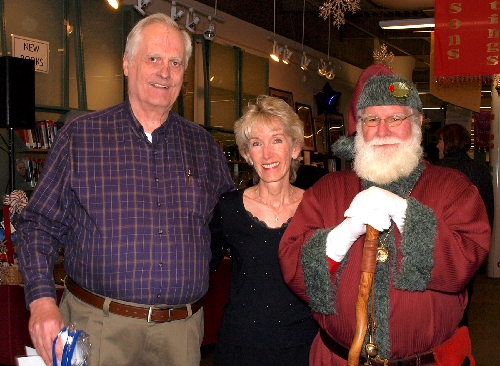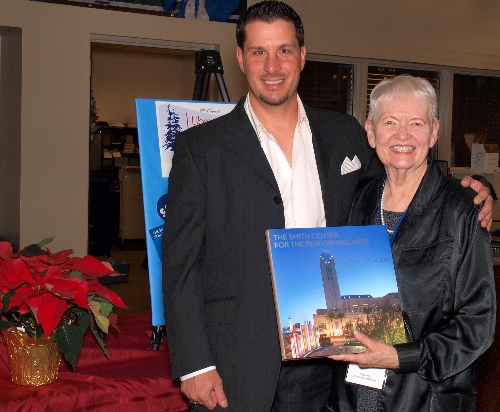 Friends of Henderson Libraries hosted their ninth annual Library Tree Lane Dec. 7 at the Paseo Verde Library. The holiday-themed fundraising project benefits the Henderson Libraries' youth services.
The celebration began with a ticketed reception for the 550 guests. Greeting them were Tom Fay, executive director of Henderson Libraries; Terri and Kevin Janison, honorary co-chairs of Library Lane; Ron Hughes, president of Friends of Henderson Libraries; Library Lane co-chairs Julie Buckley and Jean Pinckard; and Pere Noel as Santa.
A highlight of the event was the silent auction for 229 fabulous baskets. The giant baskets were divided into categories including jewelry, holiday gifts, pets, gardens, sports and Las Vegas restaurants. Big-ticket baskets offered stays at Disneyland, The Venetian and Turnberry Towers. Diane Collins and Andrea Frazier were responsible for assembling the beautiful baskets.
Along with bidding on baskets and bundles of books, guests could purchase tickets for a drawing for wreaths, tabletop trees and gift boxes. Christmas trees were decorated to be given as prizes to various charities and delivered courtesy of Capitol North American.
Winning the prize for most creative tree was Zip Codes Magazines' "American Cowboy," decorated by Michelle Bryner and sponsored by Pinpoint Publications. Kathy and Bill Hug sponsored a tree of "50 Golden Angels," designed by Lala Contreras, which won for most elegant tree, and was donated to Grant-a-Gift Autism Foundation. Winning the best use of theme prize was Vegas.com's "Season the Holiday with Reading," designed by Lea Mills and Gloria Gorman, and donated to Ginger Caldwell.
Landwell Co. sponsored a tree called "All that Glitters," designed by Karla Knoop, and donated to Three Square Food Bank. Rotary Club of Green Valley named its tree "Peace Through Service," designed by the club, and donated to St. Therese Center HIV Outreach.
Kurt Divich was this year's guest author. He autographed his two books, "Lords of Las Vegas" and "A Dream in the Desert."
Seen enjoying the evening were Laura Jane and Lane Spina, Trevor and Kyle Spina, Jane and Bob Fielden, Dorothy and Danny Lee, Ann and Donald E. Williams, Maureen Kane, Sondra Lynch, Monica Fuller, Juliana McRae, Scott Cards, Mary Ellen and Sam McMullen, Mimi Roden, Marianne Robinette, Kathleen Rehorst, Joan LeMere, Paula Petruso, Stacy Wedding, David Hays, and Joan and Larry Tinker.
Throughout the evening Emery's La Barrista served hot and cold hors d' oeuvres including made-to-order bananas Foster. Music was by DJ Johnny Randall.
Local officials attending the gala included Henderson Mayor Andy Hafen and City Council members Gerri Schroder, Debra March and Sam Bateman.
Other guests attending were Dina Titus and Tom Wright, Allen Grant, Richard Manley, Rebecca Fay, Hugh Jackson, Laura and Rene Alcaraz, Gwen Harvey, and Mrs. Nevada U.S. 2012 Kari Deike.