Friendship leads to 9/11 commemoration
September 4, 2011 - 1:20 am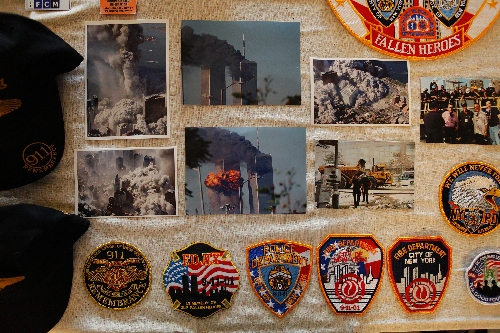 Most of us remember where we were when we first heard about the events of 9/11. Nevada Highway Patrol Trooper George Thaw was asleep after working a late shift when his brother called and told him to turn on the TV news.
"The first thing I thought was, 'Oh, my God, this is our Pearl Harbor,' " Thaw said. He called headquarters to see if he was needed, but wasn't called in.
The day was dramatically different for Las Vegas resident Terry Revella, who lived in New York at the time. The state Department of Environmental Conservation police commander for New York City, he was on the West Side Highway, on the border of the Bronx, when he received a radio call that a plane had hit the World Trade Center's North Tower. He headed for the site — and arrived just as a second plane hit the South Tower. After contacting the state Capitol in Albany "to get as much help as possible," he went to the South Tower to help evacuate train passengers.
"And the tower collapsed around us," Revella recalled. He was trapped in a tunnel with about 20 other people.
"I thought, 'I'm not going to get out,' " he said. " 'I'm done. I'm not going to live.' "
Within about 20 minutes, some of the many angels of 9/11, this time in the form of a Brooklyn ladder company, rescued them.
Revella estimated that he was above ground for only about a minute and standing at a nearby intersection when the North Tower collapsed. A firefighter ran toward him, grabbed him around the waist, "and both of us were blown over the Jersey barriers between the firetrucks."
"It was like 1,000 locomotive freight trains coming down around you," he said of the collapsing North Tower. "The sound was tremendous, roaring — debris hitting you, you can't see, can't breathe. Total darkness. Totally chaotic. It actually looked like Armageddon. I definitely didn't think I was going to make it."
The inspector in charge of the emergency services unit special operations detail stood nearby.
"We're looking around," Revella said. "It's total devastation." The inspector gave him a kiss on the cheek, and then, "OK, enough bullshit, let's go to work."
Revella wouldn't leave the site for 17 days — at first, "some of us just slept on the floor at the command post, some of us just slept in our cars" — and ended up spending a total of 160 days there.
He retired from the state in 2006 and moved to Las Vegas 15 months ago because of medical problems linked to the collapse. In Las Vegas, he met Thaw, and that meeting would lead to the 9/11 Remembrance Las Vegas Committee and a string of local events next weekend to commemorate the 10th anniversary of the disaster.
Revella said the local project started small. He met Thaw, a fellow former Marine, through the Marine Riders of Las Vegas motorcycle group. About a year and a half ago, he said, they were talking about the 10th anniversary of 9/11.
"We need to do something," Thaw remembered of the conversation. "Maybe have a motorcycle run with bikes and have a barbecue afterward."
The project was shelved for a while, only to be revived at a party at Thaw's home when five riders were sitting in the kitchen talking. "The concept pretty much grew from that point," Thaw said.
"From that committee, it's mushroomed to probably one of the largest events in Las Vegas," Revella said.
The committee lists Revella as founder and chief executive officer, and Thaw as co-chairman of the procession committee. Numerous others are on the committee and dozens of other Las Vegans, representing 65 organizations, have helped make the remembrance a reality.
"I can't thank the mayor enough," Revella said, adding that both Oscar and Carolyn Goodman "have given us carte blanche on everything and supported us."
Among organizations and agencies represented are the Marine Riders, the Marine Corps League, the Metropolitan Police Department, Nevada Highway Patrol, Henderson Police Department, North Las Vegas Police Department, Clark County Fire Department, Henderson Fire Department, Las Vegas Fire & Rescue and the Las Vegas Convention and Visitors Authority.
Such cooperation, Revella noted, is why the committee chose the motto, "Igniting the spirit of unity."
"They haven't said no to anything," he said of local officials.
And he said that's reflective of what he saw on 9/11 and the many, many days afterward.
"On the 12th and 13th, there were 100,000 to 300,000 lining the West Side Highway, just cheering us," he said. "It went on for months — people from Los Angeles, Texas, Japan, France, England, Canada. Guys driving from Ohio and Maryland and Delaware with dump trucks and bulldozers because we asked for them."
Thaw sees the commemoration as a matter of responsibility.
"I think it's everybody's duty, and mine, to remember everybody who was injured and killed in this tragic event, and start showing a little patriotism," he said. "America right now, as it stands, is pretty well divided."
"We need to stand united," Revella agreed. "Not just in America; we need to stand shoulder-to-shoulder in the world. Eighty-seven different nations lost people that day. What's important is for us to stand united and say, 'No more.' Especially in these economic times, and with terrorism growing around the world — these fanatics."
Asked how many friends he lost in 9/11, Revella became pensive.
"I knew quite a few," he said. "Probably about 20, cops and firemen.
"Good people. Really good people. The best of the best."
Contact reporter Heidi Knapp Rinella at hrinella@ reviewjournal.com or 702-383-0474.
Committee events
Here is a list of events planned by the 9/11 Remembrance Las Vegas Committee. Further details are available at 911Unity.org or by calling 476-2432.
■ Opening ceremonies will be at 8:30 p.m. Friday at the Fremont Street Experience with the lighting of two light towers to simulate the World Trade Center. Bagpipers and honor guards will participate, and the ceremony will be broadcast on the Fremont Street Experience screens. Live entertainment will follow the ceremony.
■ A car show will be presented noon-6 p.m. Friday at Fremont Street Experience. Onsite registration will begin at 8 a.m., and registration is $40. Live entertainment will run 2-5:30 p.m. during the car show. An awards ceremony will be at 6 p.m. To register, visit 911Unity.org.
■ A 9.11K race and 1-mile walk will begin at 6 a.m. Saturday at the Fremont Street Experience and East Fremont Entertainment District. The entry fee is $25. To register, visit 911Unity.org.
■ A 91.1K bicycle ride will start at 8 a.m. Saturday at the Fremont Street Experience and go out to Red Rock Canyon National Conservation Area before returning via Southern Highlands. The entry fee is $25. To register, visit 911Unity.org.
■ A motorcycle memorial run featuring five rides throughout Southern Nevada and Northern Arizona will depart from Red Rock Harley Davidson, Las Vegas Harley Davidson and Henderson Harley Davidson, depending on the route. Rides will begin at 8 and 9 a.m. Saturday. The entry fee is $20 per rider, and passengers are $15 in advance; or $30 per rider and $20 per passenger for last-minute registration. The final run will travel Las Vegas Boulevard. Vendors and entertainment will be offered at the Plaza, 1 Main St., noon-5 p.m. Saturday. To register, visit 911Unity.org.
■ Family equestrian day will take place Saturday at Horseman's Park, 5800 E. Flamingo Road. Festivities will begin at 10 a.m. with opening ceremonies followed by a "Salute to Our Heroes" grand entry, equestrian showcase and performances in the main arena at the park. Family activities will include pony rides, a petting zoo, demonstrations and a rock wall in the park's main arena event lawn 10 a.m.-5 p.m.
■ West Coast Heroes Parade and Ceremony will begin at 5:46 a.m. Sept. 11 in unity with ceremonies at ground zero in New York City. The parade and ceremony will begin at Charleston Boulevard and Fourth Street, with the parade proceeding north on Fourth Street to Ogden Avenue at 6 a.m. The parade will feature entries from first responders, military and veterans agencies, bagpipers and special performances. Closing ceremonies will begin at 8:30 a.m. led by Las Vegas, Clark County and other regional fire departments, collaborating agencies and organizations. A memorial ceremony will take place at 11:11 a.m. at Police Memorial Park (Cheyenne Avenue and Metro Academy Way) led by Sheriff Doug Gillespie of the Metropolitan Police Department.
■ A gala honoring the work and dedication of first responders and military members will feature cocktails, dinner and entertainment Sept. 11 at the Las Vegas Hilton, 3000 Paradise Road. The VIP pre-party begins at 5 p.m. with cocktails at 6 p.m. and dinner starting at 7 p.m. Tickets are $125 per person or $1,000 per table (911Unity.org).