Gay and Lesbian center hosts its first transgender wedding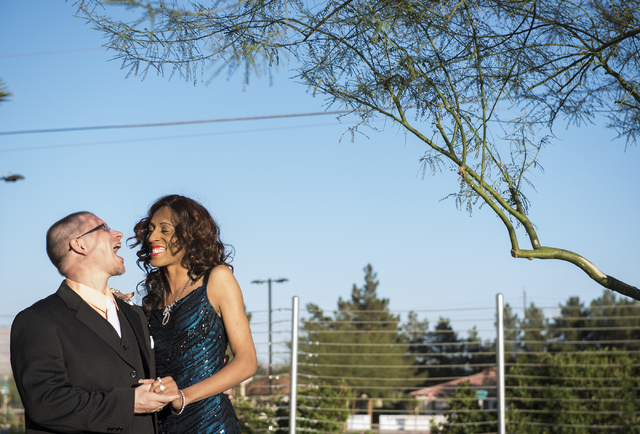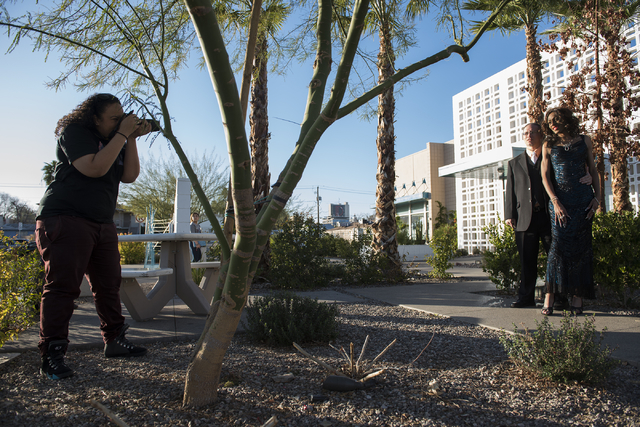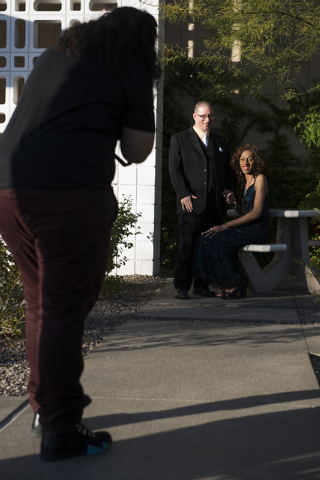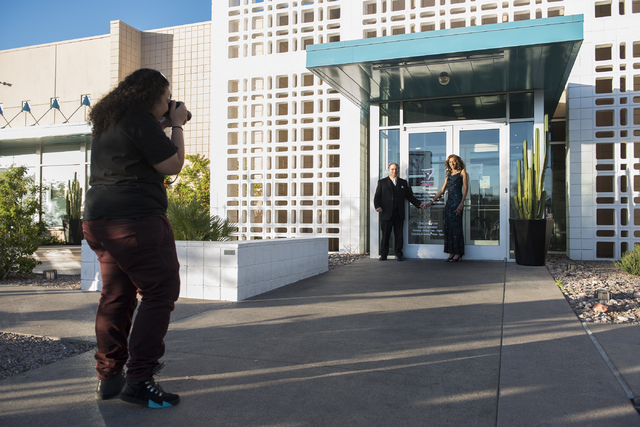 Like any wedding, Jazmynne Young and Mark Matthews say their ceremony Saturday is about two people in love deciding to share their lives together.
They will walk down the aisle, exchange vows, dance to music and maybe even push cake into each other's face.
But the day also is special because it's the first wedding with a transgender couple at the Gay and Lesbian Community Center of Southern Nevada.
In a time when Young says transgender people are still heavily discriminated against, being able to get married and doing so in the community offers a message of hope.
"It shows other transgender women, especially those of color, that anything is possible," Young says. "I never thought this would be possible. But I met a guy who loves me with and without makeup. I met someone who is publicly proud to be with a trans woman, which is rare for us to find."
Young moved to Las Vegas in 2010 because she needed a change of scenery from Miami.
In the five years she has been in Las Vegas, her work centered around her career as an entertainer — she is a singer known as Lady Jazmynne — and volunteering in the LGBT community.
Within her first month of being in Las Vegas, she discovered the Gay and Lesbian Center, which was in a different location than it is today.
"Whenever I moved to a new place, I always try to find out where the gay community is and volunteer," she says.
Young worked to help set up Trans Pride Week and a Transgender Day of Remembrance, which honors the names of transgender people around the world who have been victims of hate crimes.
In Las Vegas, Young says it wasn't always easy to be a part of the LGBT community.
Even though the LGBT community as a whole is in a fight for equality, Young says transgender issues, such as how transgender people can be mistreated in the workplace, get overlooked, and often people who are transgender are ostracized when trying to advocate for their rights.
Holly Reese, the senior and transgender programs manager at the center, agrees that the community has often been overlooked in the past.
"For too long the T (in LGBT) has been left out and not given the attention it needs," she says.
Reese adds the movement for equality for the transgender community is the next wave in the civil rights movement that people are starting to get behind.
"We have a lot to learn from transgender people," she says. "They can teach us about love and acceptance and how to see people as human."
Young agrees attitudes toward transgender people are starting to change.
"It's not where it should be or could be," she says. "But it's getting better."
Reese says the center, with involvement from people like Young, has worked to be more inclusive toward the transgender community with more programming such as events for Trans Pride Week.
Young adds having a transgender wedding at the center shows some of the changes that are happening.
It was her work in the transgender community that kept Young from really thinking about dating or being in a relationship.
In fact, Young acknowledges she was happy being single and focusing on her career and volunteering.
"I'd rather be single than settle," she says. "I knew when it was time, God would bring someone into my life."
As it turns out, she didn't have to settle.
It was May when she attended a service at Abundant Peace United Church of Christ not knowing Mark Matthews sat in the audience. From first sight, he was amazed by her.
"I remember she was wearing a white dress and got up and sang," Matthews says. "There was something about her presence and the way she sang with such authority."
After the service, Matthews got Young's business card.
"Then I waited a week to email her," he says. "Because I think that's what you're supposed to do, right?"
Young held on to these emails.
In his first email, Matthews wrote: "I must say, I love your spirit and the fire you have deep down inside. That is the source of pride, not from the outside, but from the knowledge of who you are and to whom you belong. I find that to be your most attractive quality."
They continued to chat through emails until Matthews finally threw out the notion of meeting, something he was eager to do since he first saw her.
He wrote: "Would you go with me and help me update my wardrobe? I know it's a bit strange but you have such a great fashion sense and I do need help."
Young admits she knew this was a ploy to hang out. But she went regardless.
The two met at Buffalo Exchange, which was near their church, before the service.
"And we've been together ever since," Matthews says.
It wasn't too long after that when Matthews knew Young was the one.
"You just reach this moment when you realize you could wake up next to this person 10 years from now and feel as though no time has passed," he says.
Young says their engagement wasn't typical.
"We were at dinner, and he casually just mentioned, you're gonna be my wife," she says. "I just laughed it off."
But the more they joked around with it, the more they realized how comfortable they were with being married.
And just like that, they were engaged.
They decided on a March wedding date in August.
Even though the U.S. Supreme Court ruled in October that Nevada's ban on marriage equality was unconstitutional, Young and Matthews would have been able to get married anyway because Young had her gender marker changed and is legally female.
But Young knows Matthews accepts all of her.
She says she has seen many cases when transgender women marry men but they prefer it if they hide the fact they are transgender.
Young says there were many options for where the wedding could be.
"It's Vegas after all," she says. "I could have it in a club if I wanted to."
But she decided to book it at the center because of what the organization has meant to her.
"Plus, it is a great opportunity to show some of my friends, who have never set foot inside a GLBT center, what it's about," she adds.
With the wedding less than a week away both are excited for the big day. More than 200 people have RSVPed they will attend.
"And we will see if more show up," she says.
Reese says the center isn't pitching itself as a wedding destination.
"But we are here for the community and are open to hosting different events," she says.
The wedding itself isn't traditional in many senses.
"I'm not calling them bridesmaids," Young says. "They are called brides divas with the diva of honor. The groomsmen are called grooms divos."
Because Young is a performer, there are expected to be various singers and musicians to perform at the wedding including DeeJay Bell, a local singer and rapper, and Phil Flowers, another local entertainer.
Even though Young says the center hosting its first transgender wedding has a deeper meaning, at the end of the day she and Matthews are just ready to have the chance to spend the rest of their lives with each other.
"We aren't a perfect couple, but we are perfect for each other," Young says.
Contact reporter Michael Lyle at mlyle@reviewjournal.com or 702-387-5201. Follow @mjlyle on Twitter.