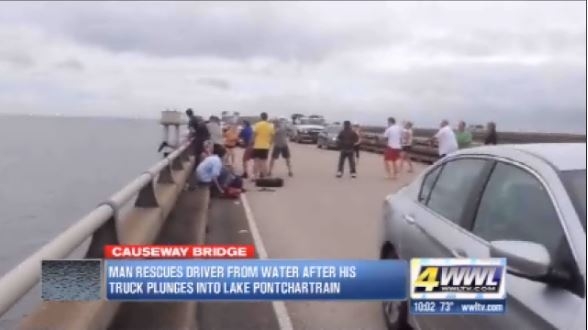 Motorists acted quickly on Saturday to save a 26-year-old man who crashed his truck off Louisiana's Lake Pontchartrain Causeway and plunged into the water.
A passing motorist saw the crash and instantly jumped into action… literally.
"As I was jumping over the edge of the railing, I noticed that the occupant had surfaced, so I just jumped in and swam over to him," Pike told ABC News.
Other motorists called police and then assisted Pike in rescuing the man by using a rope to hoist him up out of the water.
"They did save the gentleman's life," Causeway Police Sgt. Mike Viola told WWL TV. "He is a hero, but we don't encourage people to do that because we have the equipment and are specially trained to do those things."
The driver was transported to the hospital with back pain, but otherwise his condition wasn't known.
Police say the driver got distracted when he reached for his cell phone, WWL TV reported. The man hit the railing and slid about 80 feet before going over.
Contact Kira Terry at kterry@reviewjournal.com. Find her on Twitter: @kiraterry