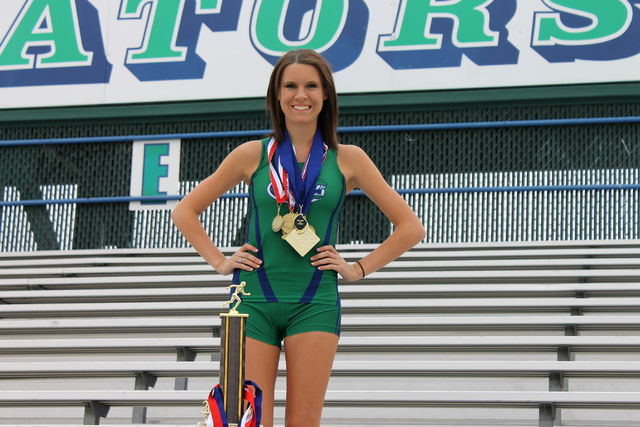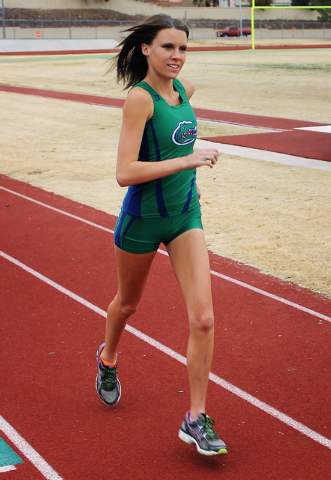 Stacie Hall ranks ninth in the state for the 3-mile run, but just three years ago she did not think she'd be running again.
As a child, Hall was quite active and took whatever opportunities she could to participate in sports, despite the knowledge of a slight curve in her back. When she was 10 it was recommended that she have an X-ray every year to track the scoliosis.
"Growing up, I was a cheerleader, played softball and volleyball — I played them all," she said. "Freshman year was when I competitively started running. We kind of played off the precautionary my doctor had given me about my back because I was just a normal kid and my family and I didn't really think anything of it."
It wasn't until she was in seventh grade that the warning about Hall's scoliosis became serious. During an X-ray for pneumonia, the doctor could not overlook the curvature in her spine. That was when physician Jonathan Camp gave her a back brace to wear at night and helped create a surgery plan to straighten her back.
"The brace had restricted my movement when I slept, but that was my biggest restriction at that time," she said. "Otherwise you could only tell I had scoliosis by seeing the curve in my back when I bent over."
However, the brace was only a temporary accommodation; surgery to place two rods and 24 screws running from the base of her back to the top of her neck was necessary. When it came time for the surgery, she was fighting the knowledge of a slight possibility that she might not run again.
Her November 2011 surgery came just after she ran the 3-mile for Green Valley at state.
"I had a bunch of small breakdowns," Hall said. "Not knowing … just the unknown, of possibly not being able to run again after I had come so far scared me. Any time they mess with your back, you do have the chance of being paralyzed. The doctor told me that, yes, he has had cases where patients have come out paralyzed, but it was an extremely small percentage."
After the surgery, Hall was in the hospital for six and a half days and was told not to start running for two months. Even the slightest physical activity caused pain. The surgery affected her in many ways, including her weight; at 5 feet 7 inches tall, she weighed 87 pounds.
"I was out of school for a month and I began to move around two days after surgery," Hall said. "My parents made me get up and walk around despite me hating it. I'd rather just stay in bed."
Mark Fordney, Green Valley's cross country and track coach, noticed the difference in Hall after she returned.
"She lost a lot of muscle mass from the surgery, and it had taken her quite a while to put that muscle back on," he said. "There are certain things that she cannot do still because of the rod restricting her spine — like crunches and stuff — so we just have to adapt the workout."
Sticking with a "day-by-day" mindset, Hall eased back into running in preparation for the upcoming track season.
"I wasn't supposed to run for two months, but started running after a month and a week," she said. Dr. Camp "told me I wasn't allowed to run, but I went anyway. One day when I was on a run, while I still shouldn't have been, he drove up beside me and rolled down his windows in disapproval. I just apologized and kept going."
Fordney said he has seen changes in Hall along with great determination as she transited back into running.
"It is hard to think of her most remarkable moment, but her whole track season back after the surgery had to be it," he said. "She just proves that if anyone is determined enough they can become great athletes, no matter what their restrictions may be."
Though Hall isn't completely back to her full self with running, she has been adjusting to her new posture as best she can.
"I can't bend my back," she said. "I sit straight up with perfect posture, held by the rods. Not being able to arch my back has changed my style of running and it has been really weird to get used to. I also now have asthma when I run, which is something I'm not used to. It is like teaching a baby to walk; I retaught myself how to run."
Her positive attitude and determination has carried to her coach and teammates
"No one likes seeing a kid they like going through pain and I wanted to go easy on her at times, but I know she was strong and had the ability to push herself," Fordney said. "Her determination and push has allowed the girls on the team to look up to her, especially the ones who have stuck with her throughout the surgery."
Hall has overcome a lot with her surgery, but looking back at it, she does not regret any of it. Overcoming scoliosis has made her stronger and reassures her that she will be able to take on anything that comes her way.
"It was a lot to take in, the hardest thing I've ever had to do," she said. "It's one of those things that no one my age should have to go through. Looking back at it, it's made me who I am today. I am stronger as a person and I can handle a lot more. I have learned that being scared is OK because this is a big deal. Just don't give up."
The Green Valley High School track and cross-country team will not be the last of Hall's running. She has talked to colleges about running for their teams and hopes to keep pursuing the sport.