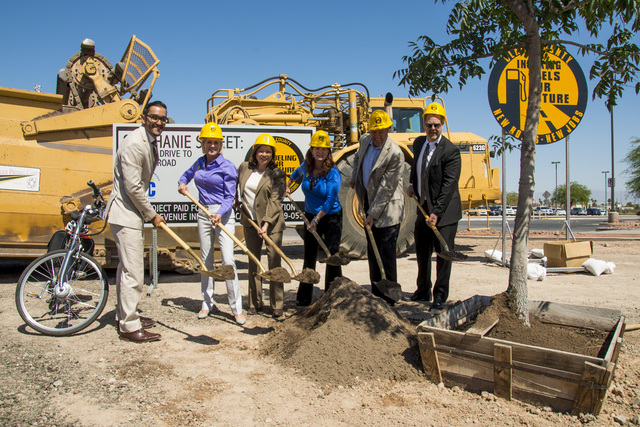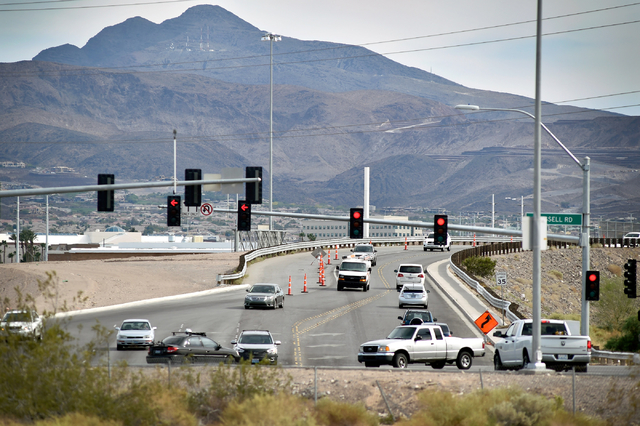 The city of Henderson and the Regional Transportation Commission of Southern Nevada are funding projects and jobs thanks to Fuel Revenue Indexing, an ordinance that collects revenue each time a motorist fills his vehicle with fuel.
City officials celebrated a groundbreaking ceremony June 2 for an additional two-lane overpass of U.S. Highway 95 at Stephanie Street that is set to run parallel to the existing bridge.
The $18.5 million project was slated to kick off June 15 and is scheduled to wrap up in March 2016.
"I've been driving these roads a long, long time, and I know the residents here are looking forward to this project being done," said Henderson City Councilman John Marz. "We've gathered a lot of input from neighbors, and we listened to them and their concerns. That's why this project is going on the way it is."
The project is also set to expand Stufflebeam Avenue to Stephanie Street and include a landscaped trail with a pedestrian roadway underpass.
"We'll have 6-inch raised bike lanes on both roadways with a sloping curve," said Councilwoman Debra March. "This will allow for a separation between bicyclists and vehicle traffic. … This is an important safety enhancement so we can all share the road and ensure a safe community."
Additional road enhancements are set to include the widening and rehabilitation of Stephanie Street from Galleria Drive to Russell Road; the installation of a traffic signal at the intersection of Patrick Lane and Stephanie Street; and road improvements to Stufflebeam Avenue.
"This project is aligned with facilitating the needs of the vehicles, pedestrians and the bicyclists in our city," Marz said. "We're a city committed to create a safe and better connected bicycle and pedestrian network, and we're always seeking alternative funding choices to help us continue improving roadways in our community."
The project is set to create about 188 jobs and use $13.3 million in Fuel Revenue Indexing. It also includes $2.3 million funded by the Clark County Regional Flood Control District for concrete-lined channel modifications and culverts crossing U.S. 95.
"With road improvement projects as extensive as this, there's bound to be some inconveniences, so we'd like to thank you in advance for your patience during the construction process," said Bob Murnane, city of Henderson Senior Director of Public Works, Parks and Recreation.
For more information, visit cityofhenderson.com or rctsnv.com/fri.
To reach Henderson View reporter Caitlyn Belcher, email cbelcher@viewnews.com or call 702-383-0403. Find her on twitter: @caitlynbelcher.