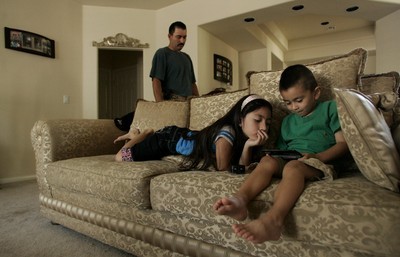 Their lives couldn't be any different.
One is a social worker from San Diego whose passion is working with the elderly. The other, a Mexican immigrant living his American dream, first as a porter, then a barback and finally, as a bartender for a local casino.
Though they've never met, Lorraine Jurist and Vavi Diaz recently began a parallel journey on the same path. Both were laid off from their jobs.
Jurist, 37, thought that an aging baby boomer population would guarantee employment for social workers with specialized knowledge in geriatrics. With 12 years at Monte Carlo, Diaz, 36, felt secure in his job.
But, hard work, loyalty, even education are no protection in today's economy, as many Las Vegans have discovered in recent weeks. Las Vegas' June unemployment rate rose to 6.5 percent, the latest figures available. That's up from the previous month's 5.5 percent.
Diaz and Jurist's predicament seems so sterile on paper; they're two more names to add to the unemployment rolls. While it's easy to view them through a lens of detachment, their experiences illustrate in vivid detail what it's like to suddenly be without the thing so many Americans use to define themselves: their jobs.
And their situations show in micro terms the effect they have on the economy. Diaz is at risk of losing not only his house but two rental houses he and his wife own. Jurist has no discretionary income, no money to buy extras or go out to the movies.
We asked them to share their stories.
LORRAINE JURIST
For social worker Jurist, working with senior citizens is a combination of feast and famine.
Seniors make up a sizable portion of the population and they tend to need the kinds of services Jurist can provide. But, in a bad economy, social services often are the first to suffer from reduced budgets and cutbacks.
"I was always told there would be a demand for social workers in senior care," Jurist says. "But it doesn't matter how much demand or need there is. If there's no funding for it, there will be no jobs."
Jurist has learned this lesson not once, but three times in the past year. First, she was laid off from a rehabilitation facility; management didn't receive a grant it expected and had to let some people go, Jurist says. Her next employer, a day care program for seniors, started cutting back when enrollment dropped.
But after all of that, Jurist found what she thought was her perfect job: a social worker at a local hospice. She started in January, assisting the families of dying clients.
"Things were going well at the job," says Jurist, who, among other things, helped a man get a new hearing aid and advised another on how to enroll in a program that assists the elderly with utilities. "There was one round of layoffs in March."
By May, Jurist had been laid off.
Most people might become cynical and mistrustful after losing three jobs. And who would blame them? But despite her string of bad luck, Jurist maintains a positive attitude.
"I'm just going to have to accept it, and being upset about it isn't doing me any good," she explains. "Sometimes I get tired, frustrated, I just want to pause everything. But I keep going."
Each day is a challenge, a blessing and full of possibilities, she says. It's the promise of what could be that keeps her motivated.
She threw herself into her job search, applying for everything related to the social work field, filling out more than 30 applications to date. Recently, she took a temporary position to earn hours toward her professional license. Even though it meant no more unemployment checks, taking the job is worth it, Jurist says. It helps to maintain her sanity and sharpen her skills.
Her free time is dedicated to finding full-time employment. If Jurist isn't going on an interview, searching online job sites or sending out a resume, she's volunteering. A few weeks ago, she helped distribute food and water to the homeless.
"Everything I do for other people makes me feel better," she says. "I remember saying, 'I don't feel so bad now.' They were really grateful."
Once every two weeks, she meets with her career coach, who helps to guide her job search and gives feedback on interviews as well as the occasional pep talk. After she lost her second job, Jurist sought out the services of coach Christine Wunderlin to evaluate her job searching skills, resume and interviewing techniques.
"I wondered, 'Oh my God, am I doing something wrong? Am I taking jobs I shouldn't take?' " Jurist recalls.
Each successive layoff battered her self-esteem, she says, leaving her feeling insecure and uncertain about the future.
Unfortunately, layoffs have become part of the working world, Wunderlin says. Jurist was unluckier than most, she adds.
"Lorraine really puts herself out there," Wunderlin says. "Each time layoffs happen, it takes a toll on a person's confidence and self-esteem. People are looking for job security and there isn't any."
Losing a job can bring out a person's deepest insecurities, Wunderlin adds. It also causes stress, as people lose their source of income. It can change the way a person feels about work and people.
Jurist admits she has lost some trust in employers but she knows her best hope is to stay positive. Jurist has long been a good saver and prides herself on her ability to live within her means. Luckily, she has some savings to rely on, she says.
Being unemployed can lead to isolation, something Jurist fights against since she is single and lives alone. Her parents live in San Diego, she says, but she relies on a network of friends for support. And she makes sure to work out regularly.
"That's a good stress release for me. It keeps me calm and helps center me," Jurist says. "I also meet people and socialize. It's good for getting me out of myself, listening to what other people are saying. It's good to have that social contact."
It's important to keep an open mind about jobs, she says. Jurist didn't want to work part time but thinks it could lead to her ideal job one day.
"I've survived layoffs before," she says. "It's always better to look for solutions instead of focusing on the problem."
VAVI DIAZ
Lately, Diaz wakes in the middle of the night and can't get back to sleep.
He lies in bed, thinking about what may soon happen. If he doesn't find a full-time job, he and his wife may lose their home.
He doesn't know how much longer they can hold out; right now, his wife is supporting them but her hours at Caesars Palace could be cut.
"Believe me, this goes from the glory to hell," he says. "I've been applying everywhere, but the only reason you can get a job right now is if you know somebody. Even being in the union isn't helping."
Diaz, a member of the Bartenders and Beverage Union Local 165, has been a bartender for about two years. He started at Monte Carlo as a porter when the hotel opened in 1996 and worked his way up.
It's hard to get a permenant shift as a bartender, Diaz says, so he worked as the No. 1 on the extra board at the Monte Carlo. That meant he was called in whenever a bartender was off. He worked regularly, five days a week.
Because of hotel construction, some bartenders were laid off a couple of months ago, pushing Diaz down to No. 8 on the extra board. It's easy to get shifts at the top of the extra board; not so easy in the No. 8 position. Recently, Diaz got a couple of shifts filling in for vacationing bartenders. But soon, they will return and he will be without work again.
Diaz hopes to land a job soon; he had an interview for a bartending job with MGM Grand in July.
But he's willing to take anything; he worries about his wife and their two children.
"I don't know what's going to happen, we're going to try to do what we can to save the house," he says.
"If I work five days a week, I'm going to be happy again."
Diaz moved to Las Vegas 16 years ago from Mexico. He took jobs doing landscaping and construction before getting a casino job.
"I was looking for a different kind of life. Like everyone says, the American dream," Diaz says.
And he got it; a good job, a home and two investment houses. He could buy what he wanted, when he wanted it. Now, he can't even take the kids out to a movie, he says.
Widespread layoffs haven't hit local casinos, says union secretary Terry Greenwald, but some people have lost hours or even their whole shifts. The union tries to find banquet work for members who have been laid off. But banquets are few and far between during the summer months.
"I would say it's bad but I'm very optimistic," Greenwald says. "You know jobs are going to come. It's a matter of waiting."
Greenwald is referring to several resorts that are slated to open in the next 18 months. But that may be too late for some union members, he says.
It may be too late for Diaz. He doesn't know what the family will do if the worst-case scenario occurs.
"I'm worried about small things, how you feel when you don't have money," Diaz says. "My wife tries to make me feel better, tells me it's OK, we're going to make it. I was living better than a lot of my friends because I worked for the future. Now we don't know what's going to happen."
Contact reporter Sonya Padgett at spadgett@reviewjournal.com or 702-380-4564.
HARD TIMES HIT HOME
Hard Times Hit Home
Hit Home