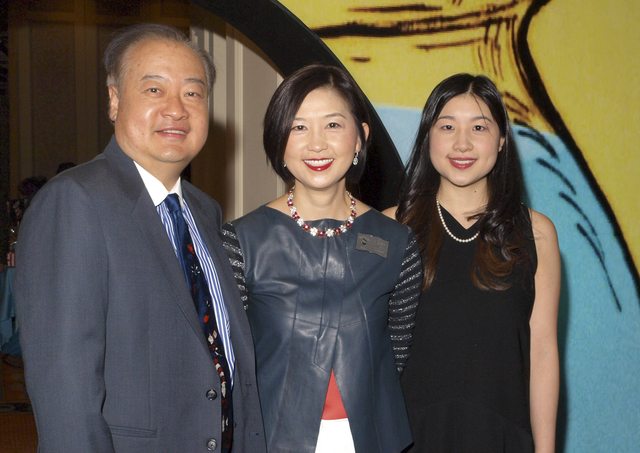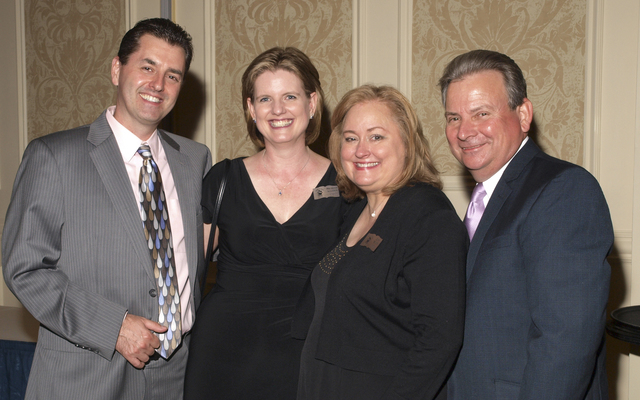 The Cat in the Hat was joined by hundreds of guests Sept. 13 at The Venetian's Lido Ballroom, where they celebrated Spread the Word's success of adopting 30 Clark County School District elementary schools and distributing 2.8 million books since the charity was founded in 2001.
Spread the Word Nevada is dedicated to advancing early childhood literacy by placing books into the hands of children in Southern Nevada at-risk, low-income communities. The organization has distributed the new and gently used books to 357,000 at-risk students since 2001.
The party is known as the Storybook Gala. This year's theme was brilliantly carried out by auctioneer Christian Kolberg playing the role of Dr. Seuss' famous character from "The Cat in the Hat."
The evening began with a Champagne and wine reception and silent auction followed by dinner for the 420 supporters including Clark County School Superintendent Pat Skorkowsky, County Commissioner Steve Sisolak, Kathy Ong, Carolyn Edwards, Candy and Mike Schneider, Tony Sanchez, Julietta and Frank Schreck, Irais and Robert Kolesar, Jon Ralston, Pam and Dan Lang, Steve Rhodes and Sandy Wolff, Fafie and Jeff Moore, Janet and Andrew Blumen, Victor Onufrieff and Laurel Andrew.
Dinner centerpieces were fishbowls filled with real goldfish with another bowl tipped on top filled with flowers. Once everyone was seated for dinner, small boxes were presented to all the guests but only one per table contained a lovely gift from Polly Weinstein of Tower of Jewels.
Master of ceremonies Shawn Tempesta, KTNV-TV, Channel 13, news anchor, introduced Irene Lee, chairwoman of Spread the Word Nevada board of directors. Laurie Hartig, the organization's founder, and executive director Lisa Habighorst gave special recognition to the event's honoree, Bank of America. Representing Bank of America was Jeanette Schneider.
Conducting the live auction was the Cat in the Hat (Kolberg). Among the nine items for bid was a fabulous Windjammer Tall Sail Caribbean Cruise with a $2,000 American Express voucher, and airfare included, that went for the bid of $6,500. Package two was a week at Stagecoach Trails Guest Ranch in Arizona, two tickets for the National Finals Rodeo in Las Vegas and a gift certificate for the Golden Steer Restaurant that sold for $2,500.
A gourmet dinner for 10 by chef Jean Paul Labadie, winner of the Food Network's "Extreme Chef" competition, sold twice for $15,000 apiece. An oceanfront condo in Cabo's Villa La Estancia for a week for eight guests sold twice for $8,000 apiece.
Twelve basketball fans will cheer on a home game in the Event Suite at Staples Center with lodging at Pacific Palms Resort for $11,000. "Iron Chef" winner Shawn McClain of Aria's Sage restaurant will be doing a cocktail party for 20 at a private home for $7,000.
A Napa weekend at Fawn House at Whitehall Lane Winery in St. Helena for four sold for $3,500. Two tickets for the Barrett Jackson event at Mandalay Bay's opening night gala auction and five-night stay went for the bid of $1,000.
Raise the paddle for matching Windsong's Trust $25,000 gift ended up raising $83,000 to be added to the live auction's $80,000, and Bank of America's $200,000 grant.
Among the guests celebrating were Ann and Bruce Evans, Mari and Thom Landers, Judy Reich and Gary Milby, Paul Lopez and Judy Ku, Laurie and John Hartig, Lisa and Mike Habighorst, Jean LaPlaca, Kenny Lee, Stacey Wedding, Maria Silva, Susan and Monte Miller, and Vicki Soares. Wines were donated by Lee's Discount Liquor and Southern Wine &Spirits. Musical entertainment was provided by the Chadwick Johnson Band.