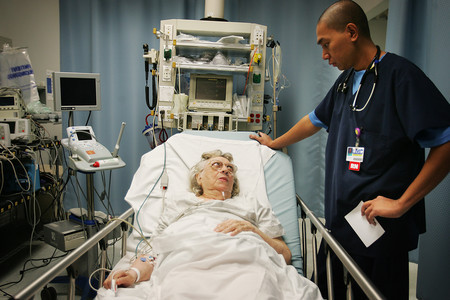 There's nothing much going on at University Medical Center's emergency department at midnight.
Not if you're just visiting, that is.
But for the sweet woman who has been here all day, or the man with congestive heart failure who's lying, eyes closed, in a treatment room, his breath coming in slow, raspy notes, or the dozen people awaiting their turns to be examined, patched up, poked and prodded, it's an eventful night.
Fact is, if you're at UMC's ER as Friday turns into Saturday, your weekend already is off to a very bad start.
But the weirdest thing — at least to anyone familiar with the high-voltage pretend reality dished out by TV and the movies — is that it's all so eerily placid.
The patients in the waiting room utter not a single word, although their faces — etched in that amalgam of discomfort, anxiety, exhaustion and boredom found only in medical waiting rooms — say it all. Behind the emergency room doors, doctors, nurses and ER staffers are busily and professionally engrossed in their routines as a nonstop collection of beeps, taps, hums, crinkling plastic bags, heavy breaths, coughs, gurgles and sighs create a soundtrack John Cage would adore.
"You missed it all," explains charge nurse Elka Burkestone. "Now, if you'd have been here at 7 …"
It turns out that there's an ebb and a flow in an emergency room, and midnight tends to be ebb time, when everybody can simply catch his or her breath after the just-ended 7:30 to 11:30 p.m. craziness.
But Burkestone predicts that craziness will return about 2 a.m., when the cumulative effects of an evening's worth of excess and substance ingestion manifest themselves in the forms of chest pains, fight wounds, sexual assaults and other sundry medical emergencies.
Between 11:30 p.m. and 2 a.m., she says, "you try to get lunch and go to the bathroom."
The only break in the downright mellow vibe comes at about 12:20 a.m. when a patient decides to head outside for a smoke.
Of marijuana. Still wearing EKG leads and intravenous lines.
He strolls out to the nearby ambulance bay and blithely begins to light up, until ER staffers and UMC security officers come out looking for him.
For Dr. Jim Preddy, it's an opportunity missed. He was on his way home.
"I try to make it a policy to try to get out of here an hour-and-a-half late," he jokes.
"Good doctor," Burkestone adds. "Leaving tired."
The patient had come in complaining of shortness of breath, but now has been stricken with an acute case of needless stupidity. He's AMA — leaving against medical advice — and refusing to leave quietly. Preddy tells security officers to reunite the man with his belongings and escort him off the property.
"I was so going home," Preddy says, smiling wanly. "I really was."
The night's best advice comes from the sweet older woman who arrived Friday morning, has endured numerous tests in the hours since, and now awaits what she dearly hopes won't be bad news.
"If I could run away I would run, but I'm too weak," she says, slowly raising her hand in faint, but sincere, greeting. "As long as you could get out of here, go. Go."
Done.
Contact reporter John Przybys at jprzybys@ reviewjournal.com or 702-383-0280.
ON THE WEB: MORE STORIES FROM THE BEWITCHING HOUR
Slideshow