6 health events in Las Vegas this week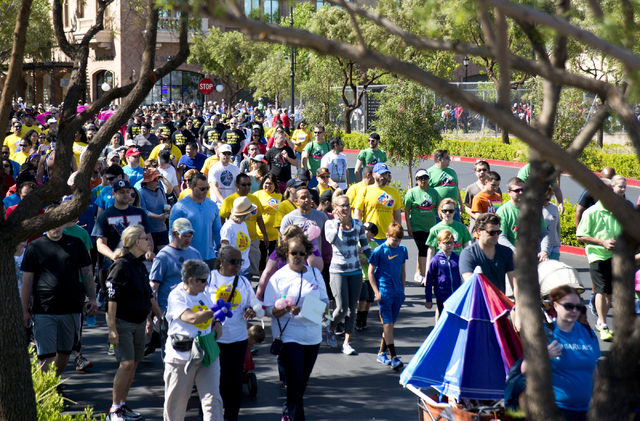 Thousands expected for annual AIDS walk
AFAN (Aid for AIDS of Nevada) will host the 28th annual AIDS Walk Las Vegas beginning at 7 a.m. April 15 at Town Square, 6605 Las Vegas Blvd. S. Join entertainers Penn & Teller and more than 3,000 supporters for a two-hour pre-walk festival from 8 to 10 a.m. featuring sponsor tables, entertainers, a silent auction, and food and beverage vendors. The walk steps off at 10 a.m. Register at afanlv.org.
Annual AgeWell Expo is Saturday at the Rio
The fourth annual AgeWell Expo, sponsored by the Las Vegas Review-Journal, will be held from 9 a.m. to 3 p.m. Saturday at the Rio Convention Center, 3700 W. Flamingo Road. Dozens of local and national exhibitors will present information and demonstrations on how to live life to the fullest after 50.
Topics will include travel, career, fitness, financial planning, health and wellness, dating, retirement and more. Admission to the expo is free, as are parking, food and entertainment.
Funny Bunny Race an event for Parkinson's
The annual Funny Bunny Race for Parkinson's will be held beginning at 8 a.m. Saturday at W. Wayne Bunker Park, 7351 W. Alexander Road. Runners, walkers and hoppers will receive race-day T-shirts and goody bags. There will be a bunny hop for eggs, petting zoo, bounce houses, face painting and more for children. friendsofparkinsons.org
Lunch & Learn series meets Wednesdays
The Cleveland Clinic Lou Ruvo Center for Brain Health, 888 W. Bonneville Ave., hosts the Lunch & Learn Educational Series from noon to 1 p.m. each Wednesday in April. Participants are encouraged to bring lunch; drinks and dessert will be provided.
This week's program is "Depression and Apathy." Although the two can overlap, they are distinct syndromes in people with brain disorders. Dr. Dylan Wint's presentation will address treatments for both.
Healthy Kids Day planned at community center
Durango Hills Community Center/YMCA, 3521 N. Durango Drive, will host a Healthy Kids Day from 1-3 p.m. April 21.
This event, which is free and open to the public, focuses on keeping young people active and healthy with activities such as kids Zumba, relays, arts and crafts.
Sensory-friendly shows planned at Smith Center
The Smith Center for the Performing Arts will present sensory-friendly performances of the acclaimed family show "Shh! We Have A Plan" at 10 a.m. and 2 p.m. April 21.
These performances will include special features to accommodate audience members with sensory deficits (affecting how the brain receives and responds to information through the senses), including adjustments to mitigate jarring sounds and startling lighting, as well as quiet spaces provided in the lobby for attendees who might need to take a break from the performance.
Guests will receive a guide before the shows. Tickets are $10. thesmithcenter.com
Submit health events at health @reviewjournal.com.