Alzheimer's drugs not working, according to Ruvo Center study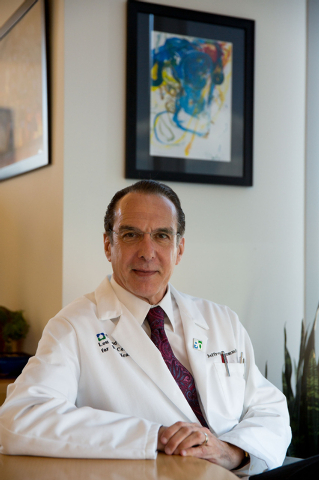 During the decade 2002-2012, the failure rate for drugs developed to treat Alzheimer's disease was a woeful 99.6 percent, a study released today by the Cleveland Clinic Lou Ruvo Center for Brain Health reveals.
That analysis, which found that one drug showed effectiveness while 244 others failed, is the first-ever conducted of clinical trials for a disease that is expected to leave millions of baby boomers with dementia in the next few decades.
What the paper, "Alzheimer's Disease Drug Development Pipeline: Few Candidates, Frequent Failures," also substantiates, according to the lead researcher, is that there are "disturbingly few new drugs in the pipeline."
There are now "only about 80 drugs being tested," according to Dr. Jeffrey Cummings, Ruvo Center director and lead author of the study that appears in the journal Alzheimer's Research & Therapy. "When you compare that to the 300 drugs being tested to fight cancer, that isn't much when you consider what this disease is doing and what it's going to do."
Alzheimer's currently affects about 6 million Americans, with the number expected to increase to 16 million by 2050. The costs of care are projected to rise from $200 billion today to $1.1 trillion in 2050.
It was in 2003 that the FDA approved the last of five drugs, Namenda, that are used to treat the cognitive symptoms — memory loss, confusion, and problems with thinking and reasoning — of Alzheimer's disease.
Earlier drugs approved were Aricept, Exelon, Razadyne and Cognex.
While none of the medications can stop the damage Alzheimer's causes to brain cells, they may help lessen or stabilize symptoms for a limited time by affecting certain chemicals involved in carrying messages among the brain's nerve cells.
More than a century has passed since German physician Dr. Alois Alzheimer first described abnormal deposits of beta-amyloid protein plaques and tau protein tangles in the autopsied brain of a woman who suffered with dementia.
Cummings said there are only 30 drugs in the earliest phase of testing, with 50 in the final two phases.
"We were aware, of course, many trials had been failing, but when two high-profile drugs (solanezumab and bapineuzumab) failed earlier this year, that prompted us to look at a decade," Cummings said in an interview Tuesday. "It even shocked us to see how many drugs had failed and how few new therapies are being tested."
Cummings and fellow Ruvo researcher Dr. Kate Zhong, with Touro University medical student Travis Morstorf, pored through government records to find the dismal statistics that Cummings believes are the result of both a lack of funding and research that is too targeted.
He said that the basic research into the biology of the disease is far too low. While the National Institutes of Health provides cancer researchers with $6 billion a year for basic research, NIH provides $600 million to Alzheimer's. The NIH provides HIV/AIDS researchers $3 billion a year.
It is what researchers find while studying the basic biology of the disease, Cummings said, that then prompts pharmaceutical companies to invest money into finding treatment with new drugs.
So far, he noted, they've invested billions with little to show for it. Cummings said almost 20 percent of clinical trials for cancer research produce effective treatments while only 0.4 percent of drug trials for Alzheimer's show promise.
Cummings said some other researchers in the United States urged him not to publish his depressing findings for fear that pharmaceutical companies would completely stop investing in new drugs.
"But I think we have to understand the magnitude of the problem in order to do something about it," Cummings said, stressing that government and private enterprise must come together with a more vigorous effort to find treatments for the disease.
Unfortunately, he said, he expects little from government because "as you know, it's paralyzed, little gets done."
Cummings said it is probable that investigators must no longer concentrate so much on the theory that the chief blame for driving the disease falls on the beta-amyloid protein, which forms sticky plaques and kills brain cells in sufferers
"There are people with those plaques who never have the disease," he acknowledged.
Since a string of experimental drugs designed to attack beta-amyloid have failed recently in clinical studies, Cummings said he expects more research into tangles, which has had mixed results in the past.
Cummings said he also believes drugs to attack beta-amyloid have been given to patients too diminished by the disease.
"We have to get drugs to them sooner, try to prevent it, and we're doing that with one drug trial now," he said.
He added he believes more than one drug should be tested on patients at a time, "like they've done with HIV patients."
What Cummings said should also be stepped up is an NIH program to "repurpose or reposition drugs."
The goal of the program is simple: to see if old drugs can be taught new tricks.
The program matches researchers with a selection of molecular compounds from the pharmaceutical industry to test ideas for new therapeutic uses.
The Ruvo Center has a study underway of bexarotene, a cancer drug that is being touted as a potential treatment for Alzheimer's. A study released by Case Western University in 2012 showed that in mice it could clear 50 amyloid plaques in as little as 72 hours.
"Bexarotene has already been tested for safety, so if it works for Alzheimer's, we can cut years off what it would take to get it to the marketplace," researcher Zhong said. "Usually, it takes a dozen years or more to get a drug approved."
Cummings said that while it remains important for researchers to find pharmaceutical treatments for Alzheimer's, it is also critical for people to make lifestyle changes and receive treatment for chronic conditions such as diabetes.
A 2012 study done by the University of California, San Francisco, bears him out. Even a 25 percent reduction in seven risk factors — depression, diabetes, smoking, obesity, sedentary lifestyles, midlife high blood pressure and low education — could prevent 3 million cases of Alzheimer's disease worldwide and nearly a half-million in the U.S., the study found.
"I'm still optimistic that we can find positive ways of dealing with this disease," Cummings said. "But we need more of a sense of urgency."
Contact reporter Paul Harasim at pharasim@reviewjournal.com or 702-387-2908.