Amazonian ritual, yoga used to help those fighting addiction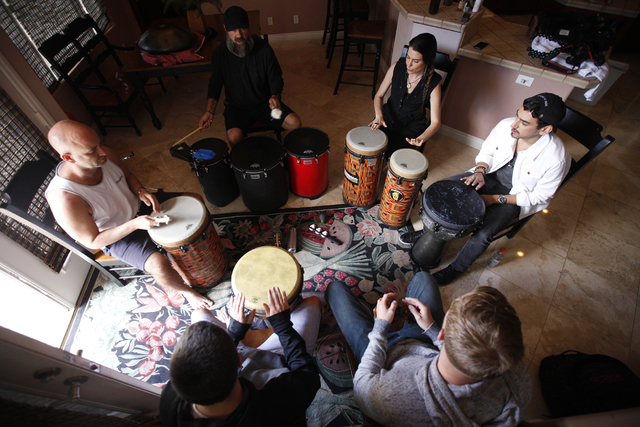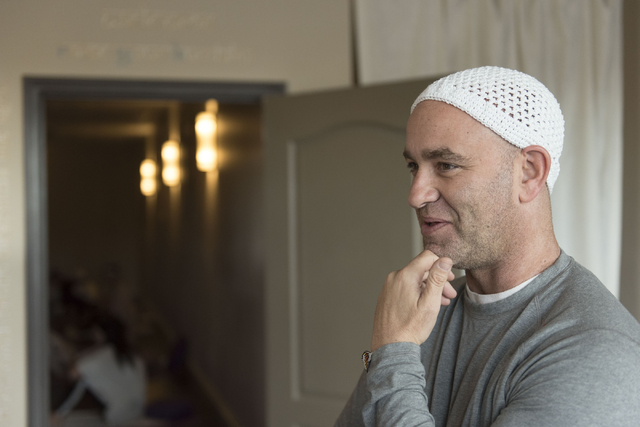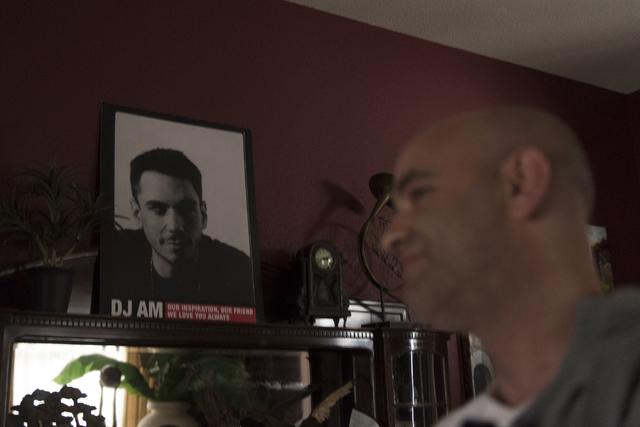 Pulling up to the RYK Yoga & Meditation Center, a barefoot Justin Hoffman stepped out of his car with three groggy young men in tow.
Like all of the other patrons, his group entered the studio, grabbed mats and set up camp in the low-lit room, waiting for another morning of meditation and stretching. But these men were different from the rest of the class.
They are part of Henderson-based Holistic House, which works to rehabilitate addicts through alternative methods such as yoga, meditation, organic eating and several other unorthodox approaches.
"And (yoga) is just one piece of the puzzle," said Hoffman, the program's founder. "We take a multifaceted approach by trying to heal the mind, body and soul. We are trying to find the reset button."
The facility opened less than a year ago as a way to help offer people — most of whom have tried but failed at rehabilitating — an alternative way to shake addiction.
Tucked in a residential community near the South Point, the two-story building is not a typical rehab facility, which is one of its many differences.
While participants might use yoga or even cryotherapy as a way to reshape the damage years of drug use has done to the body, a stay at the house starts with an Amazonian ritual of burning frog venom onto the skin. Known as Kambo, the ritual takes secretion from the bright green giant monkey frog (also known as the giant leaf frog) and places it on points of the skin. Hoffman said the substance purges the body and helps boost the immune system.
"I know it sounds weird," he said, "but this has been something used (in the Amazon) for thousands of years. It works."
Only a handful of people in the U.S. have been trained in the practice, and the venom is imported so they can use it.
Hoffman has used the practice and invites those at the rehab site to try Kambo as a way to start detoxing.
No stranger to rehabilitation centers himself, Hoffman said Kambo helped him reset his life a few years ago.
He had been part of the nightlife scene in multiple cities, working as a disc jockey. In fact, people knew him as a prominent DJ as much as they knew him as a habitual heroin addict. When he was offered a job in Las Vegas in 2000, the condition for the position was to get clean.
"So I started on methadone," he said. "I was able to maintain it for five years."
All the while — like many addicts — he would have occasional slips. Things would get progressively worse when he would forget his methadone, causing painful withdrawals and predictable relapses. He moved from rehab center to detox facility, vowing to get clean.
"It would never take (for) more than 60 or 90 days," he said.
After the death of a close friend — fellow club DJ and addict Adam Goldstein, aka DJ AM — Hoffman said he relapsed hard and contemplated suicide. During that time, he watched a documentary on ibogaine and learned how it was touted as a cure for addiction.
"I began researching it," he said.
That led him to seek out a variety of alternative treatments, including rituals such as ibogaine, similar to Kambo but done only in Mexico.
"It's not a magic pill," he said, "but (ibogaine) interrupts the addiction."
For the next few years, Hoffman would refer friend after friend to try these practices, not only to treat drug addiction but to combat anxiety and depression.
But there was no plan for the long journey back to recovering.
Almost a year ago, he decided to open Holistic House. More than 25 people have gone through the program.
One thing he remembered from his own rehab experience is the useless activities.
"I remember they had me paint once," he said. "I just kept thinking, 'How is this supposed to help me?' "
He thinks activities should help build people back up, which is why he takes Holistic House residents to yoga — though Hoffman added that they do a variety of activities, from boxing to hiking at Red Rock Canyon National Conservation Area. He said consistent yoga not only gives them a chance to stretch and exercise but also to meditate.
Julian Mesa came to Holistic House 10 months ago with a list of addictions that included prescription painkillers. For more than a decade, he said he relied on them to ease his chronic depression.
"It really spiked about six years ago after my dad died," he said.
Like Hoffman, Mesa had tried detox and a rehab center before.
"I would stay clean for two weeks, then fall back," he said.
As part of the nightlife industry, drugs were common. Mesa moved to Las Vegas in December 2014 to start over — he had family here — but found himself in the same cycle.
After a stint in the hospital, which caused him to be admitted to the psych ward, his family had all but given up on him. They were willing to try one more method with Holistic House.
"They were a little skeptical," Mesa said.
He knew something was different after he did Kambo.
"I woke up the next day and wasn't thinking about drugs," he said, adding that it was the same the day after, which turned into weeks.
While at the house, Mesa began making life changes with healthier eating and practices such as yoga. After three months, he was ready to live on his own again.
"It actually made me nervous," he said of leaving the facility.
But unlike other rehabs he had been to, Mesa said he knew he could continue to rely on Holistic House to help him along the way.
In the future, Hoffman would like to open a larger facility in Nevada.
Prices for stays at Holistic House range from $21,000 for a 60-day stay in a master suite to $8,394 for 30 days in a standard room. Visit holistichousevegas.com, call 702-275-3301 or email service@holistichousevegas.com.
To reach Henderson View reporter Michael Lyle, email mlyle@viewnews.com or call 702-387-5201. Find him on Twitter: @mjlyle.
Holistic House
Prices for stays range from $21,000 for a 60-day stay in a master suite to $8,394 for 30 days in a standard room.
Visit holistichousevegas.com, call 702-275-3301 or email service@holistichousevegas.com.