Angela's House offers life skills training to vision-impaired people
November 4, 2016 - 12:07 am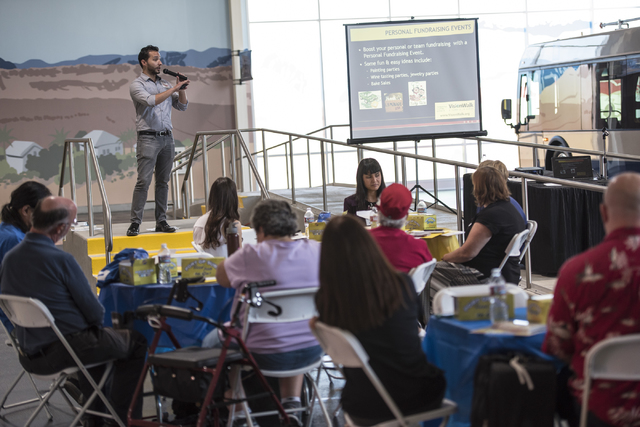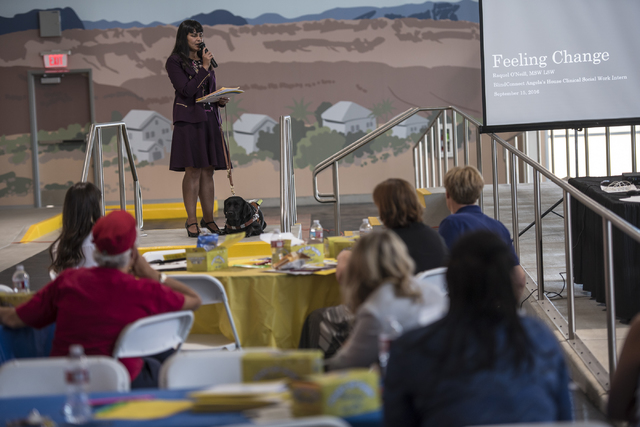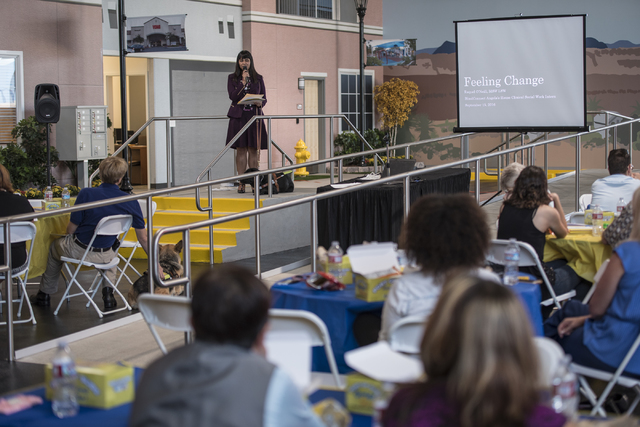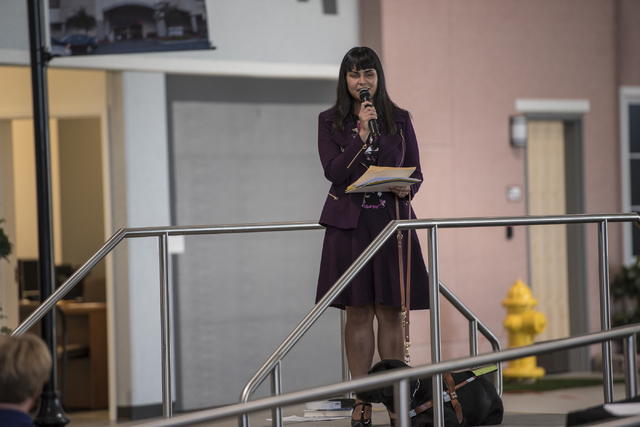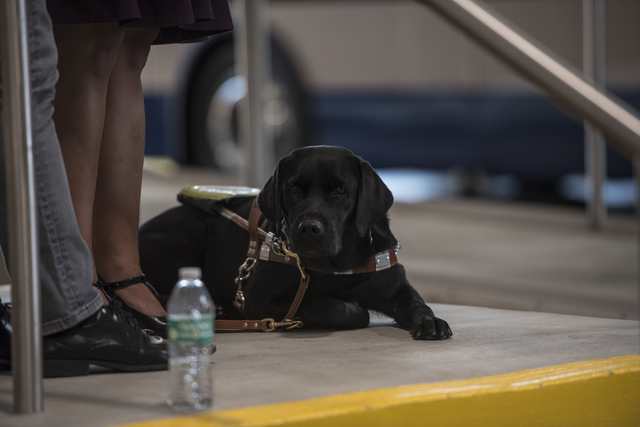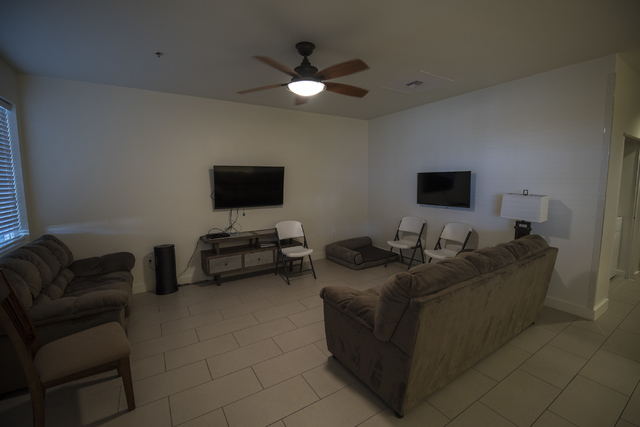 When Angela Hoffman lost her usable vision, she searched for help.
"It was really pretty bad, and she needed training and there was nothing here, and there was nothing in Phoenix that worked for her," said Jean Peyton, president of Blind Connect.
Blind Connect, which was founded in 1998, had an office and members were active in awareness and advocacy efforts, but the group lacked a training facility and training curriculum. So blind Southern Nevada residents such as Hoffman, who served on the Blind Connect board, either had to seek training out of state, settle for intermittent basic training provided by the state or do without. Hoffman was left with few options.
"So her family arranged for her to go to Louisiana to a nine-month training center where she would be without a support system — without family, without friends — and learn how to be blind," Peyton said. "Right before she was to leave, she took her life."
Shortly after her death, Hoffman's family approached Peyton and the Blind Connect board saying, "We can't have this happen again to anybody."
In 2006, the nonprofit and Hoffman's family set out to raise funds to launch a blindness training center. Peyton said they were making great progress, until the recession hit.
Even without a facility, they proceeded and began teaching classes in a board room and in 300-square-feet of office space. Lessons in cleaning and cooking were farmed out to volunteers' homes.
Finally, when the Regional Transportation Center's Mobility Training Center opened in January at 5165 W. Sunset Road, Blind Connect was given a 1,200-square-foot apartment-like space to transform into a training center.
Angela's House, named in Hoffman's honor, is home to an intensive 90-hour training program. As many as six students at a time meet for 7½ hours a day, five days a week for three weeks to learn basic life skills.
Changing Lives
Larry Coffey, a state of Nevada orientation and mobility instructor for the blind, said he is delighted to see the center become a reality.
"It was really great to see Jean have the vision and the passion to keep pushing forward until it actually happened. She's definitely the visionary," he said.
Blind Connect board member Raquel O'Neill, who lost her vision at 15 from cataracts, talked about Angela's House as she led a tour during a recent Foundation Fighting Blindness event. O'Neill said many blind people are institutionalized unnecessarily when they could learn skills at a place like Angela's House to become independent.
"I'm totally flabbergasted to learn about how many blind and low-vision people are in nursing homes just because their families don't know where else to send them," she said. "And they are being hand fed, and they're just blind. There's no other physical limitation going on. They're blind, they're in their 40s, 50s, 60s and they're being hand fed. That just strips so much dignity away from someone."
One of the chief missions of Angela's House is to restore dignity.
The Kitchen
For the most part, Angela's House looks just like any other home. There's a kitchen, a dining area, a living room, a bathroom, an office and a bedroom.
Lessons begin in the kitchen. A stack of eye shades sits on the counter. O'Neill said those are for students who still have some vision.
"What we say is you have enough eyesight to get you into trouble," she said. She added that the shades also help prepare those facing progressive vision loss.
Once the blindfolds are on, all are invited to pick up a knife and help make a fruit salad or learn to make a simple dish like French toast.
"By the end of the three weeks, they'll actually, as a class, cook a whole meal together," O'Neill said. "We've had enchiladas. We've had baked chicken casserole. We've had pizzas. We've had all kinds of creative ideas."
Peyton, who lost her sight gradually later in life, said the big graduation meal always includes a shopping trip.
"We get on a city bus, and we ride up Decatur, and we go to a grocery store, and we schlep all of our groceries back to the house," she said. "So it's real-live experiences. It's not just that we're talking about it and saying this is what you do. We're doing it."
Peyton said the hands-on instruction is successful.
"They realize, many of them for the first time since their vision loss, that they're really capable of doing things, and they need to be able to do them in order to be comfortable in their skin," she said.
Peyton said for some, cooking at Angela's House is a first-time experience.
"We have adults in our program who still live with their parents, and their parents won't let them use a knife," she said. "And it's like, wow, how can you be 40 years old and not cut your own meat?"
Peyton said fear is unfounded.
"Knock on wood, so far in all the trainings we've done we haven't lost any fingers," she said. "We haven't had any burns. We've had a couple of nicks."
But as she explains to families, everyone, sighted or not, gets a scratch or two, and blind people need to be given the freedom to learn and take risks, too.
The Rest of The House
Lessons don't stop with food. O'Neill said they teach students to do their own laundry from running the washer to folding and ironing.
During one of the facility's first laundry lessons, the hose came free from the washer and sent water splashing everywhere. O'Neill said they took the flood in stride.
"It was like a real-life scenario," she said. "OK, let's get the mops, the bucket. If you're blind, how do you do that."
In the bathroom, students learn how to clean mirrors, toilets and showers, and how to take care of personal hygiene.
O'Neill said some lose their eyesight later in life and say "Am I really going to shave my legs again? If I can't see it, nobody else can." Her answer is, yes, you still need to shave, brush your hair and do your makeup. You may not be able to see it, but everyone else can.
The house includes an office packed with adaptive technology: A magnifier that helps those with some residual vision read and computers that speak in robotic voices. An open computer processing unit allows students to learn basics of computer repair.
In the bedroom, students learn how to make a bed, and they're taught Braille at a bedside table. A giant photograph of Angela Hoffman and her guide dog, Clement, hang over the bed. Would a facility like Angela's House have saved her?
"It would have made a difference, I know that," Peyton said. "Would it have prevented her from taking her life, we don't know. But I wish it had been there then. I am glad it is here now. And what we need to do is get the word out in a broad spectrum so that more and more people know that the program is here. Because there are a lot of blind people sitting at home because they don't know that they are capable individuals. They think that because they can't see they are no longer capable, which is very sad."