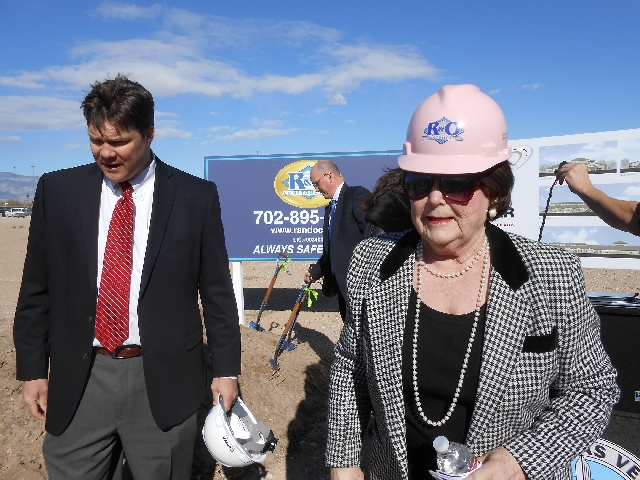 Early 2014 will be a good time for those needing physical rehabilitation.
That's when a new Advanced Health Care Corp. facility is set to open near MountainView Hospital, 3100 N. Tenaya Way.
On Feb. 21, Ward 1 Las Vegas City Councilwoman Lois Tarkanian joined officials from Advanced Health Care and The Boyer Co. to break ground on the new 33,000-square-foot skilled nursing facility on Tenaya Way just north of Cascade Valley Court and south of MountainView Hospital.
The skilled nursing facility is expected to bring more than 90 jobs to the area.
"Everyone knows that here in this city, we've been through some tough economic times," said Tarkanian. "We're starting to make that comeback now with projects such as this one. … Since the recession, the city has concentrated on creating jobs, being more business-friendly, and this project is a result of that."
Advanced Health Care operates a similar facility near Sunset Road and Jones Boulevard. The project is being developed by The Boyer Co., a real estate development firm, and construction is scheduled to begin by the end of this month.
Tarkanian said AHC has a great reputation and that its presentation to the council was complete and helped further understanding of the project's scope.
"I really have a great respect for them," she said. "We can't be experts in evaluating (a company), but from what they've done so far, they've been top-notch and very accurate, and I trust them completely."
Andrew Frasure, senior vice president for AHC, expressed an appreciation to the city and the Economic and Urban Development Department for working with them.
"What these facilities provide is a unique opportunity for patients after a hospital stay," Frasure said. "Sometimes those stays are planned, sometimes they're unexpected, but our facilities offer opportunities, in an upscale environment, to receive therapy and nursing services that will allow them to return home independently, healthy and safely. … All of our buildings are set up so they are conducive to (patients) getting better."
He said all the units in the 24/7 care facility would be private patient suites. It will offer both inpatient and outpatient rehabilitation services. A release further described it as a high-end facility with fine dining and an upscale atmosphere.
Nathan Swain, one of the owners of The Boyer Co., said his company had been looking for sites for about 1½ years. It approached the city regarding the parcel about eight months ago, he said. The fact that it was near MountainView Hospital added to its appeal.
"We looked at many locations, and this was the premier (one)," he said. "We were lucky enough to have the city work with us."
The raw land is about 9 acres. Boyer and AHC will use just under three of those acres, using a narrow, rectangular plot, with the narrow end on Tenaya Way.
"We have a very large senior population in Ward 1, and I know this (will be) a facility that many of them will use," Tarkanian said. "… I see the great need for health services on many different levels, and I see the need for places such as this."
That same day, Mayor Pro Tem Stavros Anthony was at a ribbon-cutting ceremony at 3391 N. Buffalo Drive, where CareMeridian Las Vegas has purchased and remodeled an 11,500-square-foot facility for post-acute care services.
CareMeridian provides specialty inpatient rehabilitation and nursing to people of all ages with brain, spinal cord and other life-altering injuries and medically complex illnesses.
"We were running out of space …. In our case, we have two programs, an adult one and a pediatric one," said Jim Ashby, CareMeridian president and CEO. "This allows us to take one facility and dedicate it to pediatrics."
That facility is at 7690 Carmen Blvd., near Buffalo Drive. It was an 18-bed facility but expanded to 35 beds about three years ago.
On the new acquisition, the renovations began about eight months ago. Final permits will likely see it open officially in early May, said Kathleen Modlin, CareMeridian communications director. It will feature 12 rooms and 24 beds in what a release called "a natural healing environment" on a 1-acre site.
"It's really lovely," Modlin said. "It's not like a nursing home. When you walk in, you feel like you're in a home environment."
Contact Summerlin/Summerlin South View reporter Jan Hogan at jhogan@viewnews.com or 702-387-2949.