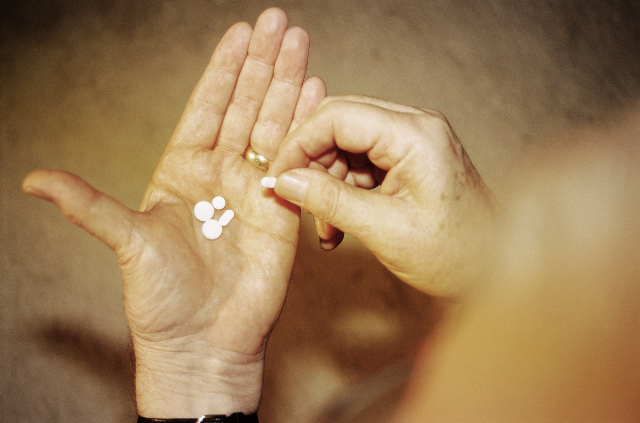 It's not news that a low-dose aspirin taken each day can help to prevent heart attack in those who've already had one.
But is an aspirin-a-day-regimen suitable for everyone on a preventive basis?
Not quite, and it would be unwise to start a daily aspirin regimen without consulting your doctor. But, says Dr. Mitchell Forman, dean of Touro University Nevada College of Osteopathic Medicine, a daily low-dose aspirin might benefit more people than currently are taking one.
Aspirin helps to prevent blood platelets from adhering to one another, Forman says, and taking a low-dose aspirin — about 81 milligrams — each day can help to prevent platelets from clumping together and impeding the flow of blood to your heart.
Research indicates that taking a daily low-dose aspirin can benefit those who have had a heart attack and wish to prevent another one. What about those who haven't had a heart attack but wish to begin daily aspirin therapy as a preventive?
In healthy people — that is, those who haven't had a heart attack or stroke, show no evidence of coronary artery disease, and whose blood pressure and lipid levels are fine — "studies seem to confirm that those individuals don't really benefit from it," Forman says. "There are no data suggesting that low-dose aspirin is of value for primary prevention."
And how about people who haven't had a heart attack but who do have risk factors for one? The United States Preventive Services Task Force recently released a draft report recommending that certain people ages 50 to 69 years old who haven't had a heart attack but who are at high risk of having one could benefit from a daily aspirin regimen.
The proposal would apply to those who "have a risk of developing a heart attack or stroke or complications from cardiovascular disease," Forman says "So you're already hypertensive, you have high cholesterol, or you've already had a myocardial infarction, or heart attack, or stroke" or you have a family history of heart disease.
For such people, Forman says, data indicate that "it may be worthwhile" to take a daily low-dose aspirin.
Note that the draft recommendation is age-related. "In people past the age of 70, it didn't necessarily show a reduction in subsequent risk," Forman says.
Note, also, that "these recommendations are just general and very broad, like most recommendations," Forman says. "You always have to look at a patient on a case-by-case basis."
The problem is that while aspirin is a relatively safe medication, it's not an absolutely safe one, and taking it does pose potential risks of its own. Among those risks are stomach bleeding and hemorrhagic strokes, and aspirin shouldn't be taken by those who have peptic ulcer disease.
Aspirin also can cause gastrointestinal upset, and taking aspirin daily may be risky when it's taken in conjunction with anticoagulants (sometimes referred to as blood thinners).
The bottom line, Forman says, is that, "as with most medications, and even if it's an over-the-counter medication, it should be discussed with a patient's health care provider, whether a physician or an allied health care professional."