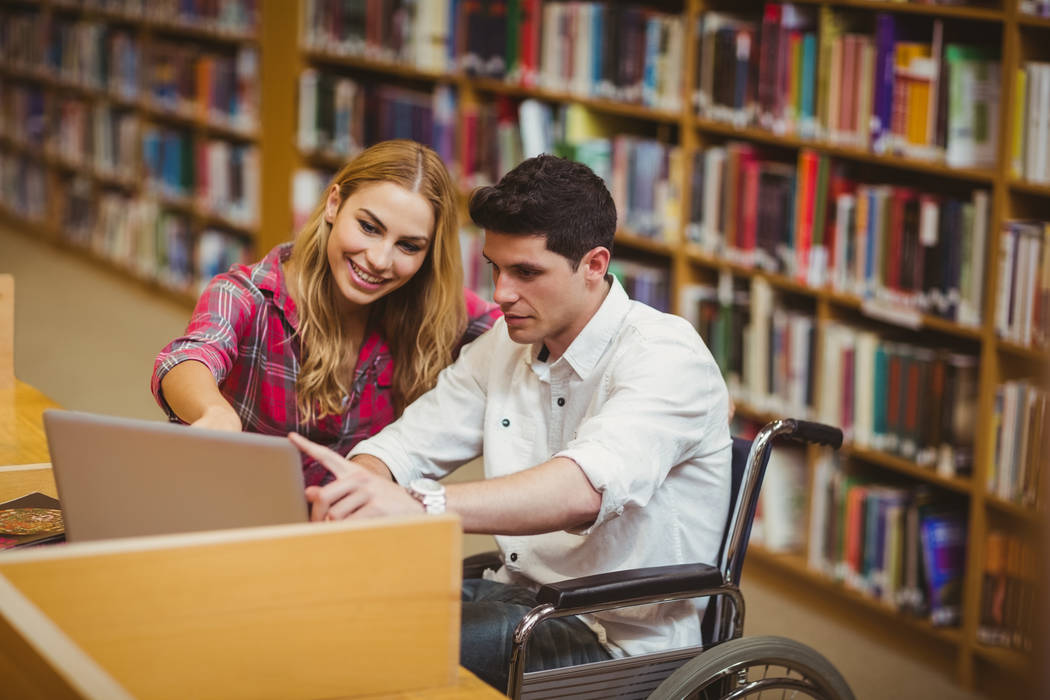 Hospital to host diabetes, health fair Saturday
Desert Springs Hospital, 2075 E. Flamingo Road, will host a Health & Diabetes Fair from 9 a.m. to noon Saturday. Available in the main lobby will be free health screenings and information, giveaways and snacks.
White-cane event set at Blind Center of Nevada
The Blind Center of Nevada, 1001 N. Bruce St., will celebrate White Cane Day, a national day of awareness regarding blindness, with events from 11 a.m. to 2 p.m. Oct. 15. Participants can try a white-cane obstacle course, hear live music and speakers on blind safety, and sample food prepared by the Culinary Arts Academy's first batch of chef graduates. Contact Gustavo Covarrubias Garcia, communications manager, to reserve a spot for the obstacle course and for lunch.
Walk with a Doc series continues on Sunday
The Walk with a Doc: Kids Time series of guided walks continues at 8:30 a.m. Sunday at Springs Preserve, 333 S. Valley View Blvd. Families with children and local doctors will take part in free 60-minute guided walks. A local doctor will will speak briefly on "Drug Drop-off Boxes: Know One, Use One, Save One" before the walk begins. Walk with a Doc is held the second Sunday of each month.
Disability Awareness Day features 60 organizations
The city of Las Vegas will host the 27th annual Disability Awareness Day from 10 a.m. to 2 p.m. Saturday at the Sammy Davis Jr. Festival Plaza at Lorenzi Park, 720 Twin Lakes Drive. Representatives from more than 60 organizations serving the disabled will be available to help guests with employment, independent living, recreational activities, financial planning, benefits counseling, transportation, housing and more. Admission and parking are free. October is national Disability Awareness Month.
Skye Canyon's festival includes pick-a-pumpkin
Skye Canyon will host a pick-a-pumpkin fundraiser during the northwest valley master-planned community's Chalktober Fest on Oct. 20. Kids can choose a free 6- to 15-pound pumpkin from 2-6 p.m. at the event, which will be in Skye Canyon Park. A suggested $2 donation per pumpkin will benefit Create a Change Now, a local nonprofit dedicated to educating families about preventing childhood diseases with good nutrition.
Mobile dental clinic has three stops this month
Nevada Health Centers' Ronald McDonald Care Mobile offers affordable dental care for children, with three stops planned in October. Parents can make appointments for children by calling 702-597-3898. The vehicle is staffed with a dentist, hygienist, and dental and office assistants. Services include restorative and preventive care, exams, cleanings, sealants, fluoride treatments, fillings, extractions, x-rays and oral health education. It will be open from 7:30 a.m. to 5:30 p.m. (closed for lunch from noon-1 p.m.) at all stops.
■ Oct. 16: Women, Infant, Children (WIC) Center, 3900 Cambridge St.
■ Oct. 17: WIC Center, 5085 West Sahara Ave.
■ Oct. 18: MLK Family Health Center, 1799 Mount Mariah Drive.