Birth spacing linked to autism spectrum disorder
September 18, 2015 - 5:17 pm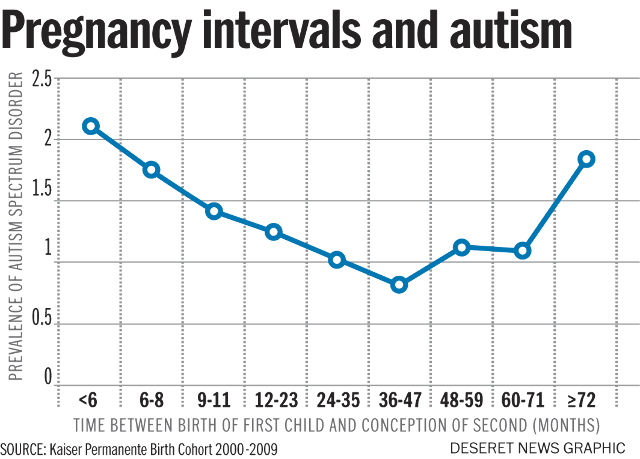 How far apart you space your pregnancies may affect your child's risk of autism, according to a study published in the journal Pediatrics on Monday.
Researchers in California found that children conceived less than two years after their firstborn siblings were born face 1½ to three times the risk of having an autism spectrum disorder. And they said those born after a pregnancy interval of six years or more also faced similar risk.
Deborah Bilder, an associate professor of psychiatry at the University of Utah and the medical director of the Neurobehavior HOME Program, called the study "impressive" and "eye-opening."
"No one is going to question now whether this is associated with autism — it is," Bilder said. "Now we need to understand exactly why."
On average, 1 in 68 children is identified as having an autism spectrum disorder, according to the CDC.
Scientists don't know what causes autism, a neurodevelopmental disorder characterized by repetitive patterns of behavior and difficulty with social interaction early in a child's development. But the study, conducted by researchers with Kaiser Permanente, offers some clues.
Defining a pregnancy interval as the time between the birth of the first child and the conception of the second, researchers looked at a database of more 45,000 children born between 2000 and 2009 in Northern California, focusing on second-born children.
They found that second-born children spaced one to two years apart from their older sibling were 1.5 times more likely to be diagnosed with an autism spectrum disorder compared with children who were spaced three to four years apart.
And the shorter the interval, the greater the risk. Those conceived after only a six-month interval had a threefold increased risk for autism, researchers said.
Long pregnancy intervals of six years or more were also associated with 2.4 times the risk of an autism diagnosis.
And the results didn't change when researchers controlled for things like the mother's weight, whether the firstborn had autism or whether the firstborn was born prematurely.
"They didn't affect our findings at all. We got the same thing," said Lisa Croen, a senior author of the study and the director of Kaiser Permanente's Autism Research Program.
For some parents, like Cobilynn Dickinson, the study is a painful reminder of how little is still known about autism.
"The reality of it is that autism is here, (and) we don't have any answers," Dickinson said.
Dickinson's 7-year-old son, Hagen, has what she calls "mildly severe" autism. He's less than two years apart from his older brother, Isaac. (Dickinson also has two older daughters, ages 15 and 13.)
And although Hagen is loving, he also has problems with speaking — to the point that mom and son have never had a real conversation, Dickinson said.
"I have a hard time with research done that isn't productive," she said. "What am I going to do, not have more kids? Is this going to stop anyone from having kids between a certain age period? No.
"I would love, love, love to see even more money go into research and funding and treatment for our children," Dickinson added.
Bilder said studies like this give researchers a definitive place to start looking for answers and future interventions.
Scientists don't know what it is about short or long birth intervals that leads to increased risk of autism. Researchers believe it may have to do with how much time women's bodies need to recover essential nutrients such as folic acid.
Spacing pregnancies too close together has already been associated with increased risk of pre-term birth and low birth weight. The World Health Organization recommends women try to space their pregnancies for at least two years after a live birth.
Spacing pregnancies too far apart has also been linked to low birth weight, preterm birth and pre-eclampsia.
It's a strong reminder of "the importance of starting those prenatal vitamins before you plan on getting pregnant and as soon as you know you're pregnant," Bilder said.