California university to take over Nevada Cancer Institute
December 2, 2011 - 4:20 pm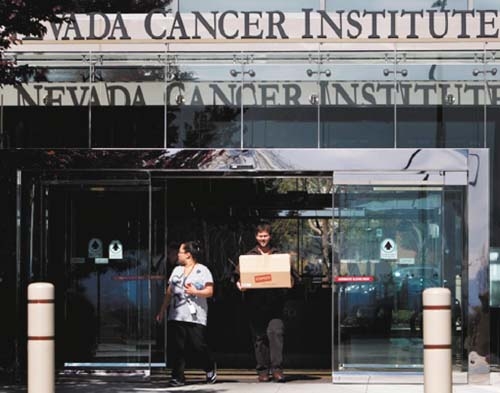 An agreement announced Friday to sell the financially troubled Nevada Cancer Institute to the University of California, San Diego Health System was called "a great day for us" by Heather Murren, a co-founder and board member of the nonprofit medical center in Summerlin.
The institute filed for bankruptcy protection Friday afternoon to help complete the sale, which is occurring with a negotiated restructuring with the institute's lenders. The banks have written off $50 million of debt, Murren said.
"We've been working incredibly hard to find a great future for the institute," she said.
UC San Diego has "been impressed with the facilities and quality of staff and the model of supportive care" at the institute, spokeswoman Jacqueline Carr said.
"We are excited about the prospect of bringing Nevada Cancer Institute into the UC San Diego Health System family," she said in a statement.
In its bankruptcy filings, the institute claimed $91 million in debt to a group of secured lenders headed by Bank of America. The cancer institute was unable to repay or refinance the debt when it became due in April, which led to the search for a buyer. The institute blamed lower medical reimbursements, rising costs, fewer charitable donations and increased competition for the financial struggles that led to $23 million in losses in 2010, according to court papers.
But local physicians have said a key reason for the institute's financial problems stemmed from institute officials often "bad-mouthing" the quality of medical services in Southern Nevada.
"When you do that, you can't expect to get many patient referrals from primary care doctors," said one physician who didn't want to be named. "And if you don't have the patients, you don't have revenue."
According to figures released Friday, the institute has served more than 17,000 individual patients since opening in 2005.
In comparison, Comprehensive Cancer Centers of Nevada see about 25,000 patients a year at eight different locations in the Las Vegas Valley.
Murren said in April that the institute may not have worked on local partnerships as "broadly and as assiduously" as possible and conceded that the number of referrals wasn't as high as she would have liked.
UC San Diego is "very interested in establishing local partnerships" to attract new patients, she said.
APPROVAL FOR SALE NEEDED SOON
Under the bankruptcy, Bank of America agreed to release $2.8 million from a collateral account to the cash-strapped institute so it can continue day-to-day operations until the sale is completed.
The institute said in its court filings that the sale must be approved by Jan. 20 because it won't have enough cash to continue operations after that date.
In April, the institute laid off half of its 300 staff members in trying to manage its debt. Many lawsuits were filed by former employees, who said the institution improperly terminated them.
"That was an extraordinarily painful time, but we were able to buy ourselves time to move forward," said Murren, who said the lawsuits will be addressed soon.
World-renowned cancer researcher Dr. Nicholas Vogelzang , the first director of the institute, who is now with Comprehensive Cancer Centers, said it makes good business sense for UC San Diego to come to Las Vegas. He said private oncologists had blocked UC San Diego's growth in California.
"They want to come to where there are more patients," he said.
But Vogelzang doubts local physicians will be quick to refer patients to an out-of-state institution.
He said most of those seen at the institute after the sale "will be those seeking second opinions."
Dr. John Ruckdeschel , who was fired as director and CEO of the institute in the spring, said he understands that UC San Diego will not do laboratory research in Las Vegas, but Murren said that decision hasn't been made.
When the institute opened in 2005, the goal was to do cutting-edge research that would translate into lifesaving treatments.
UC San Diego operates the Moores Cancer Center in La Jolla, Calif. It's one of just 40 National Cancer Institute-designated comprehensive cancer centers in the United States. Centers with that designation are able to use a greater variety of treatment regimens.
The designation could mean more local treatment opportunities for Nevada patients, Murren said, but she added that UC San Diego has "to get its feet on the ground" in regards to how the institute will be used.
Ruckdeschel also said Las Vegas cancer patients with complex cases might end up being treated in San Diego.
"Most places that come from out of town are going to want to send cases back to their mother ship," he said.
Murren said institute staff members hugged and clapped when she announced the sale to them about 4:30 p.m. Friday.
She said she believes they will keep their positions under the new ownership.
UNCERTAIN FUTURE
Philanthropic gifts to the institute peaked in 2006 at $58.1 million and have declined since.
Murren, with her husband and institute co-founder Jim Murren, chairman and CEO of MGM Resorts International, have earned national acclaim for their fundraising, hosting events with celebrities that included Eva Longoria, Larry King and former Van Halen rocker Sammy Hagar.
State and federal officials have looked at the institute with favor.
Not only did state legislators provide $20 million in funding, they also made the institution the state's official cancer institute before even one patient had been seen.
Long a favorite of Senate Majority Leader Harry Reid, D-Nev., the institute has received $40 million from the federal government.
For years, there was talk that the institute would build a hospital dedicated to the treatment of cancer. Surgeries bring in an enormous revenue stream to medical centers, but the institute has relied largely on philanthropy, referrals and grants.
In 2009 Congress approved a provision by Rep. Shelley Berkley, D-Nev., that allowed the transfer of ownership of 24 acres at Alta Drive and Hualapai Way from the Bureau of Land Management to the Nevada Cancer Institute for a hospital.
Whether UC San Diego will build a hospital for the institute on that land is unknown.
Murren said it's too early in the process to know what UC San Diego has planned for the institute and its property.
"There are still some things to be decided," Murren said. "It's up to them to make a decision."
Contact reporter Paul Harasim at pharasim@review
journal.com or 702-387-2908. Contact Brian Haynes at bhaynes@reviewjournal.com or 702-383-0281.