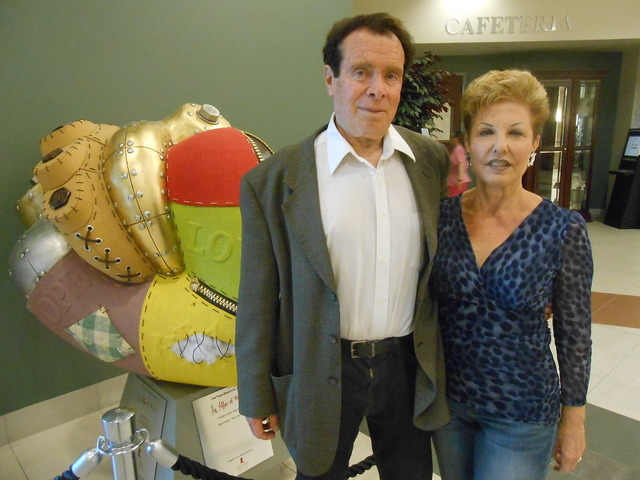 Summerlin Hospital's cardiac rehabilitation program has reached its one-year milestone. The program is for people who have experienced a recent cardiac event (most are heart attack patients) and emphasizes the three "E" components: exercise, education and encouragement.
Registered nurse Heather Brookman heads the program and spoke about the milestone Feb. 12 at the hospital, 657 N. Town Center Drive.
"A year ago, it felt like we were just trying to get it started," Brookman said. "As far as the patient participation goes, it's pretty much set. People really seem to get on board with the exercising. What's really good about it is that it creates a sense of community, so other people who have had a heart event, they're always going to be able to connect with (a newcomer to the program)."
Cardiac rehab is a medically supervised program that can help patients recover from a heart attack, heart surgery or angioplasty. It also helps to prevent future heart problems and addresses risk factors that can lead to coronary heart disease. It teaches participants to develop a healthy lifestyle and eating habits.
Patients are provided safe progression through an exercise program based on their abilities and physiology. Education and classes — nutrition, stress reduction, medication management, smoking cessation, diabetes management, safe and effective exercise at home and weight reduction — also are part of the program.
"There's a study out of Case Western Nursing School," said Brookman, "that only 37 percent of cardiac rehab patients one year out of the program are still exercising three days a week."
She said to counter that, she'd like to see a walking group and a support group start. Brookman runs the program with assistance from Monica Lewis, physical therapy assistant. Each meeting sees as many as 40 people.
Richard Weinstein, 73, was there with his own celebration — surviving two heart attacks. The attacks were 10 years apart, almost to the day.
"The first one, I had symptoms — shortness of breath, pain," he said. "But here, I didn't have any symptoms. All I had was a little discomfort. … But I said, 'Let's not take any chances' because once burned, you know?"
He had always been someone who exercised but said genetics worked against him. His father died at 57 of a heart attack.
He went to cardiac rehab and established a regimen of exercise six days a week.
"My energy level doubled. … Now, I'm almost back to where I was," Weinstein said.
Not all attendees are heart attack patients.
Three years ago, Rick Savage, 63, director of cardiopulmonary services at the hospital, found himself feeling fatigued and experiencing random heart palpitations. He said he became short of breath to the point where simply walking down a hallway was a chore.
"I thought at first that I was just getting older — you know, the AARP card was getting older, and I was getting older, too — but it was affecting my quality of life," Savage said.
He knew to see a cardiologist, who ordered a series of tests. On Oct. 31, he had surgery to repair his dysfunctional aortic valve. He was off work for nearly two months.
"The rehab part was great," he said. "Heather told me to focus on everything from lifestyle to diet and exercise, in conjunction with my medical history, and the program that she has, we were able to identify the area which I could improve upon."
Howard Glass, 72, was experiencing a rapid pulse, and his doctor determined he had a heart value issue. He had mitral valve repair in February 2014, along with a double bypass surgery. He spent 85 days in the hospital, 43 in the intensive care unit. That was followed by six months of physical therapy. He attended only one session of cardiac rehab but said it taught him how to eat. Now, his diet consists mostly of salads and fish.
"I'd tell someone that if they went through surgery, and they need to do rehab, then this is the place to come," Glass said. "They treat you like family."
Summerlin Hospital Medical Center's outpatient cardiac rehab program is medically supervised and requires a physician's referral. For more information, call 702-233-7470 or visit tinyurl.com/cardiac-rehab.
Contact Summerlin Area View reporter Jan Hogan at jhogan@viewnews.com or 702-387-2949.