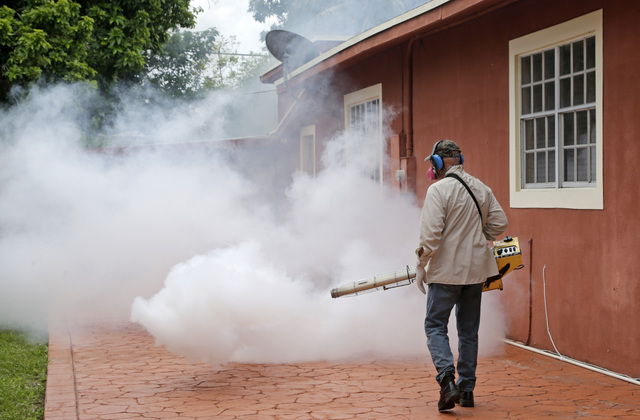 MIAMI — U.S. health officials are warning pregnant women to avoid Miami Beach, where Florida officials say mosquitoes have spread the Zika virus to five people.
In a statement Friday, the U.S. Centers for Disease Control and Prevention said pregnant women should avoid travel to the South Beach area, which has been identified as an infection zone.
The CDC said pregnant women also should continue to avoid travel to Miami's Wynwood arts district. That neighborhood was the first site on the U.S. mainland where health officials determined mosquitoes were transmitting Zika.
The CDC also said pregnant women and their partners may want to consider postponing nonessential travel to all of Miami-Dade County if they're concerned about potential exposure to the virus.
In the agency's statement, CDC Director Tom Frieden said it's "difficult to predict how long active transmission will continue."
Gov. Rick Scott said the state does not plan to advise people to stay away from the beaches, nightclubs and pedestrian thoroughfares that form the heart of South Florida's travel industry.
Five cases of Zika have been connected to Miami Beach, bringing the state's caseload to 36 infections not related to travel outside the U.S., Scott said.
"We believe these cases were from mosquitoes," said Florida Department of Health spokeswoman Mara Gambineri in an email to The Associated Press.
Two patients are Miami-Dade County residents, and three are tourists, including one man and two women, Scott said. The tourists are residents of New York, Texas and Taiwan.
"We believe we have a new area where local transmissions are occurring in Miami Beach," Scott said. He described the area on the narrow island city as just under 1.5 miles between 8th and 28th streets.
Another infection zone was previously identified across a roughly 1-square-mile area encompassing Miami's Wynwood arts district.
Additional infections outside Wynwood and Miami Beach also are being investigated. Health officials have said one case of Zika does not determine whether an area is declared a site of active transmission.