Children's heart surgeons repair the tiniest patients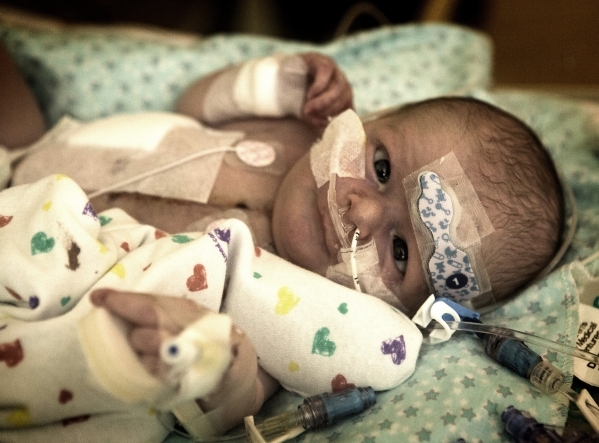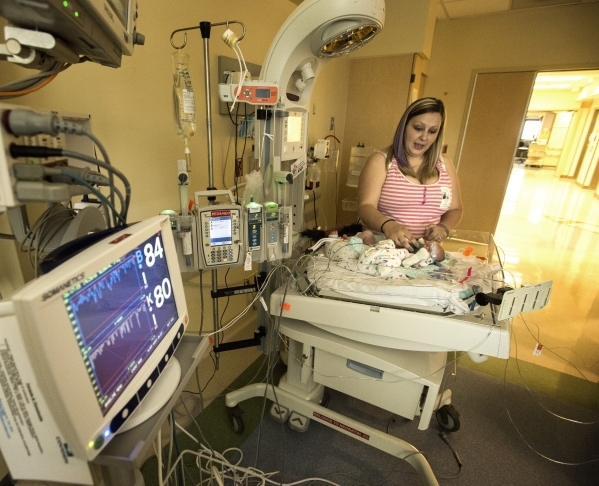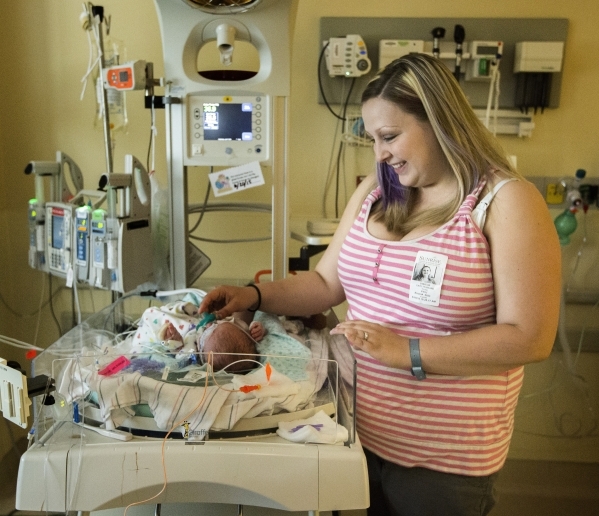 Have you heard this one? Where do you go for good medical care in Las Vegas? Answer: the airport.
Don'€™t try telling that stale joke to Caliente residents Caitlyn Beard, 22, and her husband, Steven, 24. They are not buying into the pervasive notion that people cannot find good medical care in Southern Nevada. The young couple found out the hard way that Las Vegas has one of the best congenital heart programs in the country.
In fact, the Children'€™s Heart Center of Nevada may be one of the best kept secrets in Las Vegas. Dr. William Evans is still surprised how many local residents have never heard about the multidisciplinary center he founded in 1980. The practice offers a wide range of care, such as electrophysiology, interventional cardiology and cardiac surgery for the fetus, child and adult with congenital heart disease.
"€œI talk to doctors I'€™ve known for 30 years and they (ask), '€˜Do you guys do heart surgery?'€™ "€ Evans said. "€œAnd I say, '€˜Yes, we do heart surgery.' I get a little frustrated. '€˜You'€™ve known me for all this time and you don'€™t know what we do?'€™ "€
People outside Las Vegas have obviously heard about the Children'€™s Heart Center. The group's national reputation has drawn about 1,200 to 1,300 out-of-state patients to the center the past 12 months, said Steven Eisen, chief executive officer.
The center offers a collaborative approach to detection of prenatal cardiac disease that features a unique "€œoffice calls"€ early intervention program. When an OB-GYN or a high-risk obstetrician detects a possible heart issue during a routine prenatal examination, field cardiologists from Children'€™s Heart Center go to the patient at her doctor'€™s office and evaluate the expectant mother, Evans explained.
"The idea of going into the community –€" that'€™s why we have such a high success rate, because our doctors are there on site," Evans said. "€œThat'€™s what's different about Southern Nevada than anywhere else in the U.S."€
The Beards'€™ son, Ryland, was born in St. George, Utah, on June 6. Two days later, the pediatrician performed his discharge examination and found oxygen levels in the baby'€™s legs were not the same as in his upper extremities. Ryland was diagnosed with a narrowing of the aortic arch, a defect in part of the largest artery in the human body.
"€œIt was a lot to take in especially right after giving birth,"€ his mother, Caitlyn said.
The Beards had already packed their bags and were ready to make the two-hour-trip home, eager to introduce Ryland to his big brother, 17-month-old Parker.
"All of a sudden my whole world got turned upside down,"€ Caitlyn recalled. The doctors told her he was going to need open-heart surgery. "€œI didn'€™t even know if he was going to live because I had no idea what was going on."
Caitlyn'€™s two previous prenatal ultrasounds, which were not performed in Las Vegas, did not detect Ryland'€™s congenital heart defect.
The National Heart, Lung, and Blood Institute confirms doctors often do not know what causes most heart defects, but heredity may play a role. Heart problems run in her family, Caitlyn noted.
Ryland was flown by helicopter from St. George while his worried parents followed by car. Once he arrived at Sunrise Children'€™s Hospital, a well-oiled medical collaboration was set in motion that included not only the hospital staff but also the Children's Heart Center'€™s cardiologists, surgeons, social workers and psychologists.
But even with a professional team and community help to support him, success still comes down to the surgeon. Six days after his birth, Ryland underwent open-heart surgery performed by Dr. Sergio Carrillo, one of the center'€™s two cardiac thoracic surgeons.
"It'€™s a lot of pressure but I put it on myself because … I want to give this child 80 years,"€ Carillo said. €"I'€™m going to do my utmost best right now because there's only one chance — there'€™s only one time, there'€™s only one pitch with no strikes here –€" and then allow him to grow."
A successful surgical outcome also depends on community support for the parents and families. For those who come from more than 30 miles outside of the Las Vegas area, Ronald McDonald House of Las Vegas fills in with practical help through minimal or no-cost lodging and meals.
"€œIt'€™s just such an awesome program,"€ Caitlyn said. "€œA lot of people can'€™t afford to go out and eat. That adds up very fast so that might be the only meal that they get."€
Four days after his surgery, Ryan's ventilator was removed and the following day Caitlyn was able to give her son a bottle.
What is the long-term prognosis for Ryland?
"€œI would anticipate that Ryland'€™s going to grow exactly the same as his older sibling or his peers,"€ Carrillo said. "€œHe has now no additional risk or very minimal risk just because he was born with a congenital heart defect."
Caitlyn knew "€œthat down here (Las Vegas) would be the best place" for Ryland.
"€œI put my son'€™s life in their hands and I trusted them with everything that I have,"€ she added. "€œAnd I'm so thankful that I did, because they saved my son's life."€