Clark County slides in annual survey of health outcomes
Updated March 14, 2018 - 7:06 pm
Health outcomes in Clark County declined over the past year compared with other counties in Nevada, according to an annual survey released Wednesday.
Clark County's health outcomes — based on residents' longevity and how healthy they feel — fell to 10th among Nevada counties, down from sixth over the past three years, according to the 2018 County Health Rankings report.
In health factors, based on health behaviors, clinical care, social and economic factors and physical environment, the county's rank remained unchanged from 2017.
The ninth annual report by the Robert Wood Johnson Foundation and the University of Wisconsin Public Health Institute, based on data from 20 sources, including the Centers for Disease Control and Prevention and the National Center for Health Statistics, compared Clark with 15 other Nevada counties and Carson City. It did not include Esmeralda County because of insufficient information.
Drilling down into the report, Clark County came in dead last in physical environment. Among the reasons: A relatively high level of air pollution at 8.9 micrograms of particulate matter per cubic meter of air; severe housing problems, including overcrowding or lack of a kitchen or plumbing, affecting nearly a quarter of households; and drinking water violations, the data show.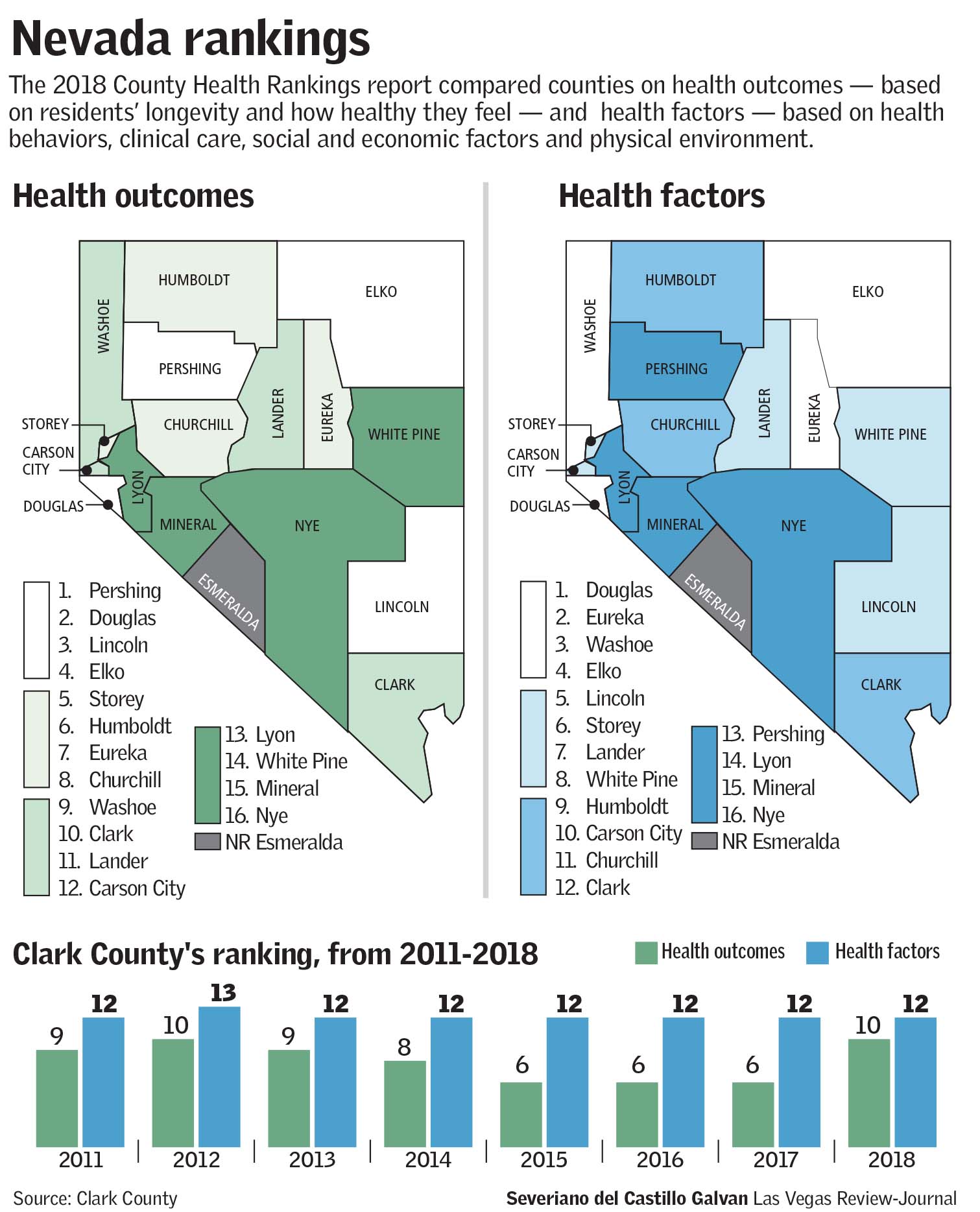 'Rurals are doing better'
Dr. Joe Iser, chief health officer of the Southern Nevada Health District, said the decline in Clark County's ranking could be partly the result of improving health measures in rural counties, including Pershing, Douglas and Lincoln, which ranked first, second and third in health outcomes, respectively. In Lincoln County, the percent of residents lacking health insurance fell, and the unemployment rate has been trending downward since 2011.
"I think in some cases, the rurals are doing better," Iser said. "There's been economic development here, but I don't think we have the unemployment rate of Lincoln County, for example."
Iser, joined by other state and local health officials at a briefing, said he's more concerned about long-term changes than differences in rank from year to year. He said he plans to look for improvements in access to care with the introduction of new medical residency programs and the UNLV School of Medicine.
"Year upon year doesn't bother me very much," he said. "It's 'Where do we want to be in five years?' and 'What trajectory do we need to make to do that?'"
The County Health Rankings were created as "an easy-to-use snapshot on the health of nearly every county in the nation," said Kate Konkle, associate researcher at the University of Wisconsin Public Health Institute.
"More importantly, not everybody has the same chance to be healthy based on where they live," Konkle said.
Social determinants like race and ethnicity, education and access to safe and affordable housing, among others, can impact the health of a community, she said.
Instead of using the measure as an indicator as to whether a county has improved overall, the rankings are meant to help counties within a state connect with one another and share ideas and tools for improving on a measure, Konkle said.
Clark County already had identified gaps in its residents' health, including inadequate access to care, increases in chronic disease linked to obesity and tobacco use and policies and funding for public health programs. The areas needing improvement are outlined in the health district's 2016 Community Health Improvement Plan, which set a 2020 progress goal.
In addition, Iser said the health district is zeroing in on the rapid spread of sexually transmitted infections, opioid misuse and violence, including gun violence and domestic abuse. He said he wants to see improvement in those areas within five years.
Other areas flagged
The health rankings flag other areas for improvement in Clark County, including mammography screening, high school graduation rates and diabetes monitoring, though the latter two have been improving over time.
Konkle also pointed to childhood poverty as an area where the county should focus. Though its 21 percent rate is in line with state and national numbers overall, racial and ethnic disparities are stark, she said — 11 percent of white children in Clark County are impoverished, compared with 36 percent of black children.
In striving to improve the health of localities, officials should partner with their legislators to draft bills that could mandate changes at the state level, according to presentations from state Sen. Pat Spearman, D-North Las Vegas, who is running for 4th Congressional District, and state epidemiologist Sandi Larson, both of whom presented at the briefing.
Konkle said the report can play a role in pushing that change.
"People have the power to create change in their communities, as long as they have the information and the community spirit to move forward," she said.
Contact Jessie Bekker at jbekker@reviewjournal.com or 702-380-4563. Follow @jessiebekks on Twitter.
New in 2018
The County Health Rankings, which can be viewed online at www.countyhealthrankings.org, this year added data on racial and ethnic disparities for seven measures: premature death, low birthweight, teen births, diabetes monitoring, mammography screening, children in poverty and driving alone to work. On each factor, Clark County's black population fared worse than whites.
The County Health Rankings website also includes a new features which allows for comparison between counties across statelines that are similar in socioeconomic factors and population distribution. Suggested so-called "peer counties" for Clark include Salt Lake in Utah and Orange County in California.