Controversial rating system gives six Nevada hospitals one star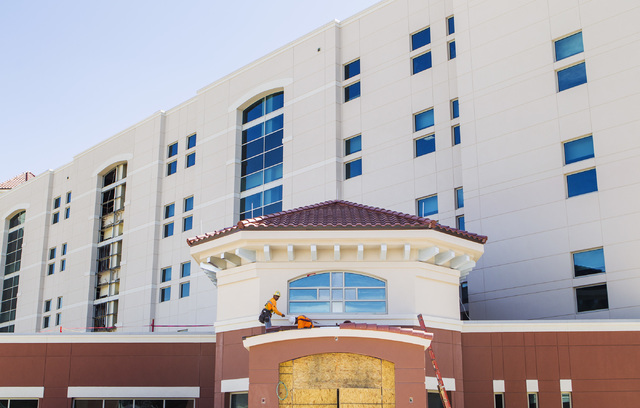 Five Southern Nevada hospitals were among six statewide that received only one star in a controversial five-star rating system unveiled Wednesday by the Centers for Medicare &Medicaid Services.
Two Nevada hospitals got four stars: Mesa View Regional Hospital in Mesquite and Renown South Meadows Medical Center in Reno.
The ratings, which use stars to denote the overall quality of hospitals, are meant to "help individuals, their family members and caregivers compare hospitals in an easily understandable way," according to a statement by CMS.
The results, available on the Hospital Compare portion of the Medicare website, have been met by opposition by many hospitals locally and across the country who say the ratings use unreliable information and punish teaching facilities as well as hospitals that serve low-income patients.
The five Southern Nevada hospitals receiving one-star ratings were: University Medical Center, St. Rose Dominican Hospitals-Siena Campus, Desert Springs Hospital Medical Center, Valley Hospital Medical Center, and Sunrise Hospital and Medical Center.
UMC CEO Mason VanHouweling took issue with the rating system, saying the measure treats all facilities the same, despite differences in the patients they may see.
"In other words, the rating system fails to account for unique, multifaceted or high-acuity patients that may come through a trauma, burn or transplant center," he said.
The ratings will be updated quarterly and take into account 64 measures including deaths, readmissions and patient experience, data which is taken from inpatient and outpatient reporting programs, according to CMS.
Some measures use data collected solely on Medicare beneficiaries while others are based on the hospitals' general patient population. Hospitals submitting insufficient data or that aren't registered with Medicare cannot be rated.
Nancy Seck, chief nursing officer for Mesa View Regional Hospital, said she was proud of the hospital's four-star rating, the only one in Southern Nevada.
She added that though some hospitals might be at a disadvantage, she's glad all are being judged by the same measures, and believes CMS will refine its processes to eliminate disputes over some aspects of the ratings.
"We're excited about being in this category this time and our job is to stay there," said Robert Fuller, director of business development at Mesa View.
Renown Health found itself on both ends of the spectrum, with Renown Regional Medical Center in Reno getting one star and Renown South Meadows Medical Center getting four.
"There is national debate about whether the new CMS star rating system creates more confusion than clarity as it disadvantages hospitals serving a greater number of vulnerable populations," Renown Health Executive Vice President and Chief Operating Officer Sy Johnson said in a statement.
Renown Regional "serves a much larger and more critically ill population, which presents complexities when comparing its performance to hospitals of a smaller size and scope," Johnson added.
Contact Pashtana Usufzy at pusufzy@reviewjournal.com or 702-380-4563. Follow @pashtana_u on Twitter.