Convenience, comfort reasons people confide in counselors online
December 20, 2015 - 10:26 am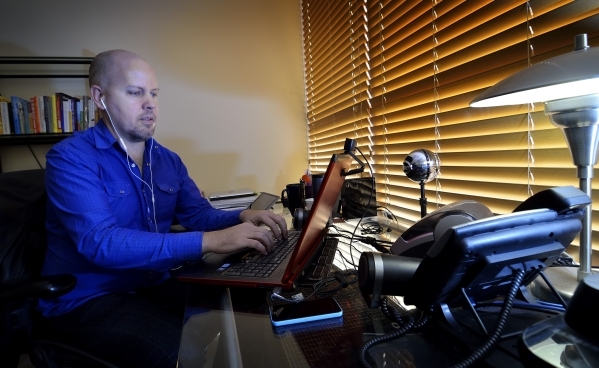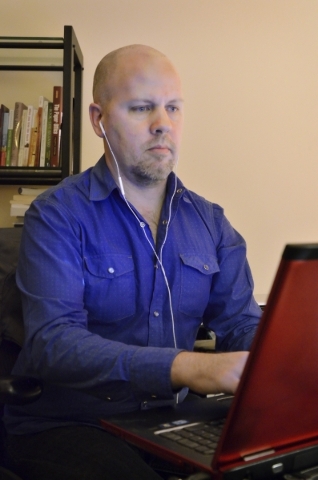 There can be many obstacles keeping people from seeking therapy.
But some counselors and psychologists are trying to make it a little easier by offering patients the option to do counseling online through video sessions.
"People feel more in control when they are behind a keyboard," says Katherine Hertlein, an associate professor in the marriage and family therapy program at UNLV.
With the stigma that remains on seeking mental health services, Hertlein adds clients might be more inclined to do online therapy to avoid going to an office.
"It's also easier to schedule opposed to trying to take time off of work," she says.
In a sense, even more traditional therapists have done a form of online counseling every time they respond to a client's question via email or text, Hertlein notes.
Adding video sessions is a natural progression.
Dr. David Gosse, a local counselor, started offering video sessions for clients this year and estimates 10 percent of his clients use it.
"I think there are advantages and disadvantages to offering it," the psychologist says.
Generally speaking, Gosse thinks offering online therapy could do a lot of good to overcome the stigma against seeking mental health services.
Another barrier online therapy hopes to address is accessibility.
"Say you live in a rural area and don't have someone you can see," Hertlein says. "Or say you have OCD (obsessive-compulsive disorder) and no one in your area deals with OCD. You can find an expert online."
It can also be cost effective for counselors who usually do home visits but don't want to travel beyond a certain distance.
"It's more cost effective for them if they are traveling beyond 22 miles," she says.
Gosse says he has seen firsthand it open up doors in his practice.
"It removes some of the barriers," he says. "If you live up North or in places that don't have counselors, it's better to talk online than not talk at all."
Gosse says some of his clients even do a mixture of in-person sessions and online sessions.
"Some of them travel and don't want to skip a session," he says.
There are still kinks that need to be worked out. Gosse says currently, psychologists can't take clients from other states unless they are licensed in that state.
Another concern is therapists who don't properly secure their computers.
"There are right ways and wrong ways to do it," he says.
Gosse adds he has heard of counselors conducting sessions over Skype, a violation of the Health Insurance Portability and Accountability Act of 1996, which secures the privacy of people's health information.
"It seems the tech is improving over time," he says.
Video sessions won't work in every situation, such as in times of crisis or when intensive therapy is required.
But when it is applicable, interest seems to be growing, Hertlein notes. She adds that with online options opening the door for anything from shopping to dating, it makes sense to open the doors for online therapy as well.
With counselors opting to do sessions online, Hertlein says there has been a rise in research to assess whether it works. She even sits on a task force for the American Psychological Association that is looking at issues within online therapy.
The group discusses everything from ethics to recommendations on security measures.
The task force is establishing core competency standards to make sure counselors and therapists who choose to use this method have a firm grasp on the technology.
"Skype is not a secure method," Hertlein notes. "We want to make sure counselors are 100 percent secure and educated about securing their services."
Currently, most states don't have ethical or legal guidelines for therapists who schedule video sessions with clients. Hertlein says that is changing.
One of the arguments against online therapy is it might diminish the rapport that is usually established with in-person interactions.
"But studies have shown against that," Hertlein says. "People have a habit of disclosing more and becoming more vulnerable according to research."
As online therapy moves forward, Hertlein says there will still be a need for in-person counseling.
"There are some clinicians who use a lot of hands-on devices," she says. "They do play therapy or use puppets."
Also, some counselors do group sessions that might be awkward to coordinate by video.
For Gosse, sometimes he gives his clients homework to work on before their next session. Coordinating that work online can be tricky, though not impossible.
In order to determine if it's working, he makes sure to give clients evaluations to see if there are areas he needs to improve.
In the future, Hertlein wouldn't be surprised if there are safe and secure mobile apps that connect people to therapists.
Contact reporter Michael Lyle at mlyle@reviewjournal.com or 702-387-5201. Follow him on Twitter: @mjlyle