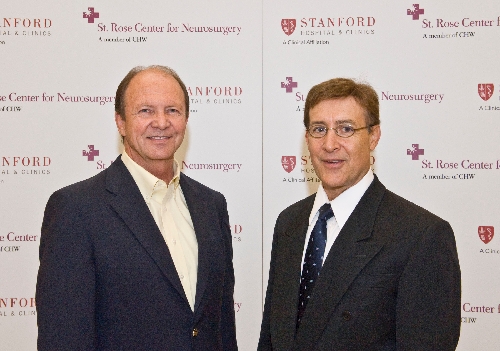 The St. Rose Center for Neurosurgery, expected to be enhanced by a new partnership between St. Rose Dominican Hospitals and Stanford Hospital and Clinics, will be staffed by established local physicians who have joined the Stanford faculty, St. Rose officials revealed Tuesday.
Dr. Randal Peoples, appointed Aug. 1 as medical director of the center, said area neurosurgeons who go through stringent screening will earn an academic appointment at Stanford before working at the St. Rose Center.
"It's a unique way of forming a partnership," Peoples said as he stood in the lobby of the St. Rose Dominican Hospitals-Siena campus off Eastern Avenue and St. Rose Parkway. "And this way we can use all the protocols, consultations and services of a great academic institution."
This year U.S. News & World Reports named Stanford Hospital and Clinics one of the top 17 hospitals in the country.
A local physician for 19 years, Peoples noted that he was immersed in the California institution's protocols for almost a year before earning an appointment as a clinical associate professor in the neurosurgery department.
Neurosurgery is a specialized field for the treatment of diseases or conditions of the central nervous system and spine.
Peoples said he hopes "nearly all" local neurosurgeons want to work at the center, which will also be contacting physicians.
They can keep other affiliations they have, he said.
According to Peoples and Dr. Howard Baron, president of the Clark County Medical Society, the Las Vegas Valley has about 10 to 12 active neurosurgeons.
"This agreement seems like a win-win for the people and physicians of Las Vegas," Baron said. "It's really going to add something to the community."
Some local doctors had expressed reservations about whether Stanford would take patients back to California for treatment.
But during Tuesday's official announcement of the collaboration with Stanford, Rod Davis, president and CEO of St. Rose, stressed that the majority of procedures will be done in Las Vegas.
In rare instances where the complexity of a case demands a referral to Stanford — its department of neurosurgery was ranked 20th nationally by U.S. News & World Reports — Davis said the affiliation between St. Rose and the private institution will make the transfer easier.
Davis said the partnership came to fruition over years of talks between St. Rose and Stanford officials.
"Stanford saw we had fine physicians here," he said.
Davis expects the center to complement, not duplicate, the treatment done by the Cleveland Clinic Lou Ruvo Center for Brain Health.
Maureen Peckman, an executive with the Cleveland Clinic, welcomes the new partnership because she thinks it will raise the level of patient care locally.
The St. Rose Center for Neurosurgery will be housed in a new building being finished this winter behind St. Rose's Siena campus.
Contact reporter Paul Harasim at pharasim@reviewjournal.com or 702-387-2908.