Diabetics living longer but medical costs growing rapidly
January 15, 2018 - 9:00 am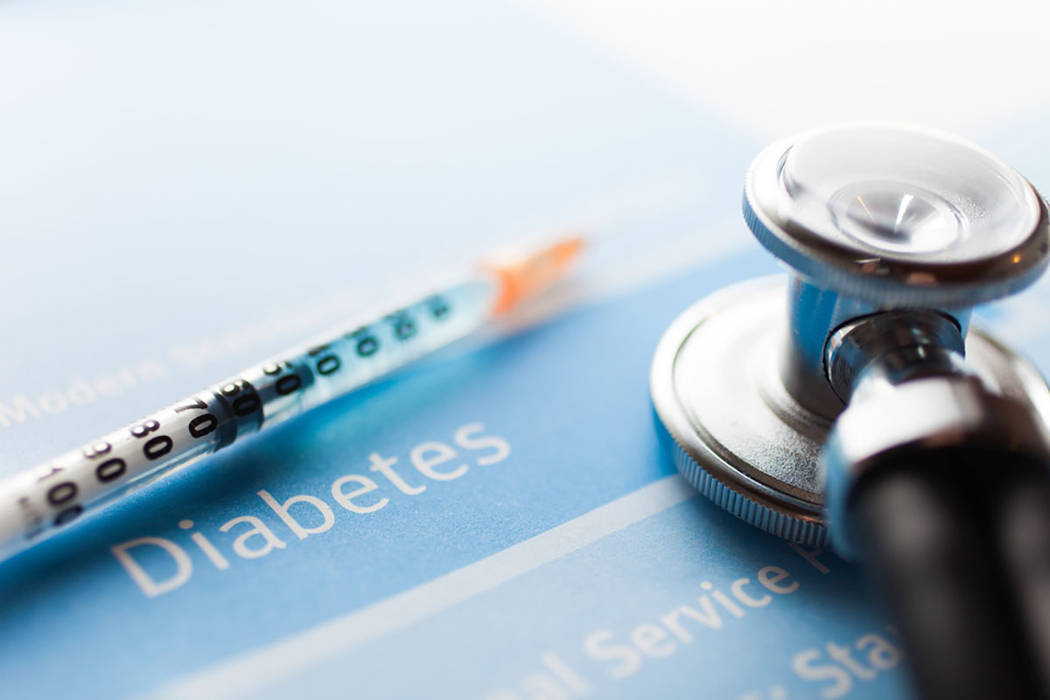 The cost of health care for older diabetics is skyrocketing as doctors and patients get better at managing the chronic condition.
That's according to a report published Monday that found Nevada had the 10th-highest rate in the nation for diabetes among adults 65 and older.
About a quarter of Nevadans 65 and older are living with diabetes, the report found. Overall, about 11 percent of state residents have the disease.
The study contains good news and bad news. It notes that although the number of people diagnosed with the disease has decreased each year over the past decade, diabetics' longer life spans have driven the disease's prevalence rate from 3.5 percent of the general population in 1980 to almost 10 percent today. That, in turn, has sharply increased the cost of medical care for diabetics, who on average incur twice as much medical expense as nondiabetic patients.
'A high price tag'
"The fact that higher diabetes prevalence trends are now being driven by longer life spans, rather than new cases, is an unqualified victory for public health," the report said. "But this victory comes with a high price tag, particularly for older Americans."
The study published on the digital data platform LiveStories, conducted by UCLA researcher Jeroen van Meijgaard using data from the Centers for Disease Control and Prevention, examined data for both Type 1 and Type 2 diabetes. Those living with Type 1 diabetes don't produce insulin, which makes energy from food, and require regular doses of the hormone. Type 2 diabetics don't respond to insulin. The latter often can be controlled with diet and exercise.
Meijgaard's study estimates people who die at 65 will have spent more than $100,000 on diabetes treatment in their lifetimes. That cost soars to almost $540,000 for people who die at 95.
The increasing longevity of older diabetics will place additional pressure on government health care programs, the study warns.
"As diabetes prevalence and treatment cost become concentrated more and more among elderly Americans, Medicare will need to foot an outsize portion of the bill," it said.
The study's findings are especially ominous for Nevada, notes Dr. Fred Toffel, medical director of the Diabetes Treatment Center at Desert Springs Hospital.
Exercising at the slot machine
"We attract a population of people who retire here and who are not necessarily looking for the culture and exercise lifestyle," he said. "Exercise is pressing the button on the slot machine."
In Toffel's practice, treatment costs are especially hard on Medicare patients over 65, who lose Part D drug coverage once they hit the "doughnut hole" — the period after they hit their annual coverage limit until they reach their out-of-pocket spending cap.
"The medication costs here are outrageous, and when you hit the donut hole, you see these numbers that are great," Toffel said.
Patients who can't afford the drugs out of pocket, or simply aren't willing to pay the steep bills, often experience disruptions in treatment or end up taking less expensive, older drugs that cause more side effects than newer ones, he said.
Diabetes-related deaths have stayed "remarkably stable" since 1999, the report found, decreasing just slightly nationwide. In Nevada, however, the death rate, while just below the national average, declined after 2005 but has crept up in recent years toward early-2000s numbers.
To pick the right treatment, Toffel says education comes first.
"Get the education, then you're able to really make the wiser decisions," he said.
Among other things, he recommends diabetes patients visit an optometrist for an eye exam, as vision changes are common, and have a doctor check their feet for complications like neuropathy or ulcers.
"But again, it's your diabetes," Toffel said. "We can coach you, but you're the player."
Contact Jessie Bekker at jbekker@reviewjournal.com or 702-380-4563. Follow @jessiebekks on Twitter.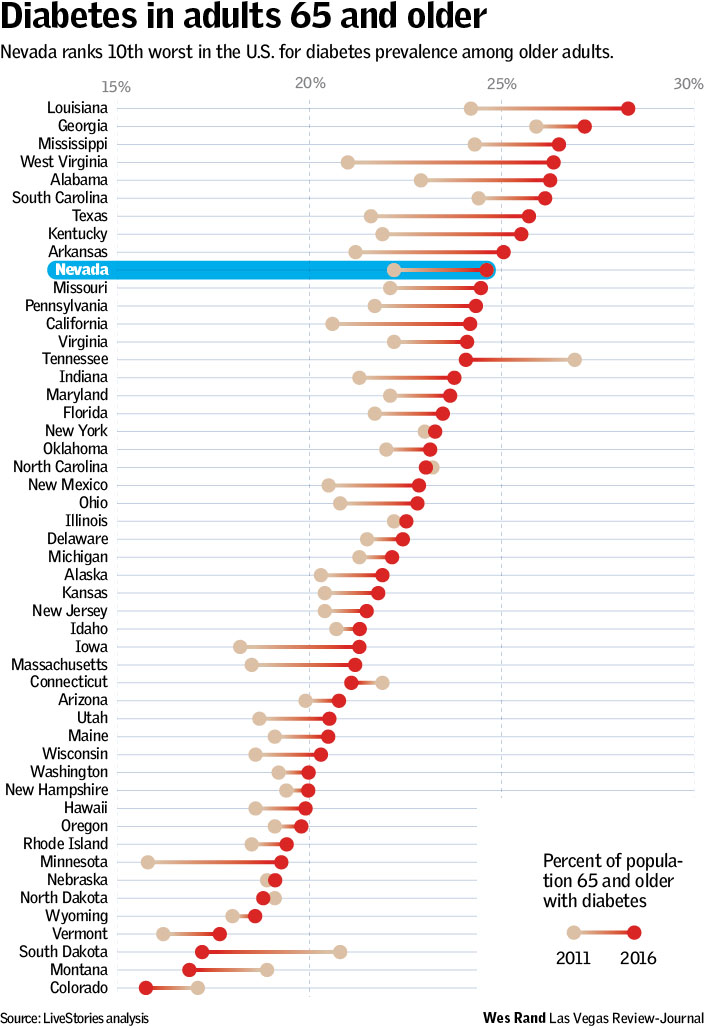 RIGHT-CLICK TO ENLARGE